Chhupe Rustum: One-of-a-Kind Virtual Stage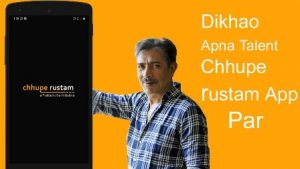 Prakash Jha's new app, Chhupe Rustum, is a fantastic attempt to bring the hidden gems under the spotlight.  With a career that's spanning over more than three decades, Jha has donned many hats, an actor, director, screenwriter and a renowned film producer being a few. Apart from being the maker of some National Film Award winning documentaries like Faces After The Storm and Sonal, he has some big films like Gangaajal, Rajneeti, Aarakshan, Chakravyuh and Satyagraha, etc. under his belt.
After a year's worth of hard work and planning, Chhupe Rustum was launched on 15 August, and already has more than 15000 downloads, going at the rate of almost 3000 downloads per day. The app is completely free of cost and only looks at real talent that has a very interactive and committed team to back it up.
In a casual conversation with Delhi Post, Jha throws some light on his recent venture, Chhupe Rustum, and shares his ideas and inspirations that went behind the making of this unique app.
Delhi Post: Tell us a little about your app, Chhupe Rustum. What motivated you to try and create such an app?
Prakash Jha: India is a treasure trove when it comes to talent; the more you search, the more you find. It doesn't matter if the person is from a village or a city, rich or poor, male or female, there is talent everywhere. But sadly, not many get the opportunity to reach their potential. It may be for various reasons, be it their socio-economic conditions or lack of awareness, or lack of accessibility or no proper guidance, etc., all of which, I feel, are the reasons why we don't know of them. It is to expose those exceptional talents that I created this app, to give everyone an equal chance to discover and improve their skills and in doing so, create an identity, 'Pehchaan' for themselves.
---
---
Delhi Post: Why the name Chhupe Rustum?
Prakash Jha: As the name suggests, the app is mainly for bringing out the chupa hua,i.e., hidden talent out on the stage.This app gives them all an easy and free access to explore their potential to its fullest. All they need is just a smart phone and internet and upload a high definition video of them showcasing their talent.
Delhi Post: There are a few other apps out there which allow the users to post their videos online, what makes Chhupe Rustum different?
Prakash Jha: Unlike other virtual platforms, Chhupe Rustum does not only allow people to upload their stuff, but it also provides them with mentors who will help them better their skills. The best will come forward, the mediocre will have an opportunity to improve and this process is inherent. There are competitions that are held and the winners of which are redirected to a special window where they can meet experts on their respective fields who will guide them. As one starts doing exceptional or wins the contests, they will start to feature on the app, once a person goes from being a 'Chhupe' Rustum to Rustam, that's when they start to develop their identity, making it easier for experts of various fields to pick up fresh new talent.