Child Beggars: India's Invisible Citizens of Tomorrow
It is common for people to believe that the children begging are put to work by their own families. As they are closely monitored by an elder, it makes less suspicious for people to take action to determine the nature of the relationship with the child.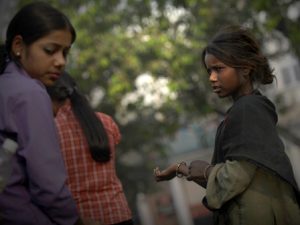 The silent movement through crowds gathered around tea shops, markets, under the over bridges or in buses and trains, the ghosts of India's development looms around the shadows. Sometimes singing a popular Bollywood song, sometimes just playing a roughly made musical instrument, zigzagging through lanes to footpaths to shops,  children can be seen begging for alms from every passerby while remaining inconspicuous and largely neglected.
Stats make Sense
The statistical data presented by the Ministry of Women and Child Development in 2016 stated the number of child beggars in India to be around 30,000. Around 3 lakh children across India are forced to beg. According to the report of the National Crime Records Bureau (NCRB), a total of 63,407 children in 2016, 63,349 in 2017 and 67,134 in 2018 were reported missing. The data by the Ministry of Home Affairs states that only half of these missing children are ever found. The top five states with the highest number of missing children are Madhya Pradesh (10038), West Bengal (8205), Bihar (6950), Delhi UT (6541) and Tamil Nadu (4271) for the year 2018.
Many of these missing children are pushed into begging and are never found. The methods used by the perpetrators range from introduction to drugs, beatings, violence and even threat to life.
Beggar Mafias
The trafficking cartels run by local gangs to abduct children and force them into beggary use various methods such as drugs and violence. Children are often lured into beggary by making them addicted to drugs. Starting with a small dose of drugs, the children are turned into addicts willing to work for their daily requirement. They are given daily targets to complete to get their fix at the end of the day. Drugs are also used to sedate infants and very young children so that their 'mothers'could get alms.
---
---
Many cases of children dying of an overdose of drugs in such cases have come up pointing at the danger these children are in.
Taken away from their families and thrown into an unknown environment without any caretaker, the children are forced to beg by threatening and often using violence. Many of the children are beaten regularly so that they follow the rules and earn the given targets.Instances of children being disabled for the business by cartels have also come up with horrifying practices like amputation of limbs to disabling the children in other ways to emanate more sympathy from people.
As reported by a reputed media channel, a scandal was revealed in India, where the doctors of government hospital took commissions from the gangs involved in forced beggary for amputating the limbs of children.
Effects on Children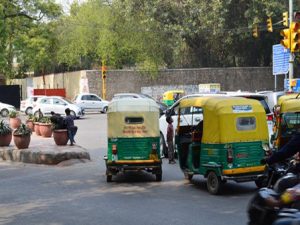 The risky environment with lack of care puts extra psychological pressure on a young child thus making them less reactive to the rehabilitation process and reducing their chance of escaping beggary. The children engaged in forced beggary are often forced to work for long hours, which harm their mental and physical health. They often face physical, verbal and sexual abuse by perpetrators of forced begging as well as from whom they are begging. Lack of access to education hinders any chance of the children ever entering into the mainstream professions and full utilisation of skills and capabilities. Those children who are forcefully disabled by the mafias stare at a future where opportunities are more difficult to get with the lack of movement, etc. Lifelong addiction to drugs is another one of the issues which haunt the children subjected to drug intake to keep them in the mechanism. The psychological trauma never leaves the children.
Where Lies the Problem?
It is common for people to believe that the children begging are put to work by their own families. As they are closely monitored by an elder, it makes less suspicious for people to take action to determine the nature of the relationship with the child.
Lack of official data has also created a dearth of rehabilitation programmes and attention to the issue of child beggary. The last data compiled by government was in 2016. Since then, four Union budgets have seen the light of day, yet this issue remains at the bottom list of concern. Also, the Child Care Institutions don't reach the ground thus making it difficult for children to reach out to them easily.
It has been noted that apart from cartels, children are also forced into begging due to economic conditions by their parents where they are at greater risks due to lack of access to rehabilitative care, as they are already under the legal care of their parents.
Beggary has proved to be a lucrative business with a turnover of millions without much capital investment. It has turned into an industry with a revenue of around 1.8 crore (2001 census).
The illegal activities are conducted unhindered due to holes in government mechanism and lack of public awareness, thereby injecting more children into the 'business' every day.
Psychological counselling and care is not a part of groundwork done by the government, and thus it makes it difficult for the children to come out of the trauma and fear of their abusers. They lie about their situation which results in them being pushed back in the dangerous waters.
---
---
Government and Child Beggars
In a reply to a question in Lok Sabha, it was stated that the Ministry of Women and Child Development is implementing the Juvenile Justice (Care and Protection of Children) Act, 2015 (JJ Act) and in the said Act a separate chapter has been added in which stringent penalty has been imposed on whosoever employs or uses any child to beg or causes any child to beg. The Ministry informed the house that it is implementing the Integrated Child Protection Scheme (ICPS) to create a secure environment for children rescued from beggary. The Union Government is responsible for providing financial assistance to the State Governments and Union Territories for setting up and maintenance of Child Care Institutions (CCIs).
For rehabilitation purposes, a rescued child is produced before the Child Welfare Committee where the children could be placed in a CCI. They are provided education and other necessities to re-introduce them to the mainstream professions and society.
A lot needs to be done to tell the children about the options they have. It will require more effort in the shape of policies and funding from Government and attention from the public to ensure that the children forced into beggary can come out of the malicious cycle and re-introduced to healthy and growth-induced surroundings.