Chin Refugees to UNHCR: Don't revoke refugee status, continue international protection
UNHCR announced in June 2018 stating that Chin refugees in India (and Malaysia) from Myanmar do not need their protection any more as the situation in Chin State is now stable and secure but Chin refugees in India continue to disagree.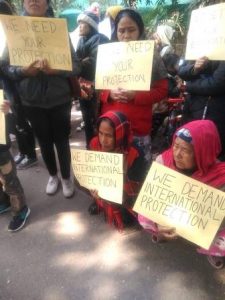 Demanding an extension of their refugee status and for a repeal of the decision of United Nations High Commissioner for Refugees (UNHCR) to revoke international protection which was announced in June 2018, Chin refugees in Delhi staged a peaceful demonstration in front of the UN refugee agency's office recently.
Recall that UNHCR earlier stated, "Chin refugees from Myanmar do not need international protection any more as the situation in Chin State is now stable and secure". It meant that Chins approaching UNHCR for renewing their refugee card will be provided individual counselling, and offered two options.
First was the extension of the existing refugee cards till December 31, 2019. This meant that they will cease to be under UNHCR's protection from January 1, 2020 and their cards would no longer be renewed. Second option was that individuals may request for a notification interview if they feel they are still in need for protection, leading UNHCR to then issue a letter confirming their refugee status. Subsequently, a final decision in such cases was to be made within two months' time and "Based on the final decision, the status will automatically cease and the UNHCR document will no longer be extended, or refugee status confirmed along with further card renewal".
The first round of notification interviews with the Chins were conducted on December 21, 2018.
"For those who have completed the individual cessation interview and opted for option number 2 under the given procedure, the UNHCR should extend the Refugee Status Card and not demand a second interview," Remmawi, President, Chin Refugees Committee (CRC) told Delhi Post.
Mostly Christians, the Chin refugees have been fleeing Myanmar under the National League for Democracy (NLD) Government which has been trying to make Buddhism the state religion which reportedly led to their persecution on religious grounds. Even following the 1988 declaration of Martial Law, many refugees have also fled the state complaining of sexual assault, arbitrary arrests and repression by security forces.
---
---
With the conflict between the Arakan Army (AA) and Burmese military in Chin State ensuing, and with no permanent ceasefire agreement between Chin National Front (CNF) and Burmese Military, refugees, human rights activists and organisations state that "without disarmament and security sector reform, this ceasefire will remain tentative".
"Myanmar remains a country that is still plagued by political instability and insecurity. Despite a change in leadership inside Myanmar in early 2016, violent clashes across the country have persisted," Evan Jones, Programme Coordinator, Asia Pacific Refugee Rights Network (APRRN) told Delhi Post referring to the recent fighting between the Tatmadaw and the Arakan Army.
In addition, in August 2017 more than 7,00,000 Rohingyas fled Myanmar's Northern Rakhine State for safety in neighbouring Bangladesh. "Whilst the Chins are from a different ethnic group and face different protection concerns, the fact remains that large parts of Myanmar are unsafe. Sending Chin refugees back to a country that has been widely criticised for having committed crimes against humanity and genocide, is incredibly troubling," added Jones.
Ravi Nair, Executive Director, South Asia Human Rights Documentation Centre told Delhi Post, "Clearly, UNHCR in India and Malaysia are bad in law and in violation of human rights and moral and ethical behaviour. In fact, UNHCR is in violation of its own guidelines on consent before any repatriation process. United Nations Human Rights Council 2018 report clearly states that conditions in Myanmar are not conducive with the clashes going on. There is no guarantee of getting their land back which they left behind. Even there is no guarantee for their lives."
More than 300 refugees from Chin State took part in the protest representing around 3,000 Chin refugees in Delhi who are registered with the UNHCR and have been issued refugee cards. However, the number remains contested as there are many living in the city without UNHCR assistance especially in some colonies of West Delhi.
"We, the Chin refugee community in New Delhi, strongly oppose the decision of the UNHCR to cease international protection for Chin refugees. We believe this is a procedure for forced repatriation. We assert that conditions are not yet in place for a safe and dignified return as required under international refugee law," read the statement from the CRC in New Delhi.
"When we heard the UNHCR notification on June 13, 2018, it was shocking for us. It said that our refugee status would end as of December 31, 2019. But there is no guarantee of safety for us. To date, there has been no official letter nor public statement from the neither civilian nor military government stating that Chin refugees are welcome and are safe to return to Myanmar and Chin State," Remmawi told Delhi Post.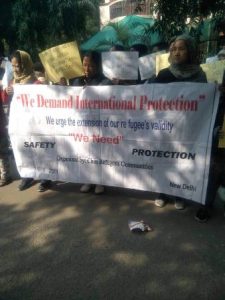 "The decision by some Chin refugees to protest out the front of UNHCR clearly highlights a genuine fear by many refugees to return to Chin State. This is further illustrated by the fact that the vast majority of Chin refugees have also decided to challenge UNHCR's declaration that Chin State is safe and that they are no longer in need of international protection," stressed Jones.
Among the demands, the refugees state that UN refugee cards should not be revoked under any circumstances. Further, they state that international protection for Chin refugees should continue. "If the UNHCR is ceasing international protection for Chin refugees, it should be the duty of the UNHCR to negotiate with the Indian Government for local integration and the full protection of Chin refugees and the UNHCR should negotiate the guaranteed safety of the Chin refugees from the Government of India once UNHCR cards are revoked under the cessation procedures," the statement read.
They say that it is time to consider various issues including their security and livelihood.
Until and unless the UNHCR can provide official declarations from both factions of the Myanmar government, "guaranteeing safe and dignified return of the Chin refugees", the refugees state that "they collectively opposed to any coerced return to our country of origin".
"If we want, we can go back on our own. They should not urge us to go back when the situation is not yet right without basic security and livelihood," Remmawi further told Delhi Post.
"I strongly oppose the decision of the UNHCR to cease international protection for Chin refugees. From the official statement of the Chin refugees and analysing the present situation in Myanmar, the conditions for safe and dignified return as required under international refugee law. On what grounds did the UN then take away their refugee status?" asked a concerned Human Rights Activist, Ubais Sainulabdeen further requesting UNHCR to review the decision to cease the international protection of Chin refugees.
The refugees' community members say that Myanmar is still far from becoming a federal union where ethnic people are free to pursue their self-determination, nor is it governed by the civilian government due to constitutional restrictions. "Until and unless the 2008 Constitution is amended, we the Chin refugees still fear return," they say referring to the Burmese Military which drafted the 2008 Constitution of Myanmar that retained military control over powerful administrative departments and security sectors including the Ministry of Defence, the Home Ministry and the Ministry of Border Affairs.
Enphasising that the Chin community is fearful of a return to Myanmar "at this time", Jones told Delhi Post, "Given that many Chin refugees have lived outside of their homeland for many years, it is entirely understandable that they may have a reluctance to return. As such, the UNHCR should be doing everything in their power to openly engage with the community in an efficient and transparent manner to address their concerns."
Another issue highlighted by the refugees is that many of the Chin refugee's children will not be able to continue their schooling in Myanmar due to the non-recognition of education certificates achieved in foreign education systems as according to the Myanmar Government's rules and regulations, those who have foreign school certificates will not be accepted back into the education system of Myanmar.
---
---
"Moreover, there are many Chin students who have completed school, university and even the master's level education in New Delhi but their degrees and certificates will be of no use in Myanmar," they say, further adding that they fear returning back as "there is no future for them in Myanmar" and many of the young and talented students have suffered and spent time, money and energy to obtain a degree for the betterment of their future (in Delhi).
"The UNHCR should design structured plans to strategise and negotiate with the Myanmar government to accept our current certificates to enable both schooling and the pursuit of employment within government departments ," say the refugee stating that there have been no clarifications on this issue and the UNHCR can't ignore "such crucial, long-term concerns".
As of now, there is no information on plans for reintegration of the Chin refugees into Myanmar.
"The Government and the UNHCR have provided no information on plans for reintegration. So far, there is no information from the government regarding this issue. Most of the Chin refugees do not possess anything in Chin State," they stated.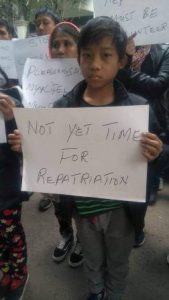 Though UNHCR has stated that it would be giving $200 financial assistance for the return back to Myanmar, the protestors point out that "this sum of money will only cover travel expenses and not in any way provide the kind of platform necessary for us to seek housing, land, education, health expenses or employment in a country that will not aid this process".
"At first, they mentioned that they will give us only $200, nothing more or nothing less and that $200 will be given to us only when we return and reach Chin State which is not even enough for our travelling. But again, on the next meeting, they said they will provide us more for transportation and food. This is different from what they said earlier. UNHCR have changed back their words and are now saying that they will provide additional financial support as well," Remmawi told Delhi Post.
"The $200 expenses is a joke! It is like they are 'conniving with complicity'. This raises a range of questions including if they are increasing illegal entries into Myanmar by only giving that," opined Nair.
He says that in hindsight, it seems to be a "cost-cutting exercise" on part of UNHCR. "At least in Malaysia, there is no hurry. The Indian Government has also not issued any public statement on this. The Chins have been small in number and have been docile. Then, why is this being done? This, therefore, seems to be a cost-cutting exercise on behalf of UNHCR because of refugee fatigue arising out of the on-going crisis in Europe and North America," Nair told Delhi Post.
It is pertinent to note that one of the main demands of the Chin refugees is the protection from the UNHCR as well as the renewal of UNHCR cards and not financial assistance.
"Following on from the notifications to the refugee community, it is anticipated that UNHCR will begin conducting refugee status determination interviews (for those that challenge UNHCR's initial assessment) in March 2019."
Keeping it in mind, APRRN calls for UNHCR to increase their engagement with refugee communities in Delhi and to listen to the concerns of affected populations; for UNHCR to publicly make available up-to-date country of origin information to refugees, affected communities and all other stakeholders. Jones said, "This should provide in depth analysis as to the current situation in Chin State; for UNHCR to ensure that Chin refugees and all other refugee populations are not forced to return to their home country against their will and for UNHCR to closely engage with the Myanmar government to work towards addressing the root causes for displacement. Only then will Chin refugees be able to return in safety and in dignity."