COVID-19 and Lockdown: Double Whammy for Children with Special Needs
The lives of children with special needs have been impacted at multiple levels due to the COVID-19 pandemic and lockdown, resulting in their learning deficiency, nutrition loss, mobility loss, absence of openness and social interaction at school.
Despite the growing adaptations with virtual mediums of learning and teaching, the access to online platforms is a big challenge for people at the margins. Among families,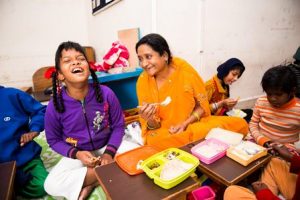 which are experiencing severe food crisis, the closure of schools has deprived mid-day meal to the children resulting in nutritional loss. All these need serious consideration as such situations will have more adverse impact on children with disabilities rather than children in normal conditions. It is the people at the margins, who have been badly impacted, and children with disabilities in such situations are bearing the burnt. Economic hardships are constantly aiding hardships for caregivers in such families whose primary survival is daily wage earning.
Praxis, an Indian organisation engaged on various facets of participatory democracy, initiated a series of webinars during the pandemic as an attempt to bring to the forefront the voices of the communities that are left unheard. The fifth webinar of the series, organised jointly by Praxis and Save the Children India focused on children with disabilities and a survey was conducted by them with a very small sample of children with disabilities mainly to understand the impact of lockdown on their lives. These children were also made the panelist, who represented the voices of larger section of children at the margins.
In order to understand the impact of COVID-19 outbreak and nation-wide lockdown, a rapid assessment of the situation of children with disabilities was undertaken with 56 children from Mumbai. Sowmya and Nirmita from Praxis shared the key highlights from this assessment. The findings brought to light the impact on nutrition, self and parental care, change in behaviour and access to hearing aid accessories. The families were also consulted about the access to the various kinds of entitlements that have been announced by the central government like the Right to Food and disability allowance.
It was noteworthy that only one in four families received any ration one month after the lockdown was announced.
---
---
Given that the families were dependent ondaily wages for their survival, it created implications on their health and nutritional needs, especially the children. Schemes like Pradhan Mantri Jan Dhan Yojana (PMJDY), Pradhan Mantri Ujjwala Yojana (PMUJ), Pradhan Mantri Kisan Samman Nidhi (PM-KISAN), Pension for Senior Citizens and Pension for the Disabled were also of no help, as none of the families were registered for Ujjwala or Kisan Saman Nidhi Yojana and only a few had Jan Dhan Account. Apart from that none of the 10 children with intellectual disability entitled for disability allowance received money from the Maharashtra government. Due to all these factors nearly 20 per cent families had to take a loan inless than a month of nation-wide lockdown, which further created bondage conditions for them.
In the words of Farida, Save the Children India, "The lives of children with disabilities have been affected severely in many ways post nationwide lockdown. Such children are going to face several disruptions in their normal lives with closure of schools and changed normal routine". She added that "Additionally, the restricted mobility has impacted their behaviour, as they are confined into homes without any physical activity and not getting social interaction with peers and teachers that used to happen before. Thus, this has impacted on social emotion and functioning of such children." She asserted that longer period of lockdown will incur major learning loss for children with disabilities, who have been availing speech therapy, hearing therapy and physiotherapy. Bridging the gap of this learning loss will be a big challenge for educational and health institutions, which work with such children. Even, the general health services that have been put at halt are difficult to be accessed by them.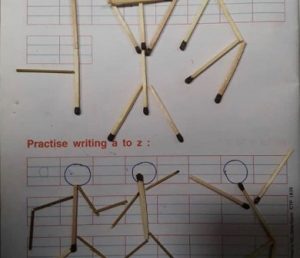 Further, Farida stressed that situation of children with disabilities inrural areas are extremely worrisome. The parents/caregivers lack capacities and skills to deal with behavioural aspects of children with such conditions that need serious consideration. In order to make their lives little better she suggested targeted direct cash transfers to families having persons with disabilities using the already updated data base of PWDs under UIDAI, so that the families can at least be able to face situations of food crisis. Focus on the medical aid and capacitation of health professionals addressing these specific needs, redesigning of educational curriculum, particularly the academic calendar for children to bridge the learning gap and viable platforms for participation, which can be accessed by families of children with disabilities to seek support and advice were some other suggestions that were made by her.
The webinar brought together direct voices from the ground through the children with special needs as panelists.
---
---
Danish, a secondary class student has been preparing to appear for the National Institute of Open Schooling (NIOS) Open Basic Education (OBE) exam. His mother tries hard to keep him engaged and entertained through the lockdown, but she is not able to keep him jolly throughout as he missed his school and friends. In addition to that, lack of medicines for his ailment of dizziness and headache posed an added difficulty. Similarly, for Riddhi Halwai, a class 8 student with auditory disability, the experience of lockdown was not very pleasing. Still she understood the need for it and decided to resort to drawings and paintings to pass her time. Juber and his twin brother Junaid, 19-year old boys both with auditory disability also resorted to their passion of hairdressing during the lockdown. But their father, an auto rickshaw driver, is perplexed thinking about their future and health. "Both of my children are immensely talented and they carryout most of the designated works in the most effective manner whether its kitchen related chores or computerrelated skills. Amidst lockdown, we are facing a lot of challenges. There are only a few doctors near our locality and due to lockdown, there always were long queues, which makes it difficult for me to take them for medication in case of general ailments. Due to restricted mobility both of them complain of muscle pain as there is no physical activity", he shared.
In order to understand the situation better, Dr Harish Shetty, a psychiatrist with several years of experience in the field of disaster and mental health, shared that children with disabilities are the worst to be affected by this pandemic and confinements due to lockdown. "Since there is a restriction in mobility, it brings aggression in the behaviour of the children making them irritant and angry and increases the anxiety levels of parents/caregivers. Also, with no contact with school and no access to therapies, the loss of learning will have long lasting impacts upon children pushing them into secondary level of isolation", he said. As a way forward he suggested advocacy efforts with the government for creating cross learning opportunities and sharing of resources in an environment of cooperative learning among all CSOs. Apart from that availability of an open platform/ helpline that can be accessed by families having children with disabilities to seek support and advice was also suggested by him.