COVID-19: Central Schemes Failed in Their Promise to Poor and Marginalised
The very purpose of the major central schemes itself was defeated, as the data showed big gaps in achieving targets with a majority of the families in tribal, dalit and Muslim minority locations not having accessed entitlements and services during April, May and June.
The novel Corona virus linked lockdown affected different communities differently. Economically weaker sections (EWS) and marginalised social groups were often not able to access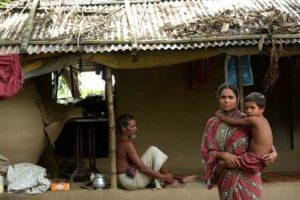 the entitlements promised by the government through their various special schemes. Several community based organisations (CBOs), which were the key support mechanisms for such disadvantaged communities, also found them struggling to survive due to funding cuts. In this background, Partners in Change, in collaboration with Dialectics, Praxis Institute for Participatory Practices, Gethu group (workers think tank) and National Alliance Group for Nomadic and Denotified Tribes (NAG-DNT) led a collaborative group – the COLLECT Initiative – to bring forth the reality of the Tribal, Dalit and Muslim Minorities during the COVID-19 pandemic, since the first lockdown (25 March 2020). The objective of COLLECT was to understand the impact of this pandemic on those at the margins. The COLLECT—Community-Led Local Entitlements & Claims Tracker initiative—aimed to create a flow of information between those who were at the margins and the authorities, as well as the society at large.
At a district level, COLLECT did an in-depth study of the impact of the pandemic on the state of India's poor and the status of the government declared entitlements received by them. It brought up evidence-based knowledge over the months of April to June 2020. The social group-specific district reports generated had a special focus on tribal communities (8.6 per cent), Dalits (16.6 per cent) and the community of Muslim minorities (13.4 per cent).Due to their remoteness and lack of resources, these three social groups were most disproportionately vulnerable to the impact of COVID-19 and hence they formed an integral part of the COLLECT dashboard.
In order to access the ground reality, the COLLECT initiative accumulated data related to the status of government entitlements and schemes like the Right to Food and Nutrition (PDS, MDM), Right to Work and Livelihood (MGNREGA), Pension Schemes (old age, widow and disability), Special  Bank Transfer (Jan Dhan), Gas cylinder subsidy and Kisan Samman Yojana. The data generated also focused on the special registration and economic and social issues like agriculture procurement, online education, indebtedness and bank credit, physical and mental health and domestic violence and child abuse. Tribal communities from 126 urban and rural locations across 27 districts from 11 states, Dalit communities from 227 urban and rural locations across 39 districts from 10 states and Muslim community from 53 urban and rural locations across 21 districts from four states in India were contacted as part of the exercise.
The evidences from the exercise sadly brought to light that entitlements and services, which were solely set aside for reducing hardships during the COVID-19 pandemic, were not accessed by a majority of the target groups.
---
---
In terms of receiving ration as per quota, 86 per cent of tribal households, more than 60 per cent of dalit households and 74 per cent of the Muslims were getting the promised ration. However, only 70 per cent of tribals, 40 per cent of dalits and close to 37 per cent of Muslim households received additional ration, old age pension, widow pension and disability pension. The full Rs 500 in their Jan Dhan account and towards the Ujjwala scheme was received by only 27 per cent and 29 per cent of tribals, 29 per cent and 23 per cent of dalits and 49 per cent and 15 per cent of Muslim households, respectively. In close to 15 per cent of locations, no tribal and dalit families received any additional rations, Ujjwala scheme, old age pension, widow pension and Rs 500 in their Jan Dhan accounts. This number went up to 28 per cent for the locations where Muslim minorities were contacted. But looking at the brighter side, all the social groups across the study locations have had the greatest success rate with dry ration.
Data were also sought on whether there has been any registration of unorganised workers for availing relief and also of returning migrant workers with the local authorities. It was found that for the tribal community, 70 per cent of the unorganised workers and 29 per cent of the returnee migrants, among dalits 72 per cent of the unorganised workers and 59 per cent of the returnee migrants and among the Muslim community for 75 per cent of the unorganised workers and 62 per cent of the returnee migrants, no registration process was initiated.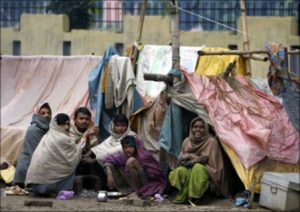 It has been observed that indebtedness has always been a trigger for other social and economic exploitation, causing a rise in trafficking, bonded labour and child labour. As soon national lockdown was announced, with restrictions on movement and mobility, tens of thousands lost their livelihoods and many families were dependent on the MGNREGA for an income. Given the lack of stable livelihood options, many were forced to take loans from employers, money lenders, neighbours and relatives. It was reported that indebtedness increased across 66 per cent of the locations.
In terms of healthcare, while only 63 per cent of the hamlets replied in the affirmative for having a government health facility at the location, and only 42 per cent shared that treatment and medicines were available during April to June. For mental health support, only 15 per cent of the locations stated that services were available to those hamlets at a government facility and 71 per centsaid that there was no access at all. The only silver lining in terms of access to health services was only for tribal communities where 98 percent of the locations all children got immunised. However, this was not the case for dalits and Muslim minorities as no immunisation for children, were reported in 31 per centand 47 per centlocations,respectively.For educationservices across the 126 tribal locations, 12 dalit locations and 10 Muslim minority locations none of the children had access to online platforms and nor did any of them receive any textbooks.
Overall, the study done by COLLECT based on the data accumulatedrevealed that entitlements and services such as ration under PDS and pension which were directly being run by state governments were mostly available and accessible. However, the schemes directly implemented by central government such as transfer of money in to Jan Dhan account, subsidy under Ujjawala schemes or cash transfer under Kisan Sammannidhi Yojna had been functioning rather poorly.
The very purpose of the schemes itself was defeated as the data showed big gaps in achieving targets with a majority of the families in tribal, dalit and Muslim minority locations not having accessed entitlements and services during April, May and June.
---
---
The other major concern that the data highlighted was unresponsiveness and apathy to local contexts. There was a wide range of differences across villages, districts and states in terms of accessing entitlements and services by the covered social groups. The local power structure, administrative and service delivery systems differed across the states and regions, and therefore there were extreme levels of contrasts in the coverage of entitlements to the target communities.
Unfortunately, the Muslim minority faced a rather large number of issues as compared to the other two social groups. There was a sense of fear and insecurity reported in the Muslim community because the media stigmatised them as carriers of the virus. Muslims feared approaching any state institution for accessing any schemes or for any kind of redressal for the fear of discrimination. They were even excluded from many of the schemes as in order to access them either one should have BPL card or name in BPL list. Hence, many Muslims were not able to benefit from the schemes.