Cultural Significance of Siddha Peethas
Out of 84 Siddha Peetas, four Peethas—Manak Siddha, Lakshman Siddha, Kalu Siddha, Mandu Siddha—are situated in 4 corners of Dehradun city/valley.
The land of gods, goddesses, sages, and saints, India has been a center of spiritual attainment. It has many places of cultural and spiritual significance. Our scriptures say that in Treta Yuga, the trinity (three gods)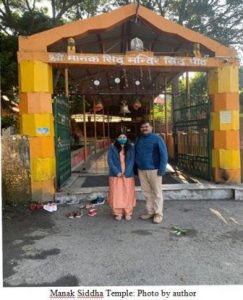 came down to the Earth from heaven to test the penance of Maharishi Atri and Sati Anasuya. They were impressed by the welcoming of both sages—Atriand Mata Anasuya—and wished to be born as their son named Dattatreya. Dattatreya had 84 disciples who spread all over India and established 84 Siddha Peethas. Out of which, four Peethas—Manak Siddha, Lakshman Siddha, Kalu Siddha, and Mandu Siddha—are situated in 4 corners of Dehradun city/valley. All the Peethas have Lord Shiva temple, situated on the bank of small streams and in the core part of the Raja Ji National Park. They are the oldest centers of worship in Dehradun. All these Siddha Peethas have cultural and spiritual significance.It is believed that these Peethas protect Dehradun from all the uneventful situations.
---
---
The first Peetha is called Manak Siddha, which is situated in the southern part of Dehradun about 10 km from the city center and 2km from the Shimla bypass road, a national highway. It has an altitude of about 640 m. Karibari village lies close to it. It is a Shivalaya, where Lord Shiva resides along with many other folk deities: Dev and Devi. It has a serene environment: natural and cultural. Its eastern and southern sides havea dense forest of Rajaji National Park and on the northern and southern sides is Karibari village and fertile agricultural fields. Few priests from Rajasthan are serving the temple.
Lakshman Siddha lies about 3 km from the National Highway between Dehradun and Rishikesh, near Harrawala. It lies in the dense deciduous forest of the Rajaji National Park at an altitude of 640 m. One of the disciples of sage Dattatreya performed penance to appease Lord Shiva at Lakshman Siddha. He meditated and attained Moksha (salvation) at this place. Lakshman, the younger brother of Lord Rama after the battle of Rama and Ravana, came to this Peetha and meditated here; therefore, this Peetha is called Lakshman Siddha Peetha. Sunday is a very important day for all the Peethas and Gud (sugarcane product) is served as Prasad to devotees.
On the last Sunday of April, a large fair is celebrated at Lakshaman Siddha. The devotees performed Puja of Lord Shiva and get blessed.
Bhaniawala lies just after Doiwala, 22 km from Dehradun. A road goes towards the left along the Song River, a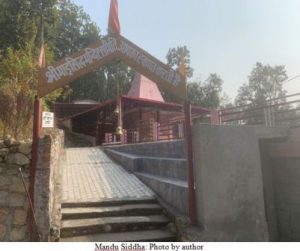 tributary of the Ganga River. About 6 km from Bhaniwala, Kalu Siddha temple lies in the northeast part of Dehradun at 540 m altitude. The village is called Kalu Wala. One of the disciples of Dattatreya, Kalu Siddha performed meditation and worshipped Lord Shiva. Lord Shiva blessed him and he attained Moksha. The priests of the temple belong from Rajasthan and even in Kalu Wala; the Rajasthani originated people are outnumbered. The people offer Gud to Lord Shiva and on Sunday; Bhandara is organized. From Kalu Siddha, a road comes back to Dehradun through the dense forests of Rajaji National Park.
---
---
The last Siddha is called Mandu Sidhha, which lies about 6 km from Nanda Ki Chauki, close to Premnagar, Dehradun. The temple lies at an altitude of 650 m on the right bank of the Nimi Nadi, a tributary of the Tons River. The landscape of the temple premises and its surrounding areas is panoramic. Sage Mandu performed penance and worshiped Lord Shiva; therefore, the place is known as Mandu Siddha. Dense deciduous forests of the Rajaji National Park lie in the eastern part and western parts of the temple; agricultural land is situated on both the banks of the Nimi Nadi. Bahugunacaste people are the priests of the temple.
It is a circumambulation of these Siddha Peethas. People believe that if a circumambulation is completed within a day, one can get blessed by Lord Shiva. These Siddha Peethas have resemblance in terms of their location and cultural importance. They all are located in the dense deciduous forests of Rajaji National Park and the altitudes of these Peethas are almost the same.The entire Doon valley is panoramic and these Siddha Peethas premises make spectacular landscapes and provide peace of mind and inner strength.
(Slider Image by author: Kalu Siddha Temple at Kalu Wala)