Dr APJ Abdul Kalam Awards for Eminent Personalities
Acknowledging leaders who have the conviction to bring change in the society and help promote a better future for all is the purpose of Dr APJ Abdul Kalam Awards.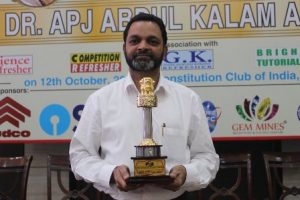 In commensurate with the birth anniversary of late Dr APJ Abdul Kalam, an award ceremony was conducted on 12th October, Sunday, by Bright Group of Publications in Constitution Club of New Delhi. The event saw a host of eminent personalities being conferred with 'Dr APJ Abdul Kalam Award' from different walks of life for their contribution in various fields.
The award is constituted for honouring personalities who walk the path of the great APJ, who stood for promoting technology, social harmony, education and development. The winners, who stood for the principles followed by the great leader, were selected after a rigorous selection process and shortlisted for the awards.
The APJ Abdul Kalam Award is instituted by Deshabhimani Charitable Society, a Delhi based non-profit charity organisation of the Bright Group of Publications.
Mr Ubais Sainulabdeen, founder, USPF was awarded 'The Excellence in Independent Human Rights Expertise & Peacebuilding' by a panel of honourable guests including Dr Anurag Batra, Chief Editor & Chairman, Business World Group, Justice Iqbal Ahmed Ansari, Retired Chief Justice, Patna High Court, Dr Jayanto Roy, Member of Parliament, (BJP), Mr Atul Sobti, Director General of Standing Conference of Public Enterprises, Mr Pritam Singh Bright, Chief Editor & Chairman, Bright Group of Publications (Competition Refresher, Science Refresher, Bright Career Book, G. K. Refresher).
---
---
The ceremony also conferred awards to people from various walks of life as listed: Padma Shri Professor Brahma Singh—Excellence in Horticulture, Science & Cultivation Technology; Mr Bhaichung Bhutia—Excellence in Sports; B. K. Ravi, Additional Director General of Police—Adviser Security—IOCL—Excellence in Police & Advisory Security; Mr Anjani Kumar, CP, Hyderabad—Excellence in Police Administration; Mr Vijay Ranjan, Chief General Manager, State Bank of India—Excellence in Educational Loans; Dr A. K. Singh, President, Jaikala Deonanadan Foundation—Excellence in Social Work & Cultural Promotion; Mr Sumit Awasthi, ABP News, New Delhi—Excellence in Journalism; Mr Pankaj Aggarwal, Vice Chairman, G. L. Bajaj Educational Institutions—Excellence in Management Education; Mr T. P. Singh, General Manager, Northern Railway; Prof. Vikram Kumar, Emeritus Professor, IIT, Delhi; Mr Sunil Mehta, MD & CEO, Punjab National Bank—Excellence in Banking Sector; Mr Anmol Sher Singh, IAS Topper; Mr Shankar Sawhney—Excellence in Punjabi Singing; Mr Sandeep Jain, Executive Director, Monte Carlo Fashion Limited—Excellence in Fashion Designing; Dr Purushotam, Chairman & MD, National Research Development Corporation—Winner of Special Award; Mr. Himanshu Rath, Agewell Foundation, New Delhi—Excellence in social works towards aged people; Mrs Mona Gulati Puri, CEO, United Group of Institutions; Ms Poonam Sharma, Chairperson, Accurate Group of Institutions—Excellence in young women educationalist; Mr J. C. Chaudhary, Aakash Institutions and Aakash Health Care; Rajeev Soumitra, Founder & Director, Paramount Coaching League; Mrs Meenakshi Dutt—Makup artist—Excellence in Makeup Art; Mr Kamal Nathani, Film Director, KNM Media—Excellence in Film Making; Mr. Divej Mehta, Director—TERGUS—Excellence in CSR Project.
The event was preceded by a music concert by the popular You Tube sensation Maithili Thakur and team. The event was further followed by a networking dinner.