Dravidar Kazhagam Turns 75
Dravidian Parties in Tamil Nadu maintains its strong impact in electoral politics. Apart from its original secessionist tendency to showcase federal champion; DMK recently led a protest in Jantar Mantar against NDA Government's decision of abrogating Article 370.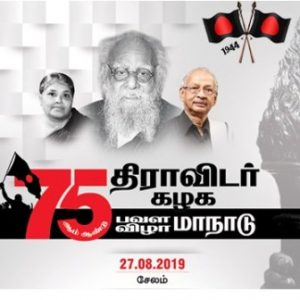 Recently the major political outfits of Tamil Nadu joined hands to commemorate the 75th anniversary of Dravidar Kazhagam (DK) at Salem. A non-political outfit which has been the backbone behind the two Dravidian parties that ruled the state since 1967. Later, it saw a split in 1972 when MGR (MG Ramachandran) formed his own party with a prefix Anna to it.
Major resolutions were passed during the meet including introduction of special law to reduce honour killing, state autonomy to decide on the New Educational policy, introduction of reservation in private sector jobs, scraping All-India quota in Medical seats, preference in central government category B and C jobs, NEET and NEXT entrance test to be dropped, demand for restoring of Jammu & Kashmir (J&K) special status as the federal structure, protection of state governments from Centre's grip and promoting state federalism.
Historical Background
The Dravidar Kazhagam was founded by E. V. Ramasamy in 1944 after breaking away from Indian National Congress in 1925. The role of DK in the politics of Tamil Nadu goes back to days of Justice Party established in 1917 by T. M. Nair and P. Thyagaraja Chettiyar.
Dravidar Kazhagam (Dravidian Association) was born in 1944 by a reorganization of Thenninthiyar Nala Urimai Sangam (South Indian Welfare Rights Organization), commonly known as the Neethi Katchi (Justice Party).
Sir P. Thyagaraja Chettiyar began this parent organization in 1916 to protect the freedoms of non-Brahmins in southern India. In its early years, it was popular among the public as the non-Brahmins champion but its popularity slowly eroded. By 1944, it had lost a great deal of government assistance because it was viewed by the public as an elitist, pro-British organization. In its early years, the Justice Party took the stance that British rule should not end until South India's Brahmin hegemony finishes in the political sphere, lest Brahmins and Northerners in post-British India become dominant.
In 1939, the party altered its stance and called for the end of British rule, though the public still saw the party as pro-British. Similarly, while the Justice Party's founders and early politicians were the wealthy elite, members of the middle class also achieved positions of governance with time. In reality, both the president of the party and the general secretary were from the middle class in 1944.
The main aim was to eradicate the ills of oppression in the name of caste, oppose Brahmin domination and unite people under one umbrella of Dravida Nadu (Dravida State) on the basis of culture and language.
Split between DK and the Formation of DMK
Annadurai and Periyar split due to various political differences that were simmering between them for around five years until the formation of DMK in 1949. There are three reasons spelt out for the differences between the two as discussed further.
In 1945, at a conference in Trichy, Periyar announced volunteer force called 'Dravidian Liberation Army' in order to differentiate them from others. He instructed the volunteers to wear 'Black Shirts' because Anna did not like it but did not force the issue. The 'Black Shirts' issue further spiralled into a massive one when Periyar went a step ahead and asked all the party men to wear black to differentiate from the rest. Some supporters of Anna at the party were in support of Anna's claim not to wear black.
---
---
Annadurai also wrote plays like Label Vendaam (No need for a label) and Rajapart Rangadurai (King who is known by the name, Rangadurai), which were seen as a veiled barb on Periyar using fiction as a tool.
Periyar and Anna had differences even about celebrating Independence Day because Periyar was of the view that 'Bajaj's and Birla's are going to take over the country who functioned as British agents so far are going to take over the country. How can this be self-rule?' Anna, on the other hand, wrote in Dravida Nadu that 'Two centuries of disgrace [colonial rule] is about to be wiped off from the subcontinent. This is a joyous occasion for Dravidians too. We should be celebrating. We have been fighting two enemies so far; one of them is leaving now. Our task is getting easier. So, it is an occasion for joy, not mourning'.
The final break occurred when Periyar married Maniammai after anointing Anna as his successor, which led to the breaking apart of Annadurai to form DMK at Robinson Park in Chennai.
The party saw further split in 1972 when popular actor MG Ramachandran split to form Anna Dravida Munnetra Kazhagam (ADMK) with Anna as his mentor.
DK Footprints
Some of the achievements in the social and cultural spheres can be largely rooted in the Dravidian ideology. Act to provide legal status to the Self-Respect Marriages, Nationalization of Transport, Slum Clearance Board, Beggars Rehabilitation Scheme, Abolition of Hand-pulled Rickshaws and Free Distribution of Cycle Rickshaws, Constituting Backward Classes Commission and increasing the booking quantity for Backward Classes from 25 per cent to 31 per cent, and for Scheduled Castes from 16 per cent to 18 per cent, to name a few.
With regards women empowerment during his rule in 1989, DMK has implemented schemes such as Moovalur Ramamirtham Marriage Assistance Scheme, Anjugam Ammaiyar Inter-caste Marriage Assistance Scheme, Dr Dharmambal Ammaiyar Memorial Widow Remarriage Scheme, EVR Nagammaiyar Memorial Free Graduate Scheme for Girls Scheme and Dr Muthulakshmi Reddy Memorial Maternity Assistance Scheme.
Later, when J. Jayalalitha became Chief Minister, she implemented 69 per cent reservation in the state, 50 per cent of seats for women in panchayats and women were made mayors.
There were also critics who said that they were done for vote bank politics to lure voters at the time of elections.
Challenges Ahead
With BJP winning the election after election since 2014, it would be a testing time for both the Dravidian parties to stay relevant to the changing times. Even though BJP has no MPs or MLAs from the state, they would be keen to open their account with strategies using counter-narrative to existing ones.
With the demise of Jayalalitha and Kalaignar Karunanidhi, the parties experienced a leadership vacuum as the two stalwarts had huge followers among the masses.
There were internal rumblings within both the parties as to who would lead the party. Within DMK, it was seen as a race between Stalin, Alagiri and Kanimozhi for the top post. Alagiri immediately after the demise of Karunanidhi with his bunch of supporters tried hard; eventually, the party stood behind MK Stalin as the leader of the party as the unanimous choice.
Similarly, there were confusions within AIADMK as to who would be their new leader. O. Pannerselvam rebelled against the domination of TTV Dinakaran and family. Also, there were factions within ADMK between EPS and OPS camps. Later, both decided to set their bitterness aside and EPS was sworn in Chief Minister and OPS was made the Dy.CM.
Silver lining though is that DMK (DMK led alliance) is once again gaining its lost ground since losing 2016 assembly elections by winning 38 seats out of 40 in the recently held Lok Sabha elections, which suggest that not everything is lost since the death of two great leaders M. Karunanidhi and J. Jayalalitha.
ADMK's dismal performance in the recent Lok Sabha election and by-elections is seen as wake-up call before the 2021 assembly elections. Both the parties have numerous challenges ahead as BJP tries to build inroads in the state by luring ace actor Rajinikanth as the face of the party for the upcoming elections in 2021.
Departure from Secessionist to Federalism
The Dravidian parties are once seen as a secessionist party with the idea of forming a separate state, that is, Dravida Nadu to be a champion of federalism.
---
---
In the year 1963, DMK dropped its Dravida Nadu demand during the Indo-China war in order to stand behind the Nation in solidarity to fight the enemies.
Another such instance was during the Emergency when Karunanidhi, the then chief minister, was the first person in the entire nation to oppose the ills of Emergency brought in by Indira Gandhi on 25th June 1975. The government was dismissed in 1976 after voicing strong opposition against the emergency, which became the talking point in the years to come with reference to federalism.
The latest being a protest in the national capital against the abrogation of Article 370 and splitting the J & K into two UTs. The DMK led protest saw 15 other opposition parties rallying its support to the cause including Congress, Trinamool, RJD, left parties etc. The main contention was the manner in which the amendments were brought in without the consent of the elected government and its people. Former CM Mehbooba Mufti in her tweet later thanked DMK for standing with the people of Kashmir.