DUSU Elections 2019: Three Woman Candidates for President Post
DUSU polls draw the national attention. This time the major fight is going to be between ABVP and NSUI, and there are three women candidates for President Post fielded by all students' wing, except the ABVP.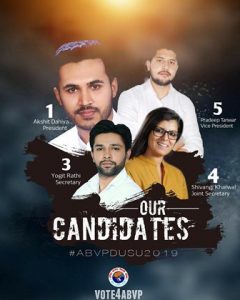 In the run-up to Delhi University Student Union (DUSU) polls, the student group has announced the list of candidates who will be contesting in this year's DUSU polls, which is scheduled on 12 September at Delhi University.
The fight for DUSU is mainly between Akhil BhartiyaVidyarthi Parishad (ABVP) students' wing affiliated to Rashtriya Swayamsevak Sangh (RSS) and the National Students Union of India (NSUI) affiliated to Indian National Congress (INC). The left ideology student group All India Students' Association (AISA) has also announced its candidates. However, Aam Aadmi Party's student wing Chatra Yuva Sangharsh Samiti (CYSS) has refrained from elections this time. Last DUSU poll, CYSS contested in alliance with AISA and were placed in a third position with 13.8 per cent vote share.
There are in total 16 Candidates for 4 posts. This time, 4 candidates are running for the post of President, 5 for the post of Vice-President, 3 for Secretary and 4 for the post of Joint Secretary. Except for ABVP, all other student union groups have fielded woman candidate for the post of President. No woman candidate is contesting the post of Vice-President and Secretary.
This is the ninth year in a row when ABVP has skipped a woman candidate for the post of president. Neha Singh had contested for president in 2011, losing to NSUI candidate Ajay Chhikara. Nupur Sharma of ABVP won the post in 2008.
NSUI has nominated a woman candidate after almost 11 years for DUSU polls. Earlier in 2007, NSUI had named Amrita Bahri as the president. In 2008, the NSUI had fielded Sonia Sapra, who had lost the top post to ABVP's Nupur Sharma. Thereafter, the Congress' student outfit has not fielded any woman candidate for the president's post.
---
---
Roshni from All India Democratic Student Organisation (AIDSO) is also contesting for the post of president.
In the last two years, elected presidents of the DUSU could not perform or continue president post for the full term. In 2017, NSUI's Rocky Tuseed, DUSU president-elect had to step down from the post for furnishing false information in his affidavit to the poll panel at the time of nominations. He faced serious criminal cases and a charge sheet was filed against him under IPC Section 308 (attempt to commit culpable homicide), etc.
In 2018, the turn came for Ankiv Baisoya of ABVP, who was dismissed from the president post on similar grounds, that is, for fabrication of fake mark sheets to get admission in the Delhi University.
ABVP Panel:
President: Ankshit Dahiya, Vice-President: Pradeep Tanwar, Secretary: Yogit Rathi, Joint Secretary: Shivangi Kharwal
ABVP which is currently reining the DUSU with three posts in a joint statement after the announcement of the name, ABVP said, 'We will provide reliable, responsive DUSU which will safeguard the interest of students. For the participation of DU students in the Olympics held in 2024, we will insist on improving sports facilities. We will provide safe campus for women'.
NSUI Panel: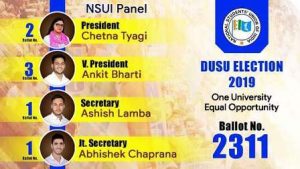 President: Chetna Tyagi, Vice-President: Ankit Bharti, Secretary: Ashish Lamba, Joint Secretary: Abhishek Chaparana
Ruchi Gupta, National-in-charge of NSUI, tweeted:
The NSUI is committed to equal educational opportunity for all Indian youth. Our DUSU panel is reflective too of our commitment to women empowerment, social justice and equal opportunity across class and caste. #AwaazUthaoSeetiBajao for an equal and egalitarian #delhiuniversity!

— Ruchi Gupta (@guptar) September 5, 2019
AISA Panel: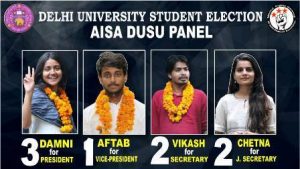 President: Damini Kain, Vice President: Aftab, Secretary: Vikash, Joint Secretary: Chetna
AISA Delhi President Kawalpreet Kaur said, 'Our consistent movement for affordable transportation which ensured AC bus passes has gathered massive support from DU students. The first task that AISA will ensure after coming to power is that DU students be given metro concessional passes'.
Being the largest university of the country, students from all over the country are studying here. Hence, the sentiments of the students here usually reflect the sentiments of the young generation of India. During DUSU elections last year, the ABVP bagged three posts including that of the president, while NSUI won the post of general secretary.