DUTA Election 2019: DTF's Rajib Ray re-elected as DUTA President
Delhi University witnessed a politically spirited high-voltage election this time; it's for the office bearers' election to the teachers' association. The outcome of the election saw the left-wing bagging the president post by defeating its right-wing opponents.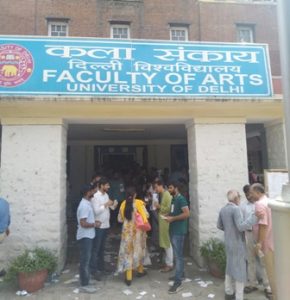 In what was seen as a direct confrontation between the left and right teachers' groups, Rajib Ray of left wing, Democratic Teachers' Front (DTF), has been re-elected as Delhi University Teachers' Association (DUTA) President by defeating A. K. Bhagi of National Democratic Teachers' Front, a Rashtriya Swayamsevak Sangh-backed teachers' organization.
Teachers participated heavily in the voting on Thursday and the voting percentage was around 82.36 per cent. The results were announced in the early hours on Friday. Out of total 9,630 voters, 7,931 exercised their franchise. According to officials, 518 votes were found to be invalid. The results were announced in the early hours on Friday. Ray polled 3,750 votes while Bhagi secured 3,481 votes; hence, Ray defeated Bhagi by 269 votes.
This is the fifth consecutive victory of DTF in a row when DUTA president post has gone to DTF. Rajib Ray will be second-term DUTA President. Nandita Narain had been elected for two consecutive terms and before that, a Hindi Professor Amar Deo Sharma was the president of DUTA for one term.
Hailing the victory as a referendum on the position taken by DTF against the Draft National Education Policy (NEP), Ray said—'Teachers have re-imposed faith in me to represent DUTA and we will work for their cause and raise their issues'.
He also says that this time the top priorities of DUTA will be solving pending promotion cases, absorption and regularization of Ad-hoc teachers.
---
---
NDTF's A. K. Bhagi congratulated Rajib Ray for winning but according to him NDTF won too, he said—'When I say NDTF has won then it is based upon the following facts. First, the DTF and AAD lost one DUTA executive candidate each, whereas all four candidates of NDTF have won. Second, the total votes of NDTF have gone up more than 1,100 as compared to last DUTA election, whereas the combined votes of DTF-AAD-UTF have decreased even when the total votes polled increased'.
Both DTF and NDTF had also fielded 4 candidates for the Executive Council (EC). Strangely, Congress's teacher's wing—Indian National Teachers' Congress (INTEC) and Academics for Action and Development (AAD) had not fielded any candidate for the president post, though they have fielded candidates for EC.
On being asked why AAD has not fielded any candidate for the president post, AAD's member and outgoing DUTA Vice-president Sudhanshu Kumar blamed it on the failed talks with INTEC and said—'We waited for their response and eventually it was decided we will contest for the 4 EC posts only'.
Senior Congress leader, Kiran Walia, on supporting DTF and not fielding any candidate for president said, 'We don't want any secular forces to be divided at this time'. We have fielded 3 candidates for EC posts only, she added.
---
---
Vaishali Sharma, Ad-hoc teacher from DU's Swami Shraddhanand College told that she voted for responsible DUTA, which will resolve the pending issue of permanent absorption of Ad-hoc teachers and fight for the rights of teachers.
Out of total 20 candidates for 15 EC posts, DTF bagged 3, NDTF bagged 4, AAD secured 4 posts, INTEC got 2 and Both Common Teacher's Forum (CTF) and Aam Aadmi Party Teacher's wing—University's Teacher Forum (UTF) had secured 1 post in their favour in DUTA's EC election. These EC members elect the Vice-President, Secretary, Joint Secretary and Treasurer of DUTA. DUTA functions for a single two-year term.