Gulf Deaths: Parliament responds with MADAD portal, RTI Activist urges for detailed study
Even as an intervention by two MPs in the Lok Sabha in the on-going winter session of the Parliament has revealed that the number of Indian nationals who died in the Gulf countries of United Arab Emirates, Bahrain, Kuwait, Oman, Qatar, Saudi Arabia between 2014 and 2018 is 28,523, RTI Activist Venkatesh Nayak who is the face behind the initial revelation, calls for commissioning a study to reveal the exact number and cause of deaths of Indian workers.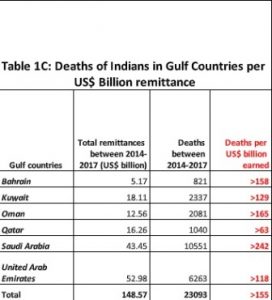 Back in November, Delhi Post reported on Gulf deaths of Indian workers brought out by RTI activist Venkatesh Nayak. Recall that the data from the Embassies of six Gulf countries and information from Lok Sabha and the Rajya Sabha were compiled to reveal that at least 24, 570 Indian workers died in the six Gulf Countries between 2012 and mid-2018. He further stated to Delhi Post that he was "hoping" something comes out of this considering it makes such a strong case for the status (and treatment thereof) of Indian workers in Gulf countries considering "Members of Parliament (MPs) keep track of such information".
Now, an intervention by Lok Sabha MPs Dharam Vira Gandhi from Patiala and Malyadri Sriram from Telugu Desam Party in Bapatla, Andhra Pradesh, in the on-going winter session of the Parliament has revealed that the "as per the information available with the Ministry, the number of Indian nationals who died in the Gulf countries of United Arab Emirates, Bahrain, Kuwait, Oman, Qatar, Saudi Arabia between 2014 and 2018 is 28,523".
The Minister of State in the Ministry of External Affairs, Gen. (Dr.) V. K. Singh (retd), in an Unstarred Question no.383 which was recently answered on December 12 also states, "Indian Missions abroad maintain information in respect of death of Indian nationals in their jurisdiction, but not specifically of workers".
Reacting to the figures presented in the Parliament, Nayak, in contention, in an analysis sent out to media goes on to state "The Central Government's reply is bewildering for more than one reason".
Why is that? "The data tabled in the Lok Sabha on December 12, 2018, matches with some of the country-specific information that I received under RTI. For example, in July 2016, his colleague in the same Ministry, M J Akbar, tabled data about deaths of "Indian Workers" (and not "Indian Nationals") in 96 countries across the globe in response to questions raised by four Lok Sabha MPs namely Abhijit Mukherjee, PR. Senthil Nathan, Prahlad Singh Patel and V. Sathya Bama as part of an Unstarred Question No.1782 answered on July 27, 2016. This included data from six Gulf countries which were covered by my RTI intervention. Which of the Government's replies is correct is now a big mystery, like the ongoing controversy over India's GDP figures," quips Nayak.
---
---
"Until the Central Government clarifies this mystery, I will proceed on the assumption that the data supplied by the Indian Embassies in response to my RTI application and what was tabled in Parliament in July 2016 is about the deaths of "Indian Workers" and not all "Indian Nationals"," adds Nayak, who works at the Commonwealth Human Rights Initiative (CHRI), a non-governmental organisation.
While according to the Lok Sabha reply, a total of 28,523 Indian Workers died in the six Gulf countries between 2014-2018, the data that Nayak obtained under RTI from the Indian Embassies or from their website or what was tabled in Parliament in July, 2016 for the same period, accounted for only 17,827 deaths.
"So, the figures revealed in Parliament are 37 per cent higher than what I circulated in November 2018," he contends.
"In comparison with the December 2018 data, overall death figures for Gulf countries disclosed under RTI or to Parliament in July 2016 were lower for every year," he says. While Lok Sabha was told 5,388 deaths had occurred in 2014, the RTI and the July 2016 data revealed only 4,395 deaths during this period. The Lok Sabha was told that 5,786 deaths occurred in 2015, whereas RTI and the July 2016 data accounted for only 4,702 which was fewer by a thousand. In 2016, 6,013 deaths occurred as per the Lok Sabha, the RTI and the July 2016 data revealed only 4,047 deaths which was almost two thousand less. In 2017, according to the Union Minister, 5,906 deaths occurred whereas RTI and Parliament data revealed only 3,027 deaths which was fewer by almost two thousand again. During the first 11 months of 2018, 5,430 deaths occurred but as the RTI and Parliament data covered just about six months, the figure stood at 1,656 deaths.
He says that "it is quite possible that the data disclosed under RTI and what was tabled in Parliament in July 2016, were only a subset of the overall number of deaths of Indian Nationals". It may not be entirely wrong to presume that the expanded figures tabled in Parliament in December 2018 include data about deaths of the family members of Indian Workers in the Gulf countries, mentions Nayak. "Either these deaths could be of Indian workers or Indian family members or a few number of Indians who might have overstayed on expiry of their visa," he tells Delhi Post.
"He says that the good practice observed by the Indian embassy in Kuwait where it reveals the deaths of Indian workers based on their gender, age and cause must become the standard for other Indian Missions abroad."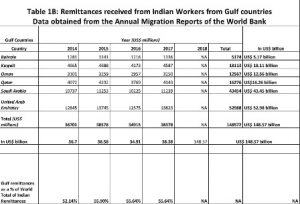 "This is the first step towards developing any policy prescription to reduce the number of deaths of Indian Workers in the Gulf countries," Nayak tells Delhi Post. However, he says that further "segregation of data and a study should be commissioned to ascertain the cause of deaths whether in the workplace or at home even if the type of deaths has been divided into accidents and natural causes as is in the case of Kuwait," he adds.
In order to prevent workers' death such as suicides, road accidents among other incidents in Gulf countries, "awareness campaigns are conducted by the Missions/Posts through labour camps organised by Pravasi Bharatiya Seva Kendra in collaboration with the Indian Missions/Posts" as per the Parliamentary response.
The response goes on to state that Consular Officers posted in Indian Missions/Posts abroad are tasked with addressing the difficulties of distressed Indians, including Indian workers, in various countries abroad. Indian officials work proactively to alleviate and resolve the difficulties being faced by Indian workers such as excessive working hours, inadequacy of medical facilities, excessive exposure to heat and sun-stroke etc. Anyone having any difficulty can approach Community Welfare Wing in getting his/her problems addressed promptly. In Gulf countries, where there are large numbers of Indian workers, our Missions and Posts have specialised Community Welfare Wings and Labour Wings.
"In addition, the Government has launched an online portal called 'MADAD' for addressing the grievances of Indian nationals abroad. The MADAD Portal is regularly monitored in our Missions/Posts at various levels, thus giving high priority to grievances of Indian workers," the response states.
"The Central Government has explained multiple times in Parliament about the steps it has taken to provide assistance to Indian Workers abroad, particularly those living in Gulf Countries. These are to be appreciated indeed. However, given the large number of deaths being reported from the six Gulf countries year after year, it is important that the Government take necessary steps to record detailed data about deaths of Indian Workers to start with and later collect similar data about Indian Workers dying in other countries," comments Nayak.
He tells Delhi Post, "These are not non-residents. They are proper Indian nationals dying in other countries. If their remittances are valued, their lives must also be valued. In fact, I would say that not just in exigencies, even ordinary circumstances should call for care to reveal the exact number of deaths."