Exit Polls Predict Return of Incumbent Govt in WB, Kerala, Assam
TMC likely to hold West Bengal; CPI(M) edge in Kerala; BJP to return in Assam, exit poll results predict.
Exit poll results of the recently conducted state elections in the country have predicted that the Trinamool Congress (TMC+) will return to West Bengal, and the Bharatiya Janata Party (BJP+) will continue to hold Assam. The pro-incumbency wave was also predicted in Kerala where the Left Democratic Front (LDF) will return for a second time. However, MK Stalin-led Dravida Munnetra Kazhagam (DMK+) is predicted to form a government in Tamil Nadu this time around, beating the incumbent AIADMK.
Elections for five states took place between March 26th to April 29th in West Bengal, Assam, Tamil Nadu, Puducherry, and Kerala. While polls for WB and Assam were divided into multiple phases, TN, Puducherry, and Kerala voted on the same day. Results for the elections are scheduled to be announced on May 2nd.
Exit polls conducted by ABP-C Voter, India Today-Axis, and Republic TV-CNX predict pro-incumbent results in four states, while anti-incumbent in one. Exit polls were also conducted by CNN News 18 and Times Now-C Voter. However, people have seen most of the exit poll results in the Bihar Assembly election in 2020 that predicted a clear win for Mahagatbandhan led by Tejashwi Yadav and eventually the pollster's prediction went wrong.
---
---
West Bengal
The electoral battle in West Bengal, easily the most riveting battle this year, is currently between 3 political fronts- TMC+, BJP+, and the Congress-CPIM-ISF alliance. The parties are fighting for a majority of 148 seats of the total 294. Altogether, many exit polls have predicted that Mamata Banerjee-led All India Trinamool Congress will return to power with its allies.
Voting in 35 constituencies was held in 11,800 poll booths in eight phases. The Republic TV CNX exit poll has predicted that there will be a tight contest between BJP+ and TMC+, but the former will form the government. Both ABP-C Voter and Times Now-C Voter state that TMC may win with 152-164 seats.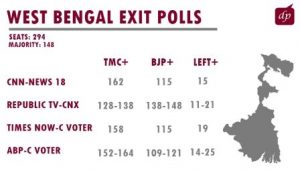 Kerala
In the only remaining Communist bastion, elections were held on April 6th. The battle in Kerala is between 3 electoral fronts as well: CPI(M)-led LDF, Congress-led UDF, and the BJP-led National Democratic Alliance. Here, exit polls predict a tough fight between LDF and UDF but predict the former as the winner. The India Today-My Axis exit poll, however, places the Pinaryi Vijayan-led government as the clear winner with 104-120 seats. The state has 140 seats, out of which 71 are required to form a majority government.
The P-MARQ exit poll predicts that LDF will score 71-79 seats, and UDF will score 60-66 seats, making for a tight electoral battle. For Republic TV-CNX, the numbers stand at 72-80 (LDF) and 58-64 (UDF). All polls here predict that BJP will get less than 5 seats.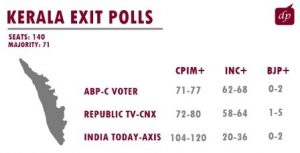 ---
---
Tamil Nadu
The current NDA bastion, exit polls predict, will be the only one to see anti-incumbent results. The state which went to polls on 6th April has the second-largest share of seats in the current elections- 234. It saw an electoral battle between four fronts- AIADMK+, DMK+, AMMK+, and MMK. All fronts contested for a majority of 118 seats.
Exit polls predict that the incumbent AIADMK+, which also constitutes the BJP, will lose the battle to DMK+, which constitutes Congress and CPIM in its alliance. The Republic TV-CNX poll predicts that DMK+ will score a whopping 160-170 seats, while P-MARQ puts the number between 165-190. AIADMK+ may close its curtains around 65/68 seats.
Assam and Puducherry
BJP will continue to hold its bastion in Assam, exit polls have predicted. The India Today-Axis polls predict 75-85 seats for the BJP+, out of the total 126. The required majority in the state is 64. It also predicts that INC+ will lag behind with 40-50 seats. While Republic TV-CNX predicts 74-84 seats for the BJP+, ABP-C Voter puts the number at 58-71.
If the exit polls are to be believed, NDA will return to power in Puducherry. The Republic-CNX voter survey predicts 16-20 seats for NDA and 11-13 for Congress-led SDA. Parties require to cross the majority mark of 16 seats to form a government in the 30-seat assembly.
NDTV, which analyzed all the polls, put forth the conclusion that TMC+ will win 156 of 294 seats in West Bengal, while LDF will win 76 of the 140 seats in Kerala, both a little over the required majority. It also predicted a hefty 76 seats for the BJP in Assam (from a total of 126) and 18 seats for NDA in Puducherry. However, DMK+ may form the Tamil Nadu government with a whopping 173 seats, of the total 234.
All the exit poll predictions show an upsetting situation for the Congress despite an active and direct campaign involvement of Rahul Gandhi and Priyanka Gandhi Vadra in all the election-bound states this time.