India Improves in Ease of Doing Business
For the third consecutive year, India was placed among the Top 10 economies with maximum improvement.
World Bank released the 17th edition of its yearly Ease of Doing Business report, entitled 'Doing Business, 2020' on 24 October for the year 2020. The index ranks 190 countries regarding the business environment in these countries, based on 12 broad indicators. This year, the list was collated taking into account 10 out of the 12 indicators. The performance was reviewed over a year ending on 30 April 2019.According to the report, from May 2018–April 2019, 294 regulatory reforms were implemented by countries. In 115 out of the 190, economies have shown improvement in 'ease of doing business'.
Indicators Measured In the Report
The report placed India on the 63rd position with a score of 71 out of 100; top three positions were held by New Zealand (86.8), Singapore (86.2) and Hong Kong (85.3).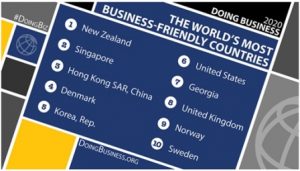 India featured in the Top 10 countries with maximum improvement for the third consecutive year in the Ease of Doing Business score. Director of Development Economics at the World Bank, Simeon Djankov, lauded India's improvement given the sheer size of the country in terms of population and economy. In an interview with PTI, he said, 'This is the third year in a row that India makes to top 10 in Doing Business, which is a success very few countries have achieved over the 20 years of the project. Without exception, the other countries that have done this are very small, population-wise, and homogenous'.
India has improved immensely in recent years. Country, that stood at a dismal position of 142 in 2014, stood at 100th position in 2018, jumped 23 places to 77th position in 2019 and stood at 63rd place in the report for the year 2020.
In 2015, India set a goal to be in the Top 50 economies by 2020 on Ease of Doing Business ranking. 'While the competition to move up the ladder would increase and become much tougher, India is on the track to be within Top 50 of Ease of Doing business in next year or two', Djankov told PTI in response to a question. India secured the first spot among the South Asian economies, with Bhutan at the second and Nepal in the third place.
On individual indicators, India's position among the 190 economies is 136thin ease of starting a business, 27th on dealing with construction permits, 22nd on getting electricity, 154th in registering property, 25th in getting credit, 130in protecting minority investors, 115th in paying taxes, 68th in trading across borders, 163rd in enforcing contracts and 52nd in resolving insolvency. Interestingly, getting electricity, in which India stood at 22nd place, and getting credit, inwhich it stood at 25th place, come under power and banking sectors respectively—two of the most ailing sectors of the Indian economy. This year, India improved in 7 out of 10 indicators against 6, last year.
---
---
The report highlighted PM Modi's flagship 'Make in India' scheme's contribution to attracting foreign investment, boosting the private sector and enhancing the country's overall competitiveness.Though, the main reason for the remarkable improvement is the successful implementation of Insolvency and Bankruptcy Code (IBC), where it jumped 56 places. 'Since its implementation, more than 2,000 companies have used the new law. Of these, about 470 have commenced liquidation and more than 120 have approved reorganization plans, with the remaining cases still pending.As a result, reorganization has become the most likely procedure for viable companies as measured by Doing Business, increasing the overall recovery rate from 27 to 72 cents on the dollar', the World Bank said.
While lauding its efforts, the international body asked India to do more in areas such as enforcing contracts, registering property and starting a business, where it stood at 163rd, 154th and 136th position, respectively.
Performance of India was accessed taking into account the business environment in its two major metropolises, namely, Delhi and Mumbai. The report comes at a time when World Bank, IMF and RBI have slashed growth forecast for FY2019–20.