Banana Leaf: An Alternative To Single-Use Plastic
Banana Leaf Preservation Technology has an alternate solution to single-use plastic and addresses the concerns of plastic menace.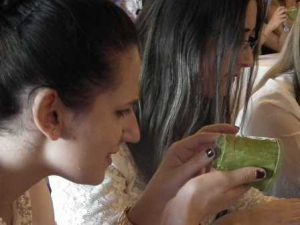 Humanity stands on the verge of an irreversible environment crisis as deforestation and plastic epidemic contributes to global warming. Paper and plastic are the key players in the destruction of the planet and the millions of disposables that we use each minute across the globe make them inseparable in our daily lives.
Prospectively, an Indian innovation called Banana Leaf Preservation Technology has the solution to this global challenge.
More than half of the world's plastic and paper are utilized for single-use products, resulting in an annual cut down of 7 billion trees. Disposables, on an average, serve their purpose for just 10 minutes and ends up as trash, ultimately in the oceans. Mother Nature offers us everything we need, it is up to humankind to make the right choice. Our failure to grasp the effect of the absence of an alternative biodegradable disposable material has been fuelling this climate epidemic so far. Nature and mankind should coexist in every aspect to create a sustainable civilization.
Banana leaf technology is a cellular eco-friendly technology that preserves leaves and organic biomaterials for a year without the use of any chemicals. Naturally, leaves and most biomaterials degrade within a shelf lifespan of three days and are discarded as waste. This technology enhances the leaves' physical properties, thus making a viable biodegradable material alternative to both plastic and paper.
---
---
Increased in their durability, elasticity and crushability, preserved leaves can resist extreme temperatures and hold more weight than their original nature.
The preservation capability of leaves with natural green colour is for a period of up to one year and an extended shelf lifespan of three years without its natural colour.
The technology enhances cells, strengthens cell walls of leaves and prevents pathogenic agents from destroying the cells. These processed biomaterials are biodegradable, healthy, pathogenic-resistant, human-friendly and completely eco-friendly. A viable replacement for disposables, these preserved leaves prevent the destruction of around 7 billion trees annually.
In Asian regions, banana leaves are considered a traditional food medium and used for food packaging. But the limited shelf life and properties were no match for its alternatives. The limitations prevented them from satisfying human needs, globally in the industrial age. As time went by, the drawbacks allowed them to be taken over by alternative products and made obsolete.
This technology evolves the traditional practice to suit modern needs, thus providing a sustainable environmental solution to a longstanding global problem and on its way to saving 4 billion trees every year. This processed biomaterial made from leaves can replace multiple products in various industries and currently serves over 30 products, wherein its applications are limitless.
As the climate change is compromised for the economy and ignored for a long while, this grave epidemic is boldly voiced by the Indian Prime Minister Narendra Modi on the world arena. Concurrently, the United Nations has set forth the sustainable development goals to take urgent action to combat climate change and its impacts from its root. This innovation makes the dream vision, a reality.
This processed biomaterial is totally chemical-free, animal fodder, cost-effective, 100 per cent bio-degradable and goes back into nature when discarded in 28 days as opposed to plastic and similar products, which stays in nature for around 7,30,000 days.
This solves the global landfill crisis that results in constantly rising heaps of garbage which amount to more than 1 billion tons per year, almost reaching up to Mount Everest and prevents the death and cruelty to 200 million land and aquatic animals.
Owing to the economical, innovative and environmental impact of this technology, it has received over 7 international awards and 2 national awards, including the prestigious International Environmental Award, International Green Technology Award, Technology for the Future Award among other esteemed recognitions.
This humble initiative to save millions of trees directs a path for humanity towards saving the environment with the promise of circular economy and now it is time to be the Heroes, we were always meant to be, the guardians of the planet.
---
---
The Journey
The Banana Leaf Technology was formulated in 2010 when I was 11-year-old at my own homemade laboratory. This technology was inspired by the dream to create a superior sustainable biomaterial to put an end to the environmental crisis. I was determinant to revive the forgotten traditional South-east Asian practice made this research an emotional struggle to me as an inventor that I desired to make a global habit in this modern era.
It all began when I saw farmers dump heaps of leaves as trash due to the lack of preservation technology, causing a huge economical void. The spark ignited when the question came to the mind, 'can these leaves be enhanced biologically?'
By trial and error, the initial phase of preserving the leaves for about a year without using any chemicals was created on 2010 October. As time passed, the technology advanced as a cellular enhancement that resulted after four years of research and development. The first international award for this technology was awarded at the global invention fair at Texas 2014. And that is how this story began!
(Editor's Note: Banana Leaf Preservation Technology was developed by Tenith Adithyaa, a young Indian innovation scholar and commercialized and licensed by his company. He currently serves as the CEO of a social network called Altruu, the global track-free discovery engine that allows connection with what matters to us).