India's Reluctant Engagement in Baltic States
In the context of the on-going first high level visit from India by Vice President, Venkaiah Naidu, to the Baltic States, it reminds the importance of implementing PM Modi's foreign policy idea that "the smaller countries of the world are as important as big powers" and it is time now to discard the old view that "smaller states should develop under the shadow of bigger nations."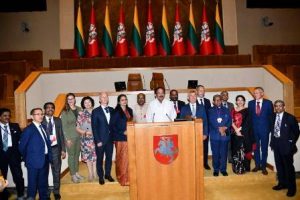 India's diplomatic relations with Baltic States of Lithuania, Latvia and Estonia commenced in 1992. Much before India gained independence, in 1947, Jawaharlal Nehru noticed the Baltic States' strong fascination towards India that dated back to antiquity and said both entities are "geographically distant but culturally close". India tried to rejuvenate past cultural interactions in enhancing mutual relations friendly and warmly, the pace is however very slowand it looks like a kind of reluctant engagement from the side of India. India, in its foreign policy priorities, is yet to appreciate the tiny Baltic States located at the periphery of both Europe and the post-Soviet space.
Therefore, the on-going first high level visit from India by Vice President, Venkaiah Naidu from 17 to 22 August is important if it could bring about a paradigm shift in India's relations with Baltic States from the past reluctant engagement to a new dynamism in line with Prime Minister Modi's vision that, in the complexly interconnected and interdependent world in the 21st century, "The smaller countries of the world are as important as big powers" and now it is time to change the prevailing assumption that the relations with the "smaller states should develop under the shadow of bigger nations." The visit is announced to seek opportunities for enhancing cooperation further, cementing the existing friendly relations and advancing India's outreach to Lithuania, Latvia and Estonia in the region, the fructification of which depends on several factors.
India must start Indian embassies in all Baltic capitals, Vilnius, Riga and Tallin. If India is serious to materialize PM Modi's vision, some institutional reconfiguration needs to be done. India is still working on the Cold War era realist format of foreign engagement. Baltic States are placed under the Central and East Europe Division. But Baltic States themselves possess the characteristics of calling themselves together a region (Baltic Region, probably) due to shared common history and capability to act as a single geopolitical unit. Baltic States should be included as a separate region in the Ministry of External Affairs Division. This will help develop a more nuanced understanding and dynamic engagement in the region and initiate a regular dialogue/interaction mechanism.
The direction of India-Baltic relations has to be taken to regional and global dimensions also from the level of bilateral relations. Baltic States are strategically located between Europe and Russia squeezed between the two ancient trade routes, Silk Road and Amber Road, now being revived. They have a history of great power domination and permanent insecurity due to the geopolitically significant location. Given the drastic geopolitical changes such as shifting global priorities to Asia-Pacific region and weakening of EU's global role, multiple crises, Russia's assertiveness, China's rise, unpredictability of Trump's Politics, and vulnerability in the region, the Baltic Stateswant to ensure their national security and consolidate independence of thirty years which they regained through Singing Revolution inspired by Mahatma Gandhi's nonviolence and Indian freedom movement.
---
---
Support of intellectual resources generated by scientific research is necessary for the success of policies in a knowledge based economy and society. Baltic States is an under-researched area in India. Past cultural interaction and people to people contact between the two entities are documented to a certain extent. It is necessary to develop knowledge and expertise about the Baltic States' modern history, culture, society, economy, politics and international relations. In Baltic States too, knowledge about modern India is not enough.
For Indians, learning Lithuanian, Latvian and Estonian languages is an additional advantage for working in companies in Baltic States.
My own teaching and research since 2009 in Jawaharlal Nehru University and my limited academic interactions and travel experience give me the impression that Baltic States could be a land of opportunities for Indians. Baltic people are very cool and friendly. They have a lot of warmth and respect to Indian people, civilizational values, spirituality, culture, cinema and even TV serials. Indian cinema is very much preferred as a specialized study and for professional co-productions. Cost of living is low, especially in Lithuania, compared to other parts of Europe. They have variety of delicious cuisines. They love Indian spices very much. Indian and Baltic family values, certain customs, hospitality traditionsand fabric designs have some similarity. India's cultural resources are, therefore, a good source of soft power and cultural diplomacy.
They have transformed into secure, stable, rule-based and free democratic countries today. They have adopted Euro as common currency. Although Lithuania, Latvia and Estonia are small states in terms of size of territory and population, they are important role players in the region as members of European Union, Schengen (comprising 26 European states, functioning as a single jurisdiction for international travel purposes, with a common visa policy), Council of Baltic Sea States, and NATO. They are the focal points of geopolitics in the volatile Baltic Sea Region (BSR), where great powers' competition is leading to militarization and global instability. Despite being skeptical on Russia's regional engagement and supporting sanctions on Russia, they negotiate with Russia through the regional and international institutions.
---
---
They look to India for economic cooperation due to the challenges Europe is facing in the changing context of international politics such as economic crises, declining EU's geopolitical role as a global player, rise of populism and protests, assertive Russia, rising China, etc. Moreover, the future of European Union is uncertain. They consider India as an unsaturated market for them. Connectivity is the main problem for lack of India's economic cooperation in this region. This region is a meeting point of different Eurasian integration initiatives such as Russia's Eurasian Economic Union, China's Belt Road, and India's International North South Corridor (INSTC) that can be complementary to EU's European integration. Baltic States are participating in China's Belt Road and they are keen to develop the ancient Amber Road which was their historical trade link to India. INSTC and Rail Baltic Global connectivity can enhance Baltic cooperation with India. Blockchain Centre (BC), established in 2018 in Vilnius, is a hub of blockchain technology centre in Europe that aims to connect key stakeholders in Asia, Australia, and Europe.
The Baltic States, possessing quality infrastructure, act as an international logistic hub, providing market access to both Europe and Russia. Klaepeda, Riga and Tallin ports are ice free ports that permit freight movement throughout year and even Russia reliesheavily on these ports and sea transport facilities. They have very good transport connectivity to travel throughout Europe and to Russia by air, rail, ship and road.Transport connectivity helps tourists visit the Baltic States, the greenest countries in Europe.
Their universities provide world class educational opportunities to Indian studentsunder a highly professional environment and committed academic specialists in various disciplines.Indian students are showingincreasing interest in studying in Baltic universities. The Baltic students have also shown strong interest in studying about India.Baltic universities like Vilnius, Tartu, etc. have a strong tradition of Indology studies. They have MoUs and exchange programmes with many Indian universities like JNU, New Delhi. Lack of funding and political will from both sides constrain people to people contact through academic cooperation and exchanges.
Baltic States expect Indian companies' investment in the region. They are a gateway to Europe and also to Eurasia. They offer business opportunities, as dynamic international logistic hub masters in digital technologies, Europe's cutting edge, and blockchain hub,in plenty and also provide access to European and Russian markets. India needs to explore and discover Baltic region to grab opportunities. Some of the potential areas of cooperation include energy efficiency, clean energy, climate change, cyber security, science and technology, counter-terrorism, piracy and culture. Hopefully the Indian visit may help develop mutual cooperation in several unexplored areas.
India can generate new dynamism in its engagement through regular interaction with Baltic States through new forums of dialogue. India can also try to open channels of communication and interaction with the Baltic region via already existing interaction forums and institutional mechanisms like Baltic Assembly, Council of Baltic Sea States, European Union Strategy for Baltic Sea Region, Northern Dimension, to name a few.India can potentially enhance interaction with them in the format of BSR (Baltic Sea Region) and Eurasia besides EU. In the same way, the Baltic side also should try to engage with multilateral forums such as BRICS, SCO, etc. and generate new channels on communication and interaction. The credentials of world's largest democracy, commitment to rule of law and multilateralism,a peace-loving and emerging global power identity, etc. enableIndia to foster global governance and partnership so as to contribute to the region's stability, development, security and peace.