India's Southern Sojourn in the Indian Ocean
Sharing the oceanic boundary is welcome, but isolation presses India's sensitive nerve. Growing independently and interdependently seems like the best befitting solution to all problems.
The Indian Ocean has been a time-worn facilitator of trade, and over the years, it has gradually evolved as a strategic point in global politics. Being at the centre of trade transmission, Indian Ocean has always been a point of interest for issues related to maritime security and political developments; especially when it is a haven for piracy as well asa stage for simmering tensions between superpowers. India being the major stakeholder has the main responsibility for the security and interest in the region. However, China is the 'preferred one' among India's neighbours, which vexed India's regional competence and kept its security at stake. In order to counter the much anxious and alleged conspicuous advances of the Chinese, India went south of the Ocean and established military checkpoints in a 'Triumvirate' comprising Mauritius, Madagascar and Seychelles. The Southern Triumvirate of Islands in the Indian Ocean has become the new home for Indian strategic and diplomatic interests, and these states are culturally inclined to India's ethnically diverse background, and its sub-continental geography is the icing on the cake.
India's defence enhancements in theselittoral states are a big advantage to counter China's prowess in the Indian Ocean Region.Seychelles being the latest to India's security interests had cut a deal with India in 2018 to house a jointly operated navy facility in Assumption Island. Additionally, India also granted aLine ofCredit to Seychellesfor the enhancement of its domesticsecurity needs and to sufficiently secure its barter. But initially, there were setbacks due to political reasons within the country; yet, as of last year, the agreement is stated to be progressing without any further hurdles. India also had a pact with Mauritius to develop an airstrip in Agalega Islands, which again faced backlashes due to local protests alleging India of upkeeping 'colonial' interests.
Madagascar also became India's first listening post on foreign soil back in 2007, when it agreed to house a radar station bearing Indian Navy instruments, is being monitored from Kochi and Mumbai.
In addition to the strategic interests which India exhibits, the Triumvirate could also bring in more economic outcomes to India as well as derive benefits for themselves.These countries also attract a significant amount of Indian merchandise exports as well as give market exposure to their imports. According to recent Trade Data, exports to Seychelles in 2018–19 rose to a whopping 100 per cent growth, where India exported over $84 million worth of goods comprising apparels, groceries, etc. India's exports to Mauritius saw a surge of 7 per cent through the export of over $1 billion worth of goods during the last fiscal year. Madagascar was the lone concern as it showed a slump in Indian exports by 13 per cent compared to the previous fiscal year. As for imports, Seychelles saw its imports to India rise significantly to a massive scale of over 285 per cent compared to its previous year. This was mainly due to the solicitous appealfrom the Seychellois President for encouraging exports from Seychelles to the Indian government during his visit to India last year.India's imports from Mauritius were over $70 million and saw a mammoth rise by 250 per cent. Although Madagascar entertained fewer goods from India, its imports to India saw a sizeable increase by 74 per cent— mainly importing minerals, ores and other metals. Noticing the trade advantage, this Triumvirate of islands can also be financially and economically beneficial for India and can help put its foothold in the region comfortably.
---
---
Yet, there are other factors which do contribute substantially to the harmonious relationship between India and the Islands. One among them is tourism. Tourism is a sector where these countries meet their interests, and banking on that could prove favourable for India for its tactical derivativesin the region.
In 2018, over 13,000 tourists from India visited Seychelles, and India was subsequently ranked the 6th source market for tourism by the Seychelles Tourism Board.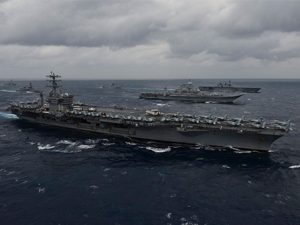 Mauritius also attracted more than 85,000 Indian tourists in 2018, and the Mauritius government hopes to increase the footfall over the years by encouraging its tourism industry. Though Madagascar does not seem to encourage Indian tourists, during the state visit of Indian Presidentback in March 2018, it was agreed that India will cooperate with Madagascar in tourism promotion. Moving on to other sectors, India also had been reaping investment benefits from Mauritius. Mauritius remained one of the top destinations for Foreign Direct Investment inflow to India until recently when India revoked the treaty and imposed 100 per cent tax on Capital Gains on investments from Mauritius.
India could also use the demographic and cultural embodiment of these nations at its disposal. Indo-Seychellois constitute the major portion of minority ethnic group in Seychelles with a populationof over 10,000 people, and this can be an added benefit for India to propagate its interests in the Island through its cultural and ethnic background. Mauritiuscan be a boon forIndia as 60 per cent of its population consist of Indian Origin ethnicity and this can be capitalised to bring in the greater Indian perspective to the strategically located island nation. Madagascar too has a significant Indian population of over 20,000. Notably, it is believed that the Gujarati-Karana community of Madagascar control over 50 per cent of the economy. In an ideal scenario like this, India could influence its own people to put out its ideas and interests to keep the Indian scenario afloat. It should also be noted that the Chinese have a significant ethnic minority in all three nations and through their distinctive 'China Town' community, they have exhibited their cultural aspects as a melting potof bilateral relations, which India always fails to do.
Conversely, Indian influence in the Indian Ocean Region has been a growing concern for the Chinese. China had already placed itself in the region through its deceptively convincing loans and financial aids to countries like Maldives and Sri Lanka. Even before India could realise this threat, China had become a major player in the political and economic affairs of a handful of countries including Seychelles and Mauritius. Seychelles was supposedly under China's lens to grab a spot in developing a Naval Base since 2005. And to remind of Mauritius, ithas a significant amount of Chinese development programmes decked up, including a plan to refurbish its national airport located at Port Louis and to construct a special economic zone (SEZ) along with a Smart City. Not to mention Madagascar, which is apparently the 'bridge' to Africa for China's marquee project—the Belt and Road Initiative. The Chinese have also persuaded these countries towards their interests by promoting tourism in their mainland, and naturally appeasing their economic backbone, that is, tourism.
---
---
Noticing this, India should understand that all its advances in the region will be restricted by the Chinese as they had marked their presence way before India did, and such an impact will be difficult to allay.
With China and India battling it out in the Indian Ocean, the three islands have caught themselves amidst a bipolar fight. As noticed, China's burgeoning rise in the Indian Ocean through its deceptive strategy has paid off well and to halt this, India's southern partners in the Indian Ocean Regionhave been approached to extend their cooperation in the matter. Even though India doesnot have the propensity to finance large-scale projects, it can assist these countries in their trade as well as promote their tourism back home. The protests and resentment which the Indian projects faced can be kept aside by Indiaplaying thecultural card along with its democratic credibility, unlike China. India can convince these nations and build a new den in its own backyard and restrictChina, provided it doesnot make a policy shift in appeasing others and not be an old hat by perpetuating ignorance.