Life in Lockdown: Voices of Manipur
While the government should focus on improving the relief measures, it is important that our society shows compassion towards every individual regardless of our differences. Financial insecurity, racism and lack of government intervention have to be addressed to make sure every community is heard and despair is minimised during COVID-19.
The world has come to a standstill due to the COVID-19 pandemic. Although everyone has been affected, it has affected various marginalised groups like migrant workers, women, sex workers, sexual minorities and daily wage earners disproportionately. A panel of Manipuris from different walks of life came together to discuss the hardships they are facing in the webinar titled- "Manipur Saga: Continuing Despair and Marginalisation during Lockdown", which was organised by Praxis- Institute for Participatory Practices on 13 May 2020. The panel comprised people living both inside and outside Manipur. They shared their grievances regarding lack of essential goods, loss of livelihood and racism among many other problems.
Tom Thomas, CEO of Praxis, who moderated the webinar, highlighted the apathy of the government regarding the situation of the marginalised communities. He spoke about the negligence and ignorance of issues faced by the people of North East in popular discourse. No one has any knowledge about the ground reality in the Seven Sisters. Only when something unusual or dramatic happens, the North East catches fleeting media attention. Recently, no news has been covered pertaining to the effects of the lockdown in the North East by mainstream media.
Livelihood Challenges
Oinam Rajen, the Secretary of the All Loktak Lake Areas Fishermen's Union, shared that fishing is the primary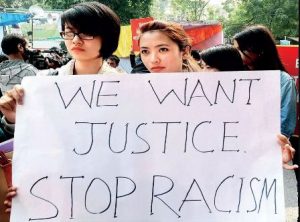 profession in his village in Loktak district. Due to the lockdown, the members of the community have neither been able to fish nor have the access to markets. According to Rajen, each household has five to nine members, and hence managing meals without any income has become very challenging. Despite publishing appeals in local newspapers, Rajen's village has not received any aid. Bina Mayanglambam, a daily wage earner residing in Chandel District recounted her struggles and said that her family has no work since nobody is hiring them as labours. Thus, her family cannot buy food, which has become expensive in lockdown.
---
---
M.S. Takat Ali from Manipur, who is a resident of Bangalore for the past three years, is also anxious regarding the current scenario. Ali did not receive his salary for April and May. For now, he is getting on by his savings to pay rent, buy essential commodities and send some money back home. He is stressed about his depleting savings and how longer he would be able to survive. He reached out to the police, but with no positive response. Kamminlen Misao is an IT professional and the eldest of six siblings. He came to Delhi for employment and to support his family financially. Since March Misao is living on the savings his parents gave him when he left home. In order to make the savings last long he is eating only one meal a day. He hopes to return home as soon as possible.
Lack of Essential Commodities and other Difficulties
Loss of livelihood and financial insecurity has compounded other problems such as lack of access to food and essential commodities, and also harassment at the hands of landlords.
Oinam Rajen shared that since his community is unable to fish and they are on the verge of starvation because all goods became expensive.
For now, they are buying vegetables in small quantities and relying on their neighbour's kitchen garden. Ration shops are also closed due to the lockdown. People fear dying of hunger as stocks of rice and grains run out. Since the main market is far away and almost three hours are required to access it, the fishermen are unable to go regularly to sell fish. According to Rajen, the government is not providing relief. His village called for a meeting to discuss these problems, but they are unable to gather due to the lockdown. He is worried that if the lockdown is extended, his community will be in a dire situation.
---
---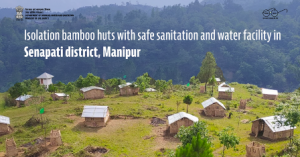 People, especially women, caring for children and elderly members of the family are distressed because they are unable to provide care for them. Bina Mayanglambam is a daily wage earner hailing from Kakching District of Manipur. Since more than a decade, she migrated to Chakpikarong, Chandel District, along with her family for work. Lack of income has made it difficult to support children's education. Takat Ali is disillusioned with the state government. Plans are announced, but their implementation remains a question. Since banks are closed access to essential goods has become tough. Everyone around Ali has been severely affected by the crisis. As a result, nobody is able to help each other. Kamminlen is deeply worried regarding the house rent. His landlord insisted on collecting the rent before the 10th of every month, despite the extraordinary circumstances. Kamminlen's landlord also threatened him to vacate the house. Intervention by his parents saved him from getting stranded when they explained their problems to the landlord.
Pfokrehrii Matekho Pekosii, President of Mao Students' Union Delhi, is a student activist, who has been actively working on various issues concerning students of Manipur in Delhi for the last four years. He explained that there are many students from Manipur residing in Delhi. These students are confused and anxious regarding when they will able to go home and fear whether they will be able to finish their degree. Students who came to Delhi for writing competitive examinations are worried as there has been no intimation regarding examination dates due to the lockdown. They fear of losing one academic year. University students have been told to vacate hostels and paying guest accommodations. The Students' Union has been communicating with the hostel authorities and house owners to seek cooperation in these trying times. The Students' Union is demanding help from both Delhi and Manipur governments to take students home. Neither government have responded positively so far.
Resurfacing of Discrimination and Racism
People from North East India have always had to face discrimination, but this has become worse during the COVID-19 pandemic. K Sakpui, a postgraduate student in Ambedkar University, Delhi is the Women Coordinator of Maram Students' Union, Delhi. She is the voice of her tribe's (Maram) students' union. Sakpui narrated an incident where people would not board the e-rickshaw she was sitting in after they saw her. She remarked that despite the fact that the virus was brought by upper class Indians who travelled abroad, the brunt is borne by the North East citizens. She also said that racism doubled with sexism towards North East women becomes much more discriminatory and abusive.
Matekho shared incidents of racial discrimination and stigmatisation in universities after the outbreak of COVID-19 which has left many students disheartened. Sumpi Tonitha, a first year student from Kalindi College also agreed that racism and discrimination has become two-fold after the pandemic. She shared that teenagers walked up to her and her friends and said "corona" and pointed at her. After they were confronted, rather than apologising they further hurled more abuses. Tonitha shared that she has also been called "Chinese". No one should be made to feel insecure about their facial features or culture. We are the citizens of the same country and sing the same national anthem. Coexistence has to be learnt. Sakpui said, "If North East is about small eyes, then India is simply about small minds"
Government Aid at the Ground Level
Speaker in the panel, Salam Rajesh is a member of Centre for Social Exclusion and Inclusive Policy at Manipur University and member of the Technical Committee to the Manipur State Wetlands Authority. He is also one of the non-official members of Loktak Development Authority. In the personal assessment of Salam Rajesh, the Manipur government was not prepared to handle the lockdown. By the third phase, the government's efforts improved. Committees have been set up to handle medical emergencies, distribute essential goods, and to bring back stranded migrants from Rajasthan and Delhi. The quarantine centres are not up to the mark. There is only one washroom for sixty to seventy people. The government has suggested that people can move to hotels, but these luxury quarantine centres demand huge sums of money. Various civil society organisations, student activist groups and lobbying groups are demanding the government to bring back people from outside Manipur.
Webinar Panelist, Lorena Anal, an independent researcher based in Manipur, shared her findings on migrant workers to understand the impact of the lockdown in six districts of Manipur. She shared that loss of livelihood has been a major challenge for the daily wage earners. Hence, repayment of loans has also become difficult. The government has distributed ration under PMGKY irrespective of the economic status of the family. However, the amount received greatly differed from village to village. While pulses and rice were distributed in the valley, only rice was distributed in hilly districts. PDS and MGNREG are the most accessed schemes, but despite many people having job cards only a few people have received wages. Many villagers are unaware of their entitlements under various schemes like Ujjwala, Jan Dhan, and Kisan Samman Nidhi. Since banks are closed so they cannot withdraw money from their Jan Dhan accounts. Community support is the only viable option.
Gajendra Mohanty, Project Director at Participatory Action for Sustainable Development Organization, shared the situation analysis carried out by him in Ukhrul district regarding the impact of the lockdown. He shared that only rice has been distributed to targeted beneficiaries. There is no transparency in most villages about such distributions being made. Rations have been of lesser quantity than the required amount. The concerned department gave no explanation for this. Food prices have risen. Parents in Ukhrul are worried that the lockdown will deeply affect their children's education. Schools have neither started online classes nor given any assignments.
While the government should focus on improving their relief measures, it is important that our society shows compassion towards every individual regardless of our differences. Hostility in these extraordinary circumstances compounds people's problems and feelings of hopelessness.