Lot to learn from what India is doing to improve the health of women and children: Dr. Jane Ruth Aceng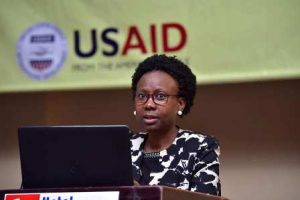 The concept of a district league table in the east central African country of Uganda started in 2008 as an accountability mechanism for the districts that carry out implementation of services, not only for health but for all other aspects of the economy. But particularly, in health, the table was designed to give accountability to stakeholders in terms of political leadership and also to themselves as a district in respect to their performance on an annual basis.
Dr. Jane Ruth Aceng, Minister of Health, Ministry of Health, Uganda, in an exclusive interview with Delhi Post talks about the innovative practice of district league tables, its implementation in the country of 39 million and how pertinent are multisectoral collaborations on the sidelines of the recently concluded Partners' Forum for Maternal Newborn and Child Health (PMNCH) in New Delhi organised by the World Health Organisation in collaboration with Ministry of Health and Family Welfare (MoHFW), Government of India among other partners.
Delhi Post: Tell us about yourself?
Dr. Aceng: I am a medical personnel, a paediatrician with a public health background. I must say, I am extremely passionate about health and improving the health and well-being of the population in Uganda. I would love to see a transformed health system where everybody gets quality healthcare but where we also have comprehensive health coverage for everyone. It is painful to see women, children and adolescents dying needlessly from preventable causes, and I am very glad that my Government is set out to address this issue.
Delhi Post: What are the district league tables that have been introduced in Uganda's 126 districts?
Dr. Aceng: As an accountability mechanism, certain targets were assessed based on criteria identified to clearly look out for district performances in regards to the targets set. Now, the criteria which were identified included availability of human resources for health and particularly, in regards to availability of doctors, and availability of midwives. Why so? Because in Uganda, the districts actually do their recruitment for their own human resources and so, if a district is keen on recruiting, the number of human resources will be high. If the district lags behind and doesn't put efforts in human resources, they would have fewer human resources for health. The other criteria included maternal mortality ratios, neonatal mortality ratios, the under-five mortality and adolescent health services.
On an annual basis, districts are expected to submit data but apart from that data, our teams also go down physically on ground to actually ascertain whether the information they are submitting is the truth. An analysis is then carried out and during the National Health Assembly, all 126 districts are invited.
So, the political leadership of the districts are invited, the health officers of the districts are invited, the chief administrative officers who are the accounting officers of the districts are invited and many other stakeholders in health. We could be talking about 1,200 people who come to this assembly.
---
---
During the assembly, feedback is given to the districts on their performance. All the districts are graded and they are able to see their performance on a dashboard. The ones that perform very well are then recognised and the ones that perform poorly are not really ashamed.
Obviously, when your results appear on the board, there is a sense of shame. But then, these districts are encouraged to perform better.
Delhi Post: How are the poorly performing districts encouraged to perform better?
Dr. Aceng: The information that is got from the poorly performing districts is shared with the policymakers, MPs and our cabinet. It is used for planning purposes to support those districts to come up. And the gaps found, whether in human resources or in financing, in programming or in leadership are addressed accordingly.
Now, for the ones that perform well, they are rewarded. So, they get a trophy for good performance and a certificate which can be shown as a matter of pride and the resources that are allocated to them is increased to encourage them to perform even better. This goes on every year where some districts drop, and some better their performance.
Delhi Post: Considering the performance of the last 10 years, have there been considerable improvement in performance considering the policy gaps being identified in the process of district league tables?
Dr. Aceng: Absolutely! The majority of them are actually inspired to improve not because of the resources given but because of the fear of being put on the dashboard as the last. So, when they get back, they have a meeting amongst themselves and then they try to reach out to the Minister for Health for necessary support. This has led to tremendous improvement.
Delhi Post: Is/are there still issues that the system grapples with?
Dr. Aceng: The major issue that we have really found that is causing many districts to lag behind is leadership. When the leaders are not up to their game and not pushy, then the districts don't do well. But where you find vibrant leaders who are committed and take issues personally, then, the district performs.
Delhi Post: Multisectoral partnerships and talking about people's movement to actually have a change is now being discussed on a global platform like the Partners' Forum. Your thoughts?
Dr. Aceng: I want to believe that the multisectoral approach is the same in all countries because different sectors impact health. You have education impacting health, culture impacting health, gender impacting health among others. So, in setting out to achieve the targets that health comprises, you can't act alone. You need all the sectors on board speaking the same language and supporting one another. For example, the health of women depends a lot on the availability of water, good sanitation, good hygiene which depends a lot on nutrition that may not be handled by the health sector. So, we need to come together. We need to set targets together.
The experience we have had in these two days as part of the Partners' Forum gives light to the fact that it is possible in partnership to address some of these big burdens of preventable diseases that are still affecting many of our countries and it is gratifying to see partners come together to discuss and forge better ways forward of handling the matters at hand.
Delhi Post: What are some of the ways in which partnerships are being emphasised in Uganda?
Dr. Aceng: Women's and children's health is a challenge in all countries. And it is a challenge that we work best ever in partnerships. Women and children are vulnerable everywhere. And their issue is complex. But it is not that we are not able to handle it.
Working together in partnerships, a number of issues are being addressed. Health development partners are putting in resources and natural resources to support the health sector to meet the gaps that need to be addressed despite the government allocations. We also have the civil society that not only mobilised the population to access the services but hold the government accountable for what is not addressed. We also have what we call a Heath Policy Advisory where all these partners come together on an annual basis and the National Health Assembly is one of their deliverables where we come together as stakeholders to account for our actions or inactions.
Delhi Post: How do you see important issues such as health being politicised?
Dr. Aceng: Health is politics and politics is health. Why? Because it is only when you have a healthy community is when you will have healthy politics. You can't disengage the two. They move together. And during voting, people will ask questions more about health. Because health is life. So, health and politics go together. You only need to know how to balance. When it is provision of health, don't over politicise. Provide the health services. But when it comes to politics, bring it out clearly.
Delhi Post: Is Uganda on track to meet Sustainable Development Goals' Agenda 2030?
Dr. Aceng: On the SDGs, I would say, we are on track. Hopefully, at the end of the years, Uganda would have achieved the Millennium Development Goals. I cannot say that we are doing absolutely well because there are number of factors that always come into play. For one, Uganda has not met their Abuja Declaration of 15 per cent allocation to health (recall that in April 2001, the African Union countries met and pledged to set a target of allocating at least 15 per cent of their annual budget to improve the health sector and urged donor countries to scale up support). We are just at nine per cent.
---
---
But Government is committed to increasing the mark every year until we reach the 15 per cent mark. There are also challenges with human resources for health. The training aspect is very good but recruitment and retention is still a bit of a challenge. So, we may not be giving all the quality services that the population desires. But the commitment is there and recruitment is on an annual basis.
Delhi Post: Would you like to have some partnership with India when it comes to Maternal, Newborn and Child health?
Dr. Aceng: There is a lot to learn from the Indian perspective and what India is doing to improve the health of women and children. I got an opportunity to visit the marketplace (inaugurated at Vigyan Bhawan during the Partners' Forum) and look at some of the innovations that are being carried out with the women in the communities, with development partners, with school health and education and I think, some of those best practices can be adopted and used in Uganda. I will be discussing at length with some of the innovators on collaborations on these issues.
It would be nice if they actually came to Uganda and see what we are doing and then they adopt it. For example, India already has the District League Tables that is going on. I don't know how they run it as it is such a huge country, in fact is a continent in itself! So, it would be nice for them to pick the best practices. Best practices can only give you results if you roll it out in the entire country. If you do, pile-logs, you may not get a good result. That is why, I say that India is really big. You have to get something that is cost-effective.