Partners' Forum: Coming together for Maternal, Newborn and Child Health
The two-day forum will bring together over 1,200 participants from across the world to share and deliberate on maternal, newborn and child health in the run up to Sustainable Development Goals 2030 Agenda. The event taking place in New Delhi is seen to bring the best of India's progress to the forefront especially with government policies including Universal Immunisation programme of Indradhanush, and the role of the civil society and private partners among many others.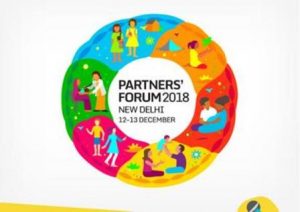 Bringing local projects that are scalable, impactful, innovative and sustainable to a global audience is the fourth edition of the Partner's Forum, 2018 in New Delhi. As an initiative of the Government of India and The Partnership for Maternal, Newborn & Child Health (PMNCH), it is being seen as a platform for "inspiration and ideas".
Alongside, it is also seen as a platform to shed light on pertinent aspects and questions such as is women's, children's and adolescents' health and well-being treated as a priority in the Sustainable Development Goals (SDGs) era especially when it comes to the national efforts in achieving universal health coverage or how successfully are countries working across sectors, and how can these experiences be shared and built upon as well as how the forum as progressed keeping in mind the old and new partners.
Heads of state and government ministers including Prime Minister of India, Narendra Modi; The Deputy Prime Minister of Nepal, Upendra Yadav; The First Lady of Belize, Kim Simplis Barrow; President of African Youth and Adolescent Network on Population & Development (AfriYAN), TikhalaItay will be key speakers with the Indian Prime Minister giving the keynote address.
About 1,500 participants from across 85 countries are expected to attend the event in various capacities.
"The invited countries have been selected from across all regions and income levels and include countries that are currently chairing key global and regional bodies such as G7, G20, BRICS among others."
---
---
Note that earlier in April 2018, a delegation of the PMNCH including J. P. Nadda, Union Minister of Health & Family Welfare, Dr. Michelle Bachelet, former President of Chile and former Board Chair of PMNCH, and renowned actor and UNICEF Goodwill Ambassador Priyanka Chopra Jonas met the Prime Minister during the Curtain Raiser, wherein the PM agreed to be Patron of the PMNCH Forum.
There are also representatives from civil society, the private sector, health care professionals, the donor community, and a large delegation of young people. Inaugurated by PM Modi today, the two-day forum is expected to see the launch of "Partners' Forum" issue of The BMJ (peer-reviewed oldest medical journal), with 12 case studies, highlighting best practices and innovations taken to scale for improving women's, children's and adolescents' health in the Millennium Development Goals era.
"The Forum would showcase learnings from across six regions namely Africa, Eastern Mediterranean, Europe, Americas, South East Asia and Western Pacific on six thematic areas."
These are Early Childhood Development (Germany and Chile); Adolescent Health and Well-Being (USA and Indonesia); Quality, Equity and Dignity (QED) in Services (India and Cambodia) with an emphasis on Intensified Mission Indradhanush. Besides these, Sexual and Reproductive Health (Malawi and Malaysia), empowerment of Women, Girls and Communities (South Africa and Guatemala); and Humanitarian and Fragile Settings (Sierra Leone and Afghanistan) will be other case studies.
The Forum is also expected to see the launch of an "Online interactive programming and dialogue through a multi-channel virtual broadcast paired with interactive discussions; A Ministerial Conclave and a Parliamentarians' Conclave which will discuss commitments to improve, scale, partner and invest to improve women's, children's and adolescents' health.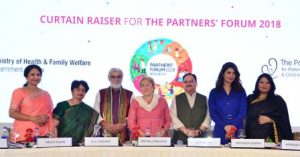 Launched in September 2005 to accelerate efforts to reduce child and maternal mortality, improve adolescent, child, newborn and maternal health, Partners' Forum is a global health partnership with an alliance of more than 1,000 plus members, across 10 constituencies in 92 countries: academic, research and teaching institutions; donors and foundations; health care professionals; multilateral agencies; non-governmental organisations; partner countries; global financing mechanisms and the private sector.
"There are also youth representatives from across the globe sharing their needs, aspirations and work to improve women's, children's and adolescents' health to help mainstream the discussions on progress towards SDGs."
The forum is also expected to see film, dance, music, animation and other creative arts to express the voice of women and girls, and what they want for their own health.
While this is the second time that New Delhi will be hosting the Forum after 2010, the previous chapters were held in Johannesburg, South Africa in 2014 and and Dar es Salaam, Tanzania (2007).