Making evidence accessible and reducing waste in research
Piloting and leveraging evidence footprint in South Asia, Campbell South Asia is being launched in New Delhi to promote researchers and policymakers in evidence-informed decision making.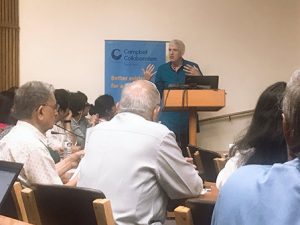 Evidence mapping and evidence synthesis is becoming part and parcel of the policymaking. The Campbell Collaboration – a globally known evidence champion organisation –launched its regional body, Campbell South Asia on 2 July 2019 in New Delhi. The objective of the #CampbellSouthAsia is to establish a sustainable mechanism which will increase accessibility of evidence by strengthening national and South Asian partnerships to support its vision of "Better Evidence for a Better World."
Over the last 25 years there has been an evidence revolution around the world that inculcates a host of methodologies like systematic reviews, rapid reviews and evidence gap-maps with an increasing focus on knowledge translation supporting government guidelines in the larger scheme of things. The Campbell Collaboration, an international, non-profit research network with a small secretariat based in Oslo, seeing the growing interest in Asia among practitioners and policymakers in evidence based research, set up an office in Delhi that publishes systematic reviews and evidence maps to promote positive social and economic change.
The Collaboration was named after the American psychologist Donald T. Campbell, a member of the National Academy of Sciences in the United States and was founded in the year 2000. Campbell is a sister initiative of the Cochrane Collaboration; Campbell focuses on research inpolicy making in multiple domains unlike Cochrane which is centred on evidence based medical research. The South Asia centre will (1) promote the findings from Campbell studies across the region; (2) provide training for researchers on producing evidence synthesis reviews and maps, and events for policymakers and practitioners on using evidence; and (3) undertake commissioned research synthesis studies. Debarring the pay wall, the systematic review is not only an approach but a product in itself which can help in formulation of an unbiased, high quality and reliable research accessible to everyone.
---
---
"Our job at Campbell is to publish high quality evidence synthesis. The main task would be to outreach to researchers and decision makers to increase the use of evidence based reviews in policy and practice," said Dr. Howard White, Acting Director of Campbell South Asia at the commencement of the event while talking briefly about the work done in last 3 years. From conducting workshops across countries to producing reviews and maps, the organization hasn't left any stone unturned to make a breakthrough in research methodology. Dr White claimed, given the potential in South Asia in the coming decade, most of the Campbell reviews would be produced in China and India.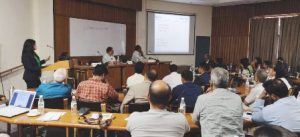 In the first panel discussion, the Chief Guest, Dr. Renu Singh, Director of Young  Lives India, talked about her work on longitudinal study into children and youth in India and around the world. The focal point was on the need to have a combination of scientific, pragmatic and value-led knowledge to form policies by adopting a more rational, rigorous and systematic approach. Although systematic reviews have a huge potential, they are daunting in nature and not accessible to policymakers. Raising the level of research and empirical evidence that we gather should be of reliable quality, commented Dr Singh.
"We need to go beyond the trends and patterns because evidence research methods are much more than that. How do researchers and practitioners come together is yet another challenge, we need domain knowledge and I hope Campbell will take up this challenge."
Evidence and Gap Maps
Evidence and Gap Maps are systematic presentations of all available evidence for a particular sector or subsector. A typical map is a matrix of intervention categories and outcome domain.There may be additional filters for study design, location and population subgroup, for a visibly accessible overview of evidence from systematic reviews, impact evaluations and primary studies, explained Dr White through his elaborated presentation on introduction to Evidence Maps. This was followed by a panel discussion chaired by Prof. Dinesh Mohan of IIT Delhi. Dr. Anju Sinha, Deputy Director General, Indian Council of Medical Research and Prachi Pundir, consultant to the Campbell Collaboration, through their presentations, emphasized on how evidence and gap maps can be useful in tackling the problem pertaining to Lower Middle Income Countries (LMICs).
Dr Sinha talked extensively about Preventions and Interventions of Child Neglect in LMICs and the lack of availability of detailed Evidence Gap Maps (EGMs). She argued that the problem with government policies is that they are mostly centred on child survival rather than childcare. Hence, their EGMs are planned to have a 360 degree perspective on domains of social sector including physical and mental health, nutrition, growth and education with a more inclusive age group."We should not neglect, neglect," said Dr. Sinha.
Prachi Pundir's presentation highlighted the alarming rate of violence against children in LMICs. Half of the world's children are said to be victims of any form of violence and more than 91per cent of deaths are due to interpersonal violence in LMICs. She stated how EGMs can play a significant role in identifying the existing gaps in evidence to inform future investment in research and to locate cluster of primary studies that offer opportunities for evidence synthesis and summarise existing evidence from systematic reviews of the effective interventions to reduce violence against children. The EGMs go through a rigorous process of screening of multiple studies followed by classifying them into systematic reviews and impact evaluations. All the EGMs and systematic reviews can be found easily at the Campbell library.
Systematic Reviews
The second panel discussion was moderated by Dr. Ajay Khera, Public Health Specialist and Deputy Commissioner, Ministry of Health and Family Welfare, who explained that systematic reviews give us guidance in terms of taking the next step and are critical in influencing policy and practice.
Evidence Synthesis Specialists at the Campbell South Asia, Denny John and Dr. Ashrita Saran, through their presentations on Economic Methods in Systematic Reviews and Evidence Gap Maps and reviews for disability respectively, elucidated on the value of using evidence in systematic research.
---
---
Denny John, a Health Economist, stressed on how economic methods can be integrated in systematic reviews and there's a need to have comprehensive analysis of cost and consequences in order to have a thorough economic evaluation of policies. Ashrita Saran's research showed some of the key findings and reflections of evidence mapping exercise and rapid evidence assessment in disability and intervention in LMICs. Through EGMs she demonstrated the lack of evidence in few areas which are integral to the problematization of disability.
Dr. Anindya Chatterjee,  Asia Regional Director, International Development Research Centre (IDRC), officially launched the Campbell South Asia Centre in New Delhi.
In the concluding session, Dr Chatterjee of IDRC highlighted the complex social processes that influence the policy landscape, and the inability to bring about changes due to the lack of data availability. He has been actively engaged with think tanks and strongly supports evidence based research. Campbell, according to him, can bridge the domains of research and policy, wherein primary data can be prioritized and strengthened, with the development of a network of evidence in a structured format for transparent and inclusive decision making.