My aim is to inspire the SDGs dialogue: Grammy Award musician Ricky Kej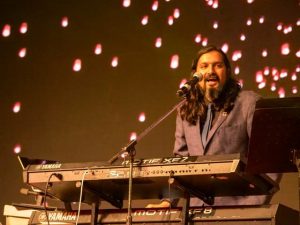 Dedicating his life to "creating Environmental Consciousness and positive social impact" through his music is Grammy Award Winner Ricky Kej. The Indian composer, music producer and conservationist, is known for his albums like 'Ballad of Maya' (2013), 'Mesmerizing Santoor' (2012) and the Grammy winning 'Winds of Samsara'.
Encouraged by Indian Prime Minister's words to raise awareness on climate change, Kej came out with his "epic album" 'Shanti Samsara' – World Music for Environmental Consciousness featuring over 500 musicians from over 40 countries which was launched by PM Modi and French President Francois Hollande in presence of world leaders at the United Nations COP21 Climate Change Conference in Paris in 2015.
Since then, the North-Carolina-born Kej has gone on to perform thrice at the United Nations General Assembly, New York among other prestigious venues in over 20 countries all over the world. Most recently, he performed at the United Nations Headquarters in Geneva, Switzerland.
Now, Kej is all set to perform at the first-of-its-kind, one-day 'National Health Conclave on Climate Change and Health – Role of the Health Sector' organised by the Association of Healthcare Providers of India (AHPI) and Public Health Foundation of India's Centre for Environmental Health (CEH). Dedicated to the health impacts of climate change in India and appropriate risk mitigation and adaptation strategies, with specific focus on the health sector, the conclave will cover talks and panel discussions on the theme, and a White Paper on the theme will be evolved and endorsed by key representatives of the health sector.
Ahead of the upcoming Delhi Concert 'Let us Live' on March 23 at Manekshaw Centre, Delhi Cantt, the internationally renowned musician speaks to Delhi Post on his music, conservation and everything in between. 
Excerpts:
Delhi Post: What motivates you about bringing music and conservation together? 
Ricky Kej: Music and conservation have always been the two pillars that dictate my life. My ears have always been more important than my eyes. While most of my classmates in school were fascinated by television and cartoons, I was hooked on to my music system. I would pull apart songs, try and figure out the instruments used. I would learn about different cultures and people through music.
It was through my music that I fell in love with our natural world. I found a deep connection within music and nature. I also realised that I loved hanging around with animals and within nature. Music unites people and has always played a major role in bringing communities together. We have to understand the true power of music and ensure that it creates a positive impact.
---
---
Delhi Post: When did that thought of doing something for the environment actually become a full-fledged passion?   
Ricky Kej: After I won the Grammy Award for my album 'Winds of Samsara', Honourable Prime Minister of India Narendra Modi invited my wife and me for a private meeting to his office. With a population of 1.3 billion in India, I was incredibly honoured by this invitation. The meeting turned out to be an hour long philosophical discussion. The Prime Minister knew I was a strong conservationist and inspired me to dedicate my life and my music to the sole cause of Environmental Consciousness. This was the push I needed, and ever since then, all of my music has been about the environment and awareness on climate change.
Soon after that, my epic album 'Shanti Samsara' – World Music for Environmental Consciousness took shape and was launched by our Prime Minister and French President Francois Hollande in the presence of world leaders at the United Nations COP21 Climate Change Conference in Paris. It features over 500 musicians from over 40 countries including India, United States, Australia, Turkey, Algeria, Senegal, Sweden, Korea, China, Vietnam, Tibet, Azerbaijan, etc all coming together to celebrate the natural world, and raise awareness on climate change.
Delhi Post: How has life changed after the Grammy win for your 14th album?
Ricky Kej: I consider every award to be a recognition, and super important. But if awards are used just for vanity, it's pointless. Using awards for a greater good is what matters to me. Winning the Grammy Award acted as a major catalyst in accelerating the process of taking forward the causes that I strongly believe in.
Delhi Post: Collaborations have been a distinct feature of your albums and music journey till now. Is it a conscious decision?   
Ricky Kej: I love collaborations! I feel fortunate for being able to collaborate with some of the best musicians and individuals across the globe. In my last album, 'Shanti Samsara', I collaborated with Native American flute players, a Gaelic Choir, Hebrew Choir, South African Choir, Korean, Turkish, Senegalese singers, Azerbaijani musicians, Koto player from Japan and Maori musicians. It was such a fulfilling experience to bring all these different cultures, traditions and people together through the universal language of music. Same applies to my concerts around the world. I always try and collaborate with local artistes and musicians.
Delhi Post: The world aims to achieve Sustainable Development Goals (SDGs). Do you think we are on our way to achieve them?
Ricky Kej: I am a very strong advocate of the UN SDGs. I have always believed that only when people start acknowledging an issue and start a dialogue to solve it, a solution will come. My aim is to inspire that dialogue. I very frequently interact and collaborate a lot with different organisations, government bodies, private entities, educational institutions, scientific communities, public etc in India and around the world who are working extremely hard to mitigate the effects of climate change by incorporating aspects of the SDGs in everything that they do.
However, all of us have to consciously work together on this in our day-to-day life and make better choices to collectively achieve these goals. We cannot rely on someone else to do this for us. Everyone needs to play their part to help reach these goals.
As musicians, we use our art to raise the importance of these goals and spread awareness about them. Our audience will sing our songs, and keep humming them many times a day. One goal will catch their attention, followed by another, and another, becoming a topic for conversation that will build into a cause for action.
The Indian Government has already taken several bold initiatives on the world stage and with the right support, I am positive that we can achieve the SDGs together.
Delhi Post: Tell us about 'National Health Conclave on Climate Change and Health – Role of the Health Sector' where you will be performing.
Ricky Kej: 'Let us Live' is a special concert to support our Health Sector in India. I will be performing new music that I have composed and will dedicate to the amazing health care professionals in our country. This will be an intimate concert experience for everybody.
Strengthening health infrastructure and preparing the sector and our communities for the emerging health threats arising due to increasing air pollution and extreme events like floods, cyclones, heat waves etc, is an absolute priority and will greatly contribute to the building up of a resilient sector.
Delhi Post: A sneak peek into your upcoming projects? 
Ricky Kej: Very recently, I finished composing an original score for India's first blue-chip Natural History Series called 'Wild Karnataka'. It is one of those films that bring out your inner child as you watch every stunning frame with a sense of awe and wonder. It forces you to realise how amazing Mother Nature really is. I am also a huge fan of Sir David Attenborough, and it is a tremendous honour for me to have composed music for a film that he has helped bring to life through his extraordinary narration.
---
---
I am also spending a lot of my time focusing on children, because if we are speaking about creating a more Environmentally Conscious society, then we need to start with them. I have created a musical education programme for children called 'My Earth Songs'. These are 27 rhymes/songs specially created for children and are inspired by the UN SDGs, and is the first ever set of songs in the world to be made on the goals.
These songs launched by the UNICEF, are published in over five million text books in India for the 2019 academic year (English, Hindi and Kannada languages). I am also in the process of releasing them in many more languages across the world.
Apart from these, there are several projects in the pipeline and I have many concerts all over the world.
Delhi Post: How has music education in schools in India changed considering the TV reality shows? 
Ricky Kej: Because of the dominance of Bollywood in India, composers and singers are very rarely making music from the heart based on their own philosophies and beliefs. Every reality show out there is continuing the same trend and as long as it remains like that, it will be difficult for Indian musicians to get international recognition across cultural barriers through independent music.
Children must be taught to make music from the heart and budding young musicians should be taught the importance and value of our rich musical heritage which is extremely unique and diverse. Only when Indian musicians start gaining recognition, more will follow and the standard of music education will automatically improve.
(Delhi Post is the media partner for the event.)