Shanti Mullick: A Rebel Who Embraces Hardships
Shanti Mullick is the first women footballer in India to have received the Arjuna Award, the second-highest sports award in India.
A diminutive woman in her mid-50s is busy in giving directions to aspiring footballers at South Kolkata's Rabindra Sarobar Stadium. Young footballers are struggling to get a hold of the game; some even fall on the uneven ground. But, the steely faced woman is not moved by the occurrence. She is nonchalant and asks her pupils to continue instead.
When she finds her pupils struggling hard to stand up, she couldn't resist herself any longer and rushed to the ground to help them recover; meanwhile, asked others not to stop. She is, indeed, on a mission to instil the undying attitude amongst the young footballers from this very stage of their lives, so that they can cope with the rigour of football going forward in life.
'I feel sorry for them, but what should I do?' she asked.
'I am helpless. They love football and I don't want to keep myself away from the game. Sadly, I don't enjoy any kind of support from the government, corporate or football governing bodies. I feel sorry for not being able to provide basic amenities to these aspiring footballers. Whatever the situations are, I am not going to quit coaching them. If they can endure pain at this stage of their life, I can easily play my bit for them', she opined.
Indian football almost forgot Shanti Mullick, who is now coaching budding footballers at the shabby Rabindra Sarobar Stadium, Kolkata. Shanti Mullick is a former Indian women's team football captain, who was conferred with Arjuna award for playing a pivotal role in the 1983 AFC Women's Asia Cup final.
She is one of the best women footballers of the country and a sporting pearl of West Bengal. Unfortunately, her desire to boast youngsters has found no takers. She gets support from neither AIFF nor the IFA, the nodal body of Bengal football. Even the state government is ignorant and unsociable to her cause to support football. But, Shanti Mullick is not the woman who likes to leave the battle half won.
---
---
Her undying love for coaching kept her attached to the game even at 55, though there is no institutional support coming in her way.
'There are eight rooms at Rabindra Sarobar Stadium. Any of them can be used as a change room, but the government is not willing to give me a single room for my students. All of them are occupied by CM's brother. Once I asked MLA Aroop Biswas, now a Minister, to provide me with a room to use it as a changing room. Sadly, I never got a response from him', she said, underlining the poor state in nurturing city's young talents.
The interesting fact is that Chief Minister Mamata Banerjee and Mullick both hail from Kalighat and they knew each other very well. They had even shared the same background while growing up in the shanty homes of Kalighat. However, Banerjee, on her part, never offered her helping hand to Mullick, who felt neglected just like the Rabindra Sarobar Stadium, which now only resembles relics of grand old architecture. 'She (Mamata Banerjee) knows me personally. She is also from Kalighat, my birthplace. But I believe she isn't aware of my conditions. If she would have known about it, I wouldn't have to go through this hardship', Mullick said to Delhi Post.
Laxity is Part and Parcel of Mullick's Life
Negligence is not something new to Shanti Mullick. Since her retirement from the game in 1996 as an India international, she hardly saw any accolade coming in her way. Playing for the country for over two decades didn't help her to earn money. When she played, women's football was governed by Women's Football Federation of India (WFFI) from 1975 to early 1990s. And money was not the most sought after element in those days, playing was.
Since time was running out, she once had to take a sabbatical from the game to secure her livelihood. She opted to play hockey from 1986 to 1994, which got her a job in the Eastern Railways. In 1995, when she made a return to the Indian team, women's football had already come under AIFF's confine after FIFA refused to recognize WFFI.
During that time, there was hardly any money in the game, unlike present-day women's football. So, any remuneration from the gutted governing body of Indian football was not expected.  Needless to say, it was the sheer passion for the game that drove Mullick and her generation to play football and represent the nation in various international events. In expense of that dedication, they only get ache now.
She was part of the golden generation of Indian women football team when India played two finals in 1979 and 1983 AFC Women's Asia Cup. On both occasions, they finished as the second-best team of the continent. She was also an integral member of the Indian team that played three consecutive AFC Women's Asia Cup in 1981, 1982 and 1983, respectively.
Disregarded
In the history of Indian sports, 1983 is a very important year. It is the year when Kapil Dev's India won first World Cup in its staple sport, cricket. In the same year, another first happened but that was overlooked forever.
One of the most skilful, albeit forgotten names of Indian women's football, Shanti Mullick, scripted her name in the history book by becoming the first female footballer to receive Arjuna Award for leading the national side to the final of the continental event, where they lost to Taiwan in the final.
Unfortunately, AIFF, who took reins of women's football from WFFI in 1992, didn't recognize her feat. There was no mention of her name on its official website. The parent body of Indian football has never documented achievements of Mullick and her teammates who represented India before women's football came under AIFF's jurisdiction.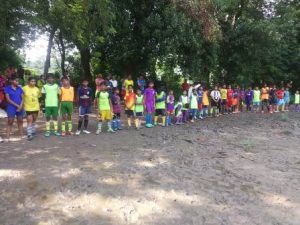 Recollecting a bold memoir of 1983 AFC Women's Asia Cup final, she said, 'our goalkeeper Rama Halder had received eight stitches on the ground as Taiwanese were finding hard to breach her iron fists. They were targeting her from every corner to kill her uncompromising attitude. In the end, we had to bow down. Nevertheless, AIFF has never shown interest in preserving her extraordinary efforts. It is now lost, you will never get to see those golden images'.
'They (AIFF) never took the initiative to document our achievements. We never received our due respect. It hurts! There are many players, who are struggling in their lives, but AIFF never paid a single penny, not even a cup of tea', she miffed, adding that 'most of the girls get involved in football out of natural liking. Later, they realize that a job is essential to keep the home fires burning'.
'An empty stomach doesn't help you score goals', a dejected Mullick flaunted.
Hockey Gives Her Job, Football Doesn't
Surprisingly, she didn't get the railway job because of her footballing accomplishment but for playing hockey. 'The state of women's football is so bad that I was given a job by the Eastern Railways not because of football but due to my achievements in hockey', she said.
Adoring her father, who was also a footballer, she defied all odds and challenges to become a footballer to play for her country. She knew that playing football would not lead her anywhere but in the world of darkness. But that didn't hinder her love for football. 'As a woman footballer in India, you cannot expect much and I knew that from the beginning', the 55-year-old viewed. 'I started to play barefoot in 1975, but the day I got my first pair of boots, I knew nothing could stop me. It was the best moment of my life', Mullick gets nostalgic, showing childlike enthusiasm.
Battling Social Taboo
Her path to becoming a footballer was not easy; rather, it was cocky. Though she hailed from a family of sportspersons, society didn't accept her attitude and ability to stand tall to societal pressures and prejudices. To eradicate prejudices towards women's football WFFI had invited Sweden, England and Thailand to play exhibition matches in various cities of India from 1977 to 1980. While India defeated Sweden in all of the matches, they enjoyed mixed results against England and Thailand. 'These matches played a crucial role in changing the outlook of common people towards women's sports in the country', Mullick stated.
---
---
On being asked about the prospect of current Indian women's football team, ranked 57th on FIFA rankings and 13th amongst Asian countries, she doesn't sound optimistic either. Rather, she sounds critical of AIFF's attitude on women's football. 'The state of women's football is so bad now. There is a lot of talk regarding the men's team but look at the rankings of current Indian women's and men's teams. Our women are amongst the best in Asia. They have been doing very well at international events. My point is that both men and women should be treated equally but that is not happening, they are gender-biased', said Shanti Mullick, who also led Bengal women's team to the national championship in 1996 as a coach.
No Player from Bengal, 'I Feel Ashamed'
She also feels sorry on not seeing many players from her state representing the nation. 'I feel ashamed that football in Bengal lost its charm. I must tell you that not a single IFA official will be able to recall the name of current women footballers. They are responsible for the downfall. If they don't turn their face to former players, football will never rise again. It will slip to coma', she rued.
Though the present environment of the game doesn't promise her much, it couldn't disassociate her from football. 'I lived my entire life for football; I would continue to do that till I breathe my last. Football is my first love. I love teaching children. Nobody can prevent me from doing this', the determination in her voice reverberated.
True essence of a fighter, champion athlete, a teacher lives in her. She is ignored but not ignorant, an important aspect of her life that doesn't portray the filthy mindset of the custodian of Indian football.