Menstruation politics make women believe they are impure
During the month of June Brahmaputra turns red and the bleeding goddess in Kamakhya is said to be going through her menstrual cycle – celebrating vagina shakti and annual fertility festival.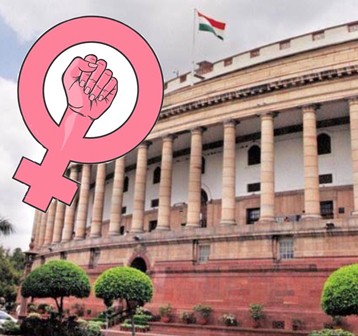 India is touching new heights yet women still lack basic hygienic necessities. This makes one wonders, why the reluctance to accept menstruation? Why can't women live a life free from such taboos? Why menstruation is rarely talked about? Menstruation is as normal as any other function that a human body performs. However, what is actually wrong is the lack of information about and open acceptance of it. The stigma around menstruation and menstrual hygiene is a violation of several human rights, including right to dignity. This also paves way to unequal treatment towards women, discrimination, negligence in proper health and bodily treatment, but also does worse: for adolescent girls who face a grave lack of facilities and sanitary products on regular basis.
Kamakhya Temple: Devoted to the Bleeding Goddess
Kamakhya is not only famous but also unique in its own way, which worships a bleeding goddess. It is situated in the Western part of Guwahati City in Assam. It is one of the oldest 51 Shakti Peeths. The temple embraces the mythical womb and vagina Shakti. It also celebrates the annual fertility festival called the "Ambuwasi Puja", in which the goddess is said to be going through her menstrual cycle during the month of June. The Brahmaputra River near the temple turns red, as an indicator of the goddess menstruating. The temple remains closed for the first three days of the festival and reopens on the fourth day. Later, the holy water is distributed among the devotees.
---
---
Hinduism embraces many liberal ethoses; so then why does conversation still turn into whispers when we talk about menstruation?
Although menstruation is a natural biological process that every woman goes through, it still continues to be surrounded by a degree of silence, stigma and shame. It also acts as one of the barriers to combat gender equality in India. Menstruation has always been considered as something that should be hidden and not to be said aloud. But what does stop us accepting the basic function that helps a woman prepare for pregnancy and is a process as normal as any other thing? But the 'disgrace' seems to be never ending.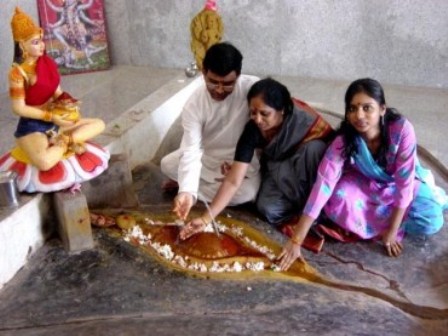 Menstruation in India comes with a set of restrictions for adolescent girls and women that include prohibiting their entry in sacred place and the kitchen, and also dietary limitations. Moreover, women are considered unhygienic and unclean during the days of menstruation. This impacts women's emotional state, mental sanity, lifestyle and most importantly health. Rather than embracing menstruation, there are people who just use it as an act to disempower and discriminate women, an outlook, which need to be changed.
Judgments on the taboo that still exists in India at a large scale
Globally, 2.3 billion people lack basic sanitation service and basic information about menstruation. Only 18 per cent of women in India have access to sanitary hygiene, while 82 per cent women have no information and resources to basic menstrual necessities.
The Government of India has taken some vital steps to lessen the margin of women who lack basic menstrual hygiene by introducing Menstrual Hygiene Management (MHM), as part of Swachh Bharat Mission (Gramin) (SBM-G) Guide lines. This is a trigger for better and stronger development for women and adolescent girls. The motive of MHM is to determine unmet needs; it also aims at spreading information on menarche awareness. Distributing free sanitary pads is another step taken by the Tamil Nadu Government launched in November 2011 as a part of MHM scheme. This was followed by the KHUSHI Scheme, a program initiated by the government of Odisha, launched in February 2018. Its target is to provide free sanitary napkins to around 17 lakh girls studying in classes 6 to 12; the scheme is being implemented with a cost of Rs.70 crore per year by the health and family welfare department.
In Odisha, 53 per cent women use unhygienic methods and around 69 per cent women use cloth during menstruation, as per the National Family Health Survey.
The Ujjwala Sanitary Napkins is also a mission that focuses on educating women on female hygiene and health by improving accessibility to low cost eco-friendly sanitary pads and boost rural employment. The government of India launched "SUVIDHA", 100 per cent biodegradable sanitary napkins to be available at Rs. 2.50/pad. It was launched on March 2018. Under this scheme the pads will be made available in a pack of 4 and can be found across 586 Indian districts, at Pradhan Mantri Bhartiya Janaushadhi centres. These are the first set of biodegradable pads available in the Indian market, with cost and location not to be a barrier but convenient for the women to use and dispose.
A UNICEF study revealed that 10 per cent of Indian women believe that menstruation is a disease.
---
---
The International Women's Health Coalition (IWHC) and the Sustainable Development Goals are now partnered with Water Aid for an event, that is, "A right based approach to Menstrual Hygiene Management: Integrating Water, Sanitation, Health, and Gender Equality to Achieve the Sustainable Development Goals."According to IWHC, access to toilets and availability to sanitary supply should be a must, but accountability to issues like gender norms and gender based discrimination also requires appropriate solutions. A holistic and multi-sectoral approach that works upon education, human rights, gender equality and sustainability perspectives that can empower girls to take control over their bodies and their lives would be the best way to achieve
Menstrual Hygiene in India
On one hand a bleeding goddess is worshiped, but on the contrary women cannot even freely talk about periods, and that's because menstruation is stigmatized all over the world, with woman being the worst sufferers of it. The socio-economic norms and misconceptions continue to lead the exclusion and convince people that menstruation is somehow "wrong", leading to unjust treatment towards adolescent girls and women. India surrounds itself with overpowering silence around this natural process which needs to end in the least time possible.