Migrants and COVID-19: Coping Strategies Worldwide
Cooperation among countries can play a significant role in tackling the impact of the pandemic on migrants.
COVID-19 pandemic has brought immense challenges to migrants all over the world. Therefore, it is pertinent for countries to learn from each other as to how the impact of the pandemic on migrants can be minimised. In such context, Delhi-based think tank Global Research Forum on Diaspora and Transnationalism (GRFDT) organised a webinar titled "Migrants and Immigrants during COVID-19: Country Specific Cases" on 10 May 2020, in collaboration with Bharati College, University of Delhi. The session was moderated by Dr. Amba Pande from Jawaharlal Nehru University (JNU), New Delhi.
Prof. Binod Khadria, formerly with the Zakir Husain Centre for Educational Studies, JNU, argued that there is an urgent need to provide prominence to the migrant discourse, which has been a long-neglected domain, especially in academia. He observed that COVID-19 has created borders within countries as well, which have intensified miseries of the migrants. He further stated that there is a high possibility of re-emergence of brain-drain debate as countries have started to adopt the higher amount of selectivity in regulating migration. It would lead to the high demand for Science, Technology, Engineering and Mathematics (STEM) experts worldwide. STEM experts can be declared as the Sixth Global Commons to share their expertise in a mutually beneficial manner amongst all countries without any hindrance.
---
---
Dr. Alwyn Didar Singh, former Secretary-General, Federation of Indian Chambers of Commerce and Industry (FICCI), New Delhi, shared that the world economy has affected much due to the COVID-19 pandemic, which in turn has been affecting migrants across the globe. Such economic downfall of the world economy has triggered unemployment and increasing plight of migrants.
Localisation process will be the new challenge for countries, and therefore, mainly state governments with the help of the central government should take command in managing the issues associated with it.
Moreover, efficient usage of technology by the governments can help migrants in a safe journey, and can also prove to be helpful in their search for the desired jobs. Further, Dr. Singh argued that the migration which is taking place cannot be termed as 'return migration' as it is 'reverse migration', and hence needs to be managed accordingly.
Prof. Biman Chandra Prasad, Member of Parliament, Fiji, highlighted the adverse impact of COVID-19 pandemic on the economy of Fiji. It has mainly affected the tourism sector of the country. It is pertinent to mention that 40 per cent of the country's GDP comes from the tourism sector. Pandemic has deeply hurt tourism and remittances of Fiji. Australia and New Zealand, being highly developed countries, can play a useful role in boosting the economies of the smaller Island pacific countries. Therefore, it is suggested that regional integration is the viable solution to minimise the adverse impact of COVID-19 pandemic on the economy of Pacific Island countries. Deeper and meaningful regional integration is the crucial step in envisaging broader Regional Pacific Community to minimise the adverse impact of COVID-19 on economies.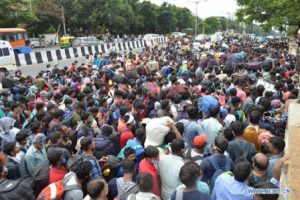 According to Prof. Stephanie Hemelryk Donald, University of Lincoln, UK, many policy failures have been witnessed in the UK by the successive governments. She argued that the UK needs to accept the reality that it is arguably not a global force now and should consider the COVID-19 as a pandemic rather than a European war. She considers that lack of testing, failure in shutting down early and lack of proper healthcare facilities are some of the reasons for dismal conditions prevalent in Britain. Prof. Donald has found that British-Chinese researchers are being discriminated in Britain. However, she also elaborated that it is likely that 30–40 per cent of British-Chinese people under the age of 25-35 with high skills can re-migrate anywhere in the world, if such discrimination persists. In addition to it, regrettably, people on the frontline, including doctors, nurses, and healthcare workers are also being discriminated by the common people. Prof. Donald considered that class dimension also needs to be explored in understanding whether people have been following lockdown or not, as it is convenient for rich to stay at home, but very hard for poor people to sustain their income for a long duration without going outside and working for a wage.
---
---
Prof. Luciana L. Contarino Sparta of the University of Buenos Aires, Argentina, observed that people of Chinese and Korean origins are being discriminated and have been compelled to close their shops and supermarkets in Argentina. Lots of complaints are being filed against discrimination, xenophobia and racism in the country. She argued that the government is facing the economic crisis and has shown its inability to help Argentinean diaspora.
However, Prof. Sparta also opined that Argentina cannot run its economy without the help of Australian and Latin-American migrants as their contributions in shops, hotels and restaurants are irreplaceable.
There is a high possibility that many shops and restaurants in Argentina would not open due to prospects of low income or no income at all.
Ashook Ramsaran, Executive Vice President, GOPIO, observed that COVID-19 had impacted the world GDP, thereby reducing the migration, which is going to increase localisation. Therefore, policies have to be made accordingly to utilise the domestic labour of returning migrants effectively. In addition to it, Dr. Rekha Sapra (Principal, Bharati College, University of Delhi) opined that the deep-rooted problem with the psyche could be considered as one of the reasons people are not following the lockdown strictly.
It has been observed that all countries have been affected by the COVID-19 in a varied manner. Therefore, cooperation among countries can play a significant role in tackling the impact of the pandemic. Migrants need special care and attention from respective governments, NGOs and civil society organisations to help them cope up with the immense pressure due to economic challenges, health vulnerabilities, stigmatisation and various forms of discrimination. In such time of uncertainty, the world community must come forward and help the most vulnerable sections of the societies, including migrants in all possible ways.