New Delhi Book fair focuses on readers with special needs
The New Delhi World Book fair is back with its 27th edition in the Capital city from January 5-13.
With a focus on inclusive education, the annual New Delhi World Book Fair is back in the capital to enthral book lovers. The theme this time has been set keeping the 'Readers with Special Needs' in mind. The annual book fair which is scheduled to start from January 5 on till January 13 at Pragati Maidan will include some of the educational requirements of those with emotional, learning or behavioural issues apart from those with physical disabilities. "Instead of sympathy, the need of the hour is respect and equality for People with Disabilities (PwDs)," said Prof. Baldeo Bhai Sharma, Chairman, National Book Trust (NBT).
Prof. Sharma eloquently pointed out how the theme pavilion has been made accessible for PwDs through its design such as steel railings. There is also provision of wheel chairs and sign language interpreters. He also held that the theme stresses on exploring the various issues and dimensions of creating, producing and disseminating content for the readers.
An exclusive exhibition of 500 books including Braille books, audio books, silent books, tactile books, integrated print-braille books, books for children with disabilities such as ear or sight impairments, autistic children, ADHD etc will be highlighted through the theme pavilion. There will be display of signature guide, Orbit Readers, Arithmetic Frame with types, Perkins Braille etc where nearly 700 publishers will be participating and more than 1,300 stalls will be put up.
---
---
"The 27th edition of the New Delhi World Book Fair will also provide a platform for Paralympians and artists, conversations with authors and cultural programmes."
Some of the popular names are Arjuna Awardee powerlifter Rajinder Singh; Quizzer Siddharth Basu; theatre artiste Atul Satya Kaushik and singer Bant Singh Jhabbar. A special exhibition by All India Confederation of the Blind (AICB) will see information on instruments that can be used by persons with special needs. Additionally, Prof. Sharma stated that theme-based kiosks by Microsoft on digital accessibility tools, photo-exhibition panels and posters will be among other highlights. Book releases, seminars and panel discussions are scheduled as well.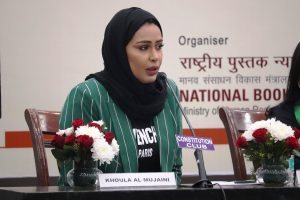 For the first time, an International Disability Film Festival organised at the fair would showcase 45 documentaries from 27 countries between 2-4 pm each day. Supported by UNESCO and United Nations India, the We Care Film Festival will screen Indian director Pankaj Johar's 'Still Standing', Ireland's 'A different Kind of Day' and Spanish director Leire Barturen's 'Still Alive' among others.
Sharjah which is the Guest of Honour city from United Arab Emirates will be showcasing its efforts in promotion of literature through its delegation of publishers, writers, artists among others. Specially for the book fair, a translation of 57 Arabic books into Hindi has been done.
"We want to promote the Emirati culture in India, promote our reading styles, writing styles, the language itself and our authors," Khoula Al Hujaini, Director of Fairs and Festivals, Sharjah Book Authority told Delhi Post.
Through their literary events, workshops and cultural programmes, Hujaini says the idea is to help booklovers know more about the rich literature, tradition and culture of Sharjah which is rapidly growing as a cultural hub. "Though this time, we don't have any books particularly keeping the PwDs in mind (in the fair), in Sharjah, we take a lot of care for people with special needs. I can say that we are a reading community. We encourage them to read and create tools to help them in making the reading process easier for them," Hujaini shared with Delhi Post.
---
---
"Over 20 countries including Canada, China, Pakistan, France, Germany, Italy, US among others will be participating at the Foreign pavilion at the fair."
Responding to space constraints in the Pragati Maidan premises, Deepak Kumar from India Trade Promotion Organisation (ITPO) said that a space of 23,000 square kilometres has been provided and 25,000 people at one time can be accommodated. He suggested that to avoid long queues, people should buy tickets from metro stations or online. He also stated that there is free entry for PwDs, students below 14 years in school uniforms and senior citizens.