NRC Assam: 'More Troubled Waters in Brahmaputra'
Who am I? Where do I belong? Will I ever be able to vote again? What's my state? Am I even an Indian anymore? These are a few of the many questions troubling those 19,06,657 people, who have been excluded from the National Register of Citizens (NRC) Assam.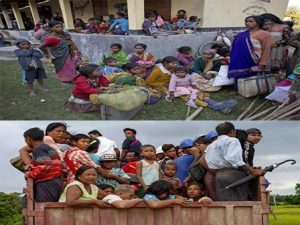 The list that was released on 31 August as an attempt to identify genuine Indian citizens, who have been living in Assam since 24 March 1971, has left many in no man's land.
The main sufferers are the descendants of those who migrated to Assam back then as the state is now home to the third generation of immigrants. These people who have lived here forever, paid taxes, voted for the government, followed all the rules and regulations have now been made to suffer from a major identity crisis.
Another reason why the list has created controversy is that many including a soldier from the Indian army, BJP MLA, etc. have been excluded from it. One person who fought for the country and another who is in the government will now have to prove their citizenship.
'My friend's father retired from the CRPF India. He is from Assam and now not an Indian citizen. #NRC Whom should he approach?' tweeted Deepal Trevedi.
However, the Ministry of External Affairs (MEA) clarified on 2 September that those missing from the NRC list are not stateless and will enjoy all rights before exhausting all remedies available under the law.
The Assam Government has declared that it will move to Supreme Court for re-verification in various districts as there are many technical flaws and mix up in the list.
Assam Finance Minister Himanta Biswa Sarma tweeted on the day of the release, 'Names of many Indian citizens who migrated from Bangladesh as refugees prior to 1971 have not been included in the #NRC because authorities refused to accept refugee certificates. Many names got included because of the manipulation of legacy data as alleged by many. I reiterate that as requested by Central and State governments, at least 20 per cent re-verification (bordering districts) and 10 per cent re-verification (remaining districts) should be allowed by Hon'ble Apex court for a correct and fair NRC'. The opposition has also condemned the move.
 Ironically, both the BJP as well as the Congress have at one point pushed for the NRC list to remove illegal immigrants from India. Last year around 40 lakh immigrants were missing from the list which has now been reduced to over 19 lakh.
Congress MP Shashi Tharoor said in a tweet,
"There is a thin line between nationalism and xenophobia —besides, hatred of the foreigner could later turn into a hatred of Indians different from oneself." — Rabindranath Tagore. The prescience of a great man! #NRC

— Shashi Tharoor (@ShashiTharoor) August 31, 2019
Tharoor's twitter received many responses as well; one such twitter reply reads, 'This is not Xenophobia Mr Farrago. NRC is the fruit of Assam Accord signed by Former PM Rajiv Gandhi. This will help Indigenous Assamese People in safeguarding their rights. So Shut Up'.
---
---
In another response to Tharoor's twitter, Anand Ranganathan, consultant editor and columnist, points out that Tharoor in his 2012 book Pax Indica mentioned that there are some 20 million illegal Bangladeshis in India. He wrote about them disparagingly as though they were termites that had 'disappeared into the Indian Woodwork', and Ranganathan says mockingly that now Tharoor remembers Tagore.
'I appeal to the government to ensure that no genuine citizen of the country is rendered stateless as a consequence of our administrative or judicial shortcoming! One cannot overstate the fact that the whole #NRC exercise has turned out to be a burlesque. No wonder the BJP will now be seen as distancing itself from it', added Congress Leader Jyotiraditya Scindia.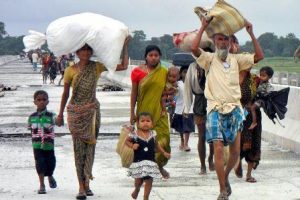 'In Assam, BJP says that excluded persons need not panic because they can approach a tribunal court. Thequestion is why should a genuine Indian need to go to court to prove his or her citizenship when it's clearly due to the carelessness of the state authorities?', Assam Congress Leader Gaurav Gogoi said in a tweet.
Expressing serious concerns regarding the presence of legal loopholes in the list, Advocate Ankur Kumar, a Supreme Court lawyer, said 'The government has failed to find a common ground for making laws that are realistic and workable. We are still not clear about the distinction between illegal immigrants who were forced to come to India due to religious discrimination and other groups who came purely for economic purpose'.
'Another issue is that NRC ignores the children who may have been born in India, and are legally eligible for Indian citizenship. If a child can't be deported, how can you deport their parents?' He added.
Terming it a violation of human rights, he further said, 'The government is trying to divert from the real issues in order to create fake nationalism. This is legally not the right way to sort out immigrant issue'.
The day before the release of the list, Assam Chief Minister Sarbananda Sonowal had appealed to the citizens to maintain peace and had assured full assistance. He had also said that those excluded from the list will be given 120 days to appeal in the Foreigners Tribunal Court. However, the people of Assam didn't take the whole move very positively.
'NRC was a good idea but it was implemented very badly. Although few illegal immigrants will be excluded and detained for sure,many will still manage to get legal documents with the help of NRC', said Ron Bikash Gaurav from Guwahati, currently living in Mumbai.
'No one is going to be benefited from the NRC. Those 19 lakh who have been excluded as of now will eventually be included later. In the end, few will be detained and therest will still be here. But it's the people of Assam who will carry the burden as always', he added.
Anurag from Bongaigaon, Assam, currently living in Punesaid, 'My family had to visit the local magistrate's office. Though I am on the list but it took some time to prove the lineage and the family tree. Minorities got on the list pretty easily as they had all their documents ready'.
'People of Assam were living in harmony before all the mess; it has affected a lot of lives. We can't do much about it. As citizens, we are just kind of hassling with all this. It's only our vote that counts nothing else', expressed Silvia Dutta from Kokrajhar, Assam, currently living in New Delhi.
Some, however, appreciated the move and demanded the implementation of NRC in other parts of the country as well.
'#NRCassam is a very welcoming step. #NRC is needed in Delhi as the situation is becoming dangerous. Illegal immigrants from Bangladesh settled here are indulged in all crimes and threat to security. Delhi NCR has become the hub of illegal immigrants. BD, Rohingyas are in every part of City', tweeted Prashant Patel Umrao.
First, the removal of Article 370 in Kashmir and now the release of NRC list in Assam; historical decisions taken overnight aren't really proving to be very fruitful for the people at present.
---
---
Although they have their pros and cons but the problems which a common man is facing due to the chaos is not hidden. While in one state citizens are barred from contacting their folks for days; in another, they are made to prove their nationality and detained in their own land.
So is this what it's going to be from now? One day you are an Indian peacefully sipping coffee at your home and the next day you are running with documents and identity proofs.