India and Russia: Deepening Cooperation in the Russian Far East
PM Modi and President Putin's meeting in Vladivostok is significant in creating a 'multipolar moment' in Indo-Pacific and Greater Eurasia concepts.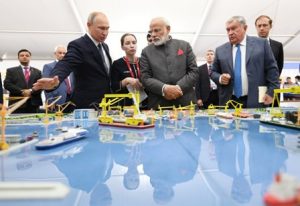 Prime Minister Narendra Modi's visit to Vladivostok during 4-5 September 2019 as the chief guest of the fifth Eastern Economic Forum (EFF), and the choice of this city for the 20th India-Russia annual summit assumes much significance. While this meet strengthens further the "multipolar moment", President Putin's invitation to PM Modi is unique to turn to Far East as a strategic location of bilateral cooperation also. It is also recognition of India's commitment towards an equitable, democratic, peaceful multipolar world order conducive for human development and prosperity. Therefore, PM Modi's participation in EFF and 20th annual bilateral summit is expected to open a "new chapter" of cooperation among the EEF members.
India-Russia for a Multipolar Indo-Pacific and Greater Eurasia
The current visit is in the backdrop of Russia's Asia-Pacific and India's Act East policies as part of the Indo-Pacific and Great Eurasia concepts. The policies of the US, China, Russia, India and Japan will shape up Asia's geopolitical landscape. The US pursues a policy of containment against China and Russia tries to use India to counter it. India wants to prevent Chinese hegemony in South Asia and its military manoeuvring in South China Sea. India is cooperating with the US and Japan to challenge Chinese domination. However, the US confronts with India in WTO over production of generic drugs and agricultural issues. India is apprehensive of Chinese Belt Road Initiative (BRI) that connects the vast Eurasian land space from the Pacific coast of China and Russia through Central Asia, the Eurasian Economic Union states, Iran, Turkey, and select states of the European Union. India does not participate in BRI.
India's policy is for a free, open and thriving Indo-Pacific. PM Modi said recently, "The Indo-Pacific area is our lifeline and also the highway for trade and prosperity. This is the key to our shared future in every sense." India has expanded its Act East policy to include Indo-pacific area and Russia. India is discussing free trade agreement with Russian led Eurasian Economic union (EAEU). India's interest is in the International North South Transport Corridor in the Russia-India-Iran connectivity format.
Russia's shifting priorities to the East, leaving Europe and developing close cooperation with China, South and South East states is the result of confrontational approach and punitive sanctions from the West.
---
---
The Ukraine crisis that led to the re-joining of Crimea in Russian Federation in 2014 marked a tectonic shift in global geopolitics mostly to the advantage of Eurasia, making Eurasian century unstoppable. Russia tries to develop Far East which is less developed than the European part of the country as part of its greater Eurasia strategy. As proposed by Yevgeny Primakov, Russia tries to follow diversification and Russia-India-China triangular cooperation. As part of Russia's "pivot to Asia" strategy it invites foreign investment from India, Japan, and South Korea besides China in the region. Russia is closely cooperating with China, but insists on joint projects in the Far East as Russia has concerns with Chinese migration in this region.
The demonstrable decline in the US led unipolar order, multiple crises in Europe, America's prioritising of great power competition with Russia and China clearly confirms a New Cold War transforming the world as balanced between Western and Asian poles. The recent unilateral US withdrawal from Intermediate-Range Nuclear Forces (INF) Treaty places the whole world at risk of a potential nuclear arms race and war. Asia-Pacific region is a sphere of US interests and in case if US attempts to place missiles in this region, it will be a grave threat to global peace and security. These trends in world politics signify the arrival of a "multipolar moment" which allows India a great power status to play its role shaping new global order.
Considering the possible scenario of confrontation and conciliation among the different players in the Asia-Pacific region, former US state secretary, Henry Kissinger states, "India will be a fulcrum of twenty-first-century order: an indispensable element, based on its geography, resources, and tradition of sophisticated leadership, in the strategic and ideological evolution of the regions and the concepts of order at whose intersection it stands." This is a telling statement that confirms the geopolitical significance of India in the region. Therefore, the choice Vladivostok, the "Pacific Gate" of Russia and moving the "centre of gravity" to Far East, located at the confluence of three "tectonic platforms" – Eurasia, the Pacific and the Arctic –is timely. It indicates, as Varma Bala Venkatesh, Indian Ambassador to Russia said, "For India, it is an opportunity to demonstrate that in the Indo-Pacific region, it is entering a new game."
Deepening Cooperation in Russia's Far East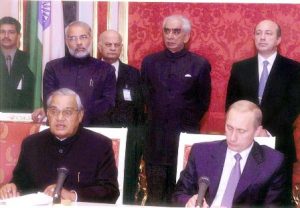 Ever since the diplomatic missions were established in Moscow and New Delhi on 13 April 1947 upon India's first Prime Minister Jawaharlal Nehru's request, the long journey of more than seventy years saw milestones in Indo-Soviet and Indo-Russian cooperation that developed as an all-weather, time tested and friction-free partnership based on convergence of interests, civilizational commonalities, mutual trust and unity of perception on global issues and geopolitical priorities. Convergence of Indian and Soviet views on a broad spectrum of issues like Korean question, China's UN membership, US military aid to Pakistan, Soviet support to India on Kashmir and Goan issues, Soviet neutrality on India-China conflict of 1962, Soviet negotiation in India-Pak conflict in 1965, etc. shaped Indo-Soviet relations.
The 1971 Indo-Soviet Treaty of Peace, Friendship and Cooperation had become the legal base for Indo-Soviet relations, including defence and trade relations. After a benign neglect due to the post-Soviet chaotic situation in Russia, President Putin visited New Delhi during 2-5 October 2000 for the first annual summit and signed Delhi Declaration with the then PM Atal Bihari Vajpayee aiming to build a multipolar world order. He declared: "India is a reliable ally for Russia". Putin being the architect of India-Russia relations in the 21st century, the succeeding years saw intensified cooperation between two countries. In the eleventh annual India-Russia summit in 2010, the bilateral relations had been elevated to "Special and Privileged Strategic Partnership".
In the 15th summit held in 2014, Putin and Modi jointly put up the Druzhba-Dosti Vision that proposed a roadmap to take future cooperation to new heights. As of now in the 19 summits since 2000, more than 200 agreements have been signed on a range of areas such as military and technical cooperation, science and technology, energy, trade and commerce, business, agriculture, tourism, education and culture. The 19th summit held on 21 May 2018 emphasized the role of interaction and cooperation between India and Russia in building a multipolar world order. Putin awarded Modi Russia's highest state honour 'Order of St Andrew the Apostle' in April 2019 as recognition for promoting bilateral special and privileged strategic partnership.
The present summit Vladivostok looks forward for deepening cooperation in Russia's Far East. The preparatory meetings and interactions by National Security advisor Ajit Doval, External Affairs Minister S. Jaishankar, Commerce and Industry Minister Piyush Goyal, five Chief Ministers and 140 Indian companies suggest that there is much in the anvil for both India and Russia to benefit in Far East.
---
---
PM's visit will widen the scope to diversify relations and strengthen economic cooperation in the Arctic region, and sign agreements on International North South Corridor and shipping link between Chennai and Vladivostok, Free Trade Agreement with EAEU, investments in many sector, six nuclear reactors in Kudankulam, etc. Russian investment in India is around $13 billion and India's investment in Russia is $7-8 billion. The Indian trade target is to achieve $30 billion by 2025. Russia-India dialogue consults business initiatives.
India is indebted to Russia for support on Kashmir issue in 2019 by taking the position that "Kashmir is India's internal issue" and India's abrogation of Article 370 is a "sovereign decision" well within the Indian Constitution. Russia prefers resolving India-Pakistan dispute bilaterally without mediation of third parties. India's foreign minister Jaishankar proclaims that India-Russia relations are "a stable factor in international life." This is a good time to expand the scope of economic cooperation to Far East which is becoming a key centre of new global geopolitics. It may help keep bilateral relations constant and uninterrupted just like the smooth flow of waters of Volga and Ganga, the symbols of Russia-India civilizational bonding, harmony and friendship.