Nusrat Jahan: Promising MP or Just Another Glamour Queen?
One hopes that there would be some real actions from Nusrat Jahan, rather than mere announcements about what she plans to do for her constituency.
Political parties in India have a long tradition of banking upon celebrity quotient to win elections. While the list of Bollywood stars who became Members of Parliament (MP) is exhaustive, the number of celebs from the regional film industries joining the MP bandwagon is not very trivial either. Bengali film industry, which is also known as Tollywood in the east, has its fair share of film personalities as well who have entered the hallowed portals of Indian Parliament.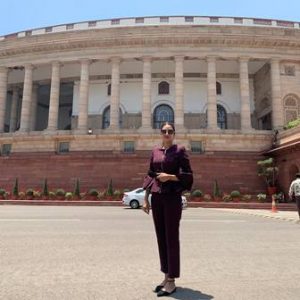 Actress Nusrat Jahan, more of a starlet in Tollywood and a completely political novice, caught people of Bengal by surprise when her name was declared as a candidate for the Basirhat Lok Sabha constituency as a Trinamool Congress (TMC) candidate in the 2019 general elections. She seemed to be a rather unusual candidate to be fielded from a particularly sensitive seat like Basirhat, which lies at the Indo-Bangla border. To one's utter surprise, not only did Jahan won by 350,369 votes from Basirhat against the Bharatiya Janata Party (BJP) candidate Sayantan Basu, she also had the second-highest victory margin in the state.
Nusrat Jahan was born in 1990 in Kolkata. She graduated with a bachelor's degree in Commerce. In June 2019, she got married to Nikhil Jain, a businessman. The wedding ceremony took place in Turkey. Her Tollywood debut was in the year 2011 after which she did a few more movies. Nusrat Jahan's political career started when out of blue Bengal Chief Minister, Mamata Banerjee, announced that Nusrat would contest the 2019 general elections. Mamata Banerjee's obsession to pick up celebrities was not new, in 2014 general election also she picked celebrities, while denying the tickets to long-time party workers and leaders.During her election campaigns, Nusrat Jahan was a huge crowd puller, characteristically entertaining people with dance and music at election rallies.
---
---
After winning the election, at a press conference she said, "It is very important for young generation to come forward. There are a lot of issues to deal with. I will try to execute my plans for better development of my constituency and my people." She even promised to take up the minority issues along with mob lynching in her constituency in the Parliament sessions.
Lok Sabha Report Card
Use of celebrity fame for eye-washing voters and drawing votes is not a novel concept in electoral politics. Once elected, notwithstanding a few exceptions, the 'celebrities' can hardly be seen attending the sessions of Parliament. People had the same apprehension about Nusrat Jahan. In an interview, she said, "I take my position as MP very seriously.I will try to maintain a proper attendance in Parliament. My actions will prove and stop people from tagging me as one of them". However, according to the PRS Legislative website, her attendance in Parliament from 1 June 2019 to 23 March 2020 has been 28 per cent, which is abysmally below both the national average (84 per cent) and state average (78 per cent). Hence, she did not really belie what people have been apprehending.
Nusrat Jahan has participated only in five debates in the Lok Sabha between 1 June 2019 and 23 March 2020, as compared to the national average of 16.5 per cent and state average of 14 per cent.
The debates included one under Rule 377 and three matters she raised during Zero Hour as special mentions, and brief participation in the Union Budget general discussion. Her debate topics included 'Demand for a National Highway in Basirhat'; 'Need to request the Government of Bangladesh to start dredging in Ichhamati River, flowing from Bangladesh into India'; 'The Union Budget 2019-2020'; and, 'Demand for a Kendriya Vidyalaya in Basirhat'. She is also a member of the Parliamentary Standing Committee on Water Resources.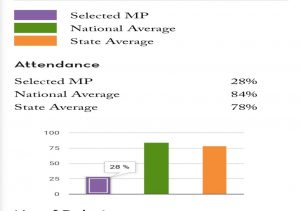 Nusrat Jahan had raised 37 questions during the Question Hour in the Sessions held till now. Her only starred question was on Chemical Pesticides. Some of the unstarred questions focused on: POCSO Act 2012, Central Government Employees Detention, Detention Centres in Assam, Promotion of Solar Energy, Slow down in GDP, Social Security and Child Labour.
                                                                     Nusrat Jahan's attendance in Parliament
Trolls on MP Nusrat Jahan
Jahan at various instances had faced severe criticisms right from the beginning of her political career. Many loathed the actress's sartorial choices and independent ways of celebrating all festivals. Be it wearing western clothes inside Parliament or dressing up as newlywed on her oath taking ceremony, the Parliamentarian was badly trolled. She even had to bear the wrath of the orthodox section of her community for her choice of participating in the rituals of Durga Puja and Rath Yatra. However, she remained cold to the hate comments and threats. She said, "I'm God's special child. I celebrate all festivals. I respect humanity and love more than anything. Controversies don't matter to me."Critics are also commenting that she is trying to showcase a balance between majority and minority communities. She also received the wrath of Muslim clerics for wearing Hindu attire and even they issued fatwa against her for her interfaith marriage.
Core Issues of Basirhat
Basirhat, a subdivision in the North 24-Pargana District of West Bengal, lies at one of the most porous areas bordering Bangladesh. It isa hub of illegal migrants and cattle smugglers. In 2017, an incendiary Facebook post triggered riots in this area. Since then, Basirhat has experienced incidents of communal tensions now and then.
At various press conferences, Nusrat Jahan has been promising to restore peace and order in the area. "I'm a speed breaker to this polarization. I speak of love and humanity. I am here to bridge the gap between communities," she said at one such meet.
---
---
The areas located along the Ichhamati River faces massive erosions every monsoon leading to collapse of houses on the river banks in the absence of anti-erosion measures. Basirhat is also plagued with acute shortage of drinking water in several localities, lack of adequate transportation and educational institutions, etc. The MP of Basirhat has been assuring that she is well aware of these problems and would soon work to alleviate grievances of people. However, so far, none of the problems have been resolved.
When people of Basirhat were asked about their opinions on their newly elected MP, they had mixed reactions.One local said, "She's not starry at all. I don't think we will be cheated. She has the girl-next-door vibe". However, many hold the view that Nusrat Jahan is every inch a star and she knows Basirhat only as a place where she has done stage shows.
Work Nusrat has Done So Far
Nusrat Jahan introduced a new bus service for remote area of Basirhat. This service would especially help people of Sundarbans to reach Basirhat town. Otherwise, these people had to resort to several modes of transport for travelling to the town. She has also assured her constituency people that a bridge would soon be built on the Ichhamati River flowing through Hasnabad in Basirhat.
The MP along with her team had devised three projects for Basirhat – Sujala (focusing on clean water), Sukanya (focusing on girls) and Susamaj (focusing on the society). Water purifiers and sanitary napkin vending machine were installed in several parts of the constituency, particularly in schools and colleges. Under Susamaj initiatives had been taken for setting up of street lights, construction of roads and tree plantation.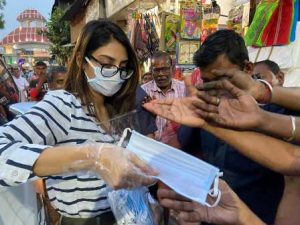 Talking about controlling of the ongoing COVID-19 pandemic situation, Nusrat has been using the Members of Parliament Local Area Development Scheme (MPLADs) funds for procurement of essential items to test and contain spread of COVID-19 in Basirhat. She was also spotted at the market areas once in a while,spreading awareness about social distancing, distributing masks to vendors and requesting them to sell goods at fair prices. Apart from these personal protection equipment (PPE) kits, new ventilators and protection kits were provided to all the frontline workers.
However, Nusrat Jahan was also trolled by netizens for sharing her dancing video on the popular app Tiktok even as people have been struggling for bare essentials of life like food and livelihood during the nationwide lockdown.
She was also criticised for being apathetic and indifferent towards her constituency. Several people twitted that she had misplaced priorities.Nonetheless, the MP of Basirhat defended herself on Twitter by sharing another dance video and commenting,"An artist always entertains", while tagging those who trolled her.
Basirhat has been one of the worst hit areas during super cyclone Amphan. This part of the state was ravaged; livelihoods were wiped out; houses destroyed and several people were killed. Although Nusrat visited her constituency and took stock of the whole situation, she skipped Mamata–Modi's review meeting over Amphan after her husband was denied entry in that administrative meeting. However, certain relief distribution programme was conducted by her.
As far as her performance as an MP is concerned till now, there is not really much to write about. However, it is still the initial phase of Nusrat's career as an MP, and she still has a few years left. One hopes that there would be some real actions from her rather than mere announcements about what she plans to do for her constituency.
One general complaint of her constituents is that she or her office is not accessible or not responsive to the queries.
Delhi Post tried to contact Nusrat for her inputs, but she was unavailable. We will be updating as soon as we hear from her.