West Bengal's Tryst with Amphan: Double Whammy Amidst the Pandemic
The state chief minister summed up the quantum of the disaster caused by Amphan, saying, "South and North 24 Parganas are finished, 99 per cent of South Bengal are destroyed. We need to rebuild Bengal from the scratch."
Super cyclone Amphan hit West Bengal on 20 May even as the state has been grappling with COVID-19 pandemic. The state capital Kolkata and the districts of Howrah, Hooghly, North and South 24 Parganas, West Midnapore, Nadia and East Burdwan had to bear the brunt of the cyclone fury. The deadliness of Amphan was only comparable to the cyclone Aila of 2009. Amphan made its landfall near the popular sea resort of Digha at around 2.30 pm with a wind speed of 155–160 km/h, which eventually spiralled up to 185 km/h. Over the next seven hours, the storm fury and torrential rains wreaked havoc, uprooting thousands of trees and electric poles, destroying thousands of structures, particularly hutments, killing 98 people and many livestock as well as destroying crops over a vast area.
Chief Minister Mamata Banerjee said that the impact of Amphan was "worse than coronavirus". The state government has estimated loss at around Rs 1 lakh crore. About 21,560 sq km of area has been affected in the cyclone and leaving the lives of millions in complete disarray.
---
---
On 16 May, the Indian Meteorological Department (IMD) had issued an alert about the intensified cyclonic storm formed in south-eastern part of Bay of Bengal that was moving towards Bengal and Bangladesh coasts. Accordingly, it issued advisory for people to stay at home. Soon after IMD's circular, the state government had started the process of evacuating about five lakh people from coastal areas, especially the North and South 24 Pargana Districts. Teams of the National Disaster Response Force (NDRF), State Disaster Response Force (SDRF) and Border Security Force (BSF) were positioned at various places to assist in preparations of Amphan. For Kolkata proper, the Municipal Corporation earmarked schools and community centres for possible use as temporary shelters in contingency. Various helplines were also established for emergency responses. Nonetheless, even with relative preparedness, Amphan went on a massive rampage.
Amphan's Onslaught
The state government has estimated financial losses in the cyclone-affected districts at around Rs one lakh crore.
The worst hit part is the Sunderbans that houses the world's largest mangrove ecosystem.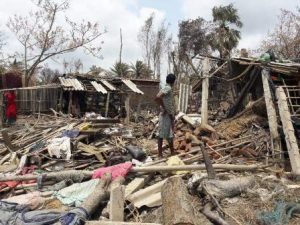 A third of the total mangrove forest is feared to have been wiped out. It has already been an ecologically fragile zone, severely damaged by cyclones Aila, Fani and Bulbul during the last decade or so.
The cyclone has caused massive loss to the agriculture sector in the state, washing away several hectares of crop lands and destroying standing crops like paddy, mangoes, lychee, etc., for which it was the time for harvest. The major paddy growing districts of East Midnapore and East Burdwan have suffered an estimated of loss of around Rs.  600 crore and 300 crore, respectively. Even in Malda, which was not directly hit by Amphan, 38,000 tonnes of mangoes have been destroyed in the impact. Media sources, quoting the state agriculture minister Ashish Banerjee, said that Amphan has impacted the farming sector in at least 14 of the 23 districts in West Bengal and the loss incurred may create an all-time record. "Farmers have hoped that after the lockdown is lifted, they will be able to sell their produce and compensate for their losses. The cyclone has thrashed all their hopes," a senior official in agricultural department told at a press meet.
Kolkata in Shambles
Amphan wrecked havoc in Kolkata as well. The cyclone lashed through the city with 135km/h wind speed at 5.30 pm. By evening, it became more intense and large parts of the city plunged into darkness. Over 5000 trees, hundreds of lampposts and several traffic signals were uprooted. Due to heavy rainfall accompanying the gale, several areas were inundated with water and electricity supply was cut off, many houses were severely damaged and vehicles were crushed under poles or trees. The 230 year-old Botanical Garden, one of the landmarks, has turned into a graveyard of trees as thousands of them, including some rare species of trees, lie uprooted on the ground. The Kolkata Airport was inundated with rain water and a small private aircraft as well as two hangers were seriously damaged. According to Chief Minister Mamata Banerjee, 15 people died in the city due to the cyclone. To make matters worse, internet and network services were disrupted for several days compounding the woes as people could not contact their loved ones. Protests broke out in several pockets of the city where people had to go without power and water for over a week.
---
---
After a few hours of the cyclone, chief minister via video conference at the state secretariat summed up the quantum of the disaster, saying, "South and North 24 Parganas are finished, 99 per cent of South Bengal are destroyed.
We need to rebuild Bengal from the scratch." The whole nation agreed to the fact that Bengal needs to be restored as #BengalNabanirman flooded the Twitter in the following days.
On 30 May, the state administration announced Rs 6250 crore relief package for rehabilitation, while the central government allotted Rs 1000 crore after Prime Minister Narendra Modi made an aerial assessment of the cyclone devastation on 22 May. Mamata Banerjee said that the family of each person killed in the storm would receive R. 2.5 lakh, while people with serious injuries and minor injuries would be paid Rs 50,000 and Rs 25,000, respectively.
Super cyclone Amphan came as a 'double whammy' amidst the COVID-19 crisis. There is a widespread concern that it will lead to a sharp rise in the rate of COVID-19 positive cases in the state. Crises and calamities are no strangers to Bengal. The state has emerged from many tragedies and disasters in the past. This time also it will rise again. To quote Prof. Tuhin Ghosh, Director of Oceanographic Studies, Jadavpur University, "the sufferings of today should bring in some wisdom, if not gain for the future".