Singing has been my passion since I was 5 years old': Shreya Karmakar
The escalating melody of Shreya Karmakar has already captivated numerous hearts and is all set for an eternal journey to imprison the world with her sugar-coated voice. The young YouTuber hails from the Steel City, Jamshedpur. She completed her schooling and college from the city and is also a prestigious holder of Bachelors of Music (Sangeet Visharad) degree.
Fiddling with all the realms of versatility, Shreya tried her luck in several reality shows but finally got unfathomable success and appreciation from social media. A very random thought of singing a Bollywood cover with absolutely no external apparatus supporting her vocal except a guitar and uploading it on YouTube fuelled her with inspiration to believe in herself and also in the power of the independent platform. Minimization and simplicity have been the prime factor that has assisted her to run a channel with more than 4 lakh subscribers.
Perfection, consistency and not obsessing over numbers elevate every form of talent on YouTube or other social media platforms.
While interacting with Delhi Post, Shreya opens her heart out to the experience that assisted her in flourishing high, hurdles that made her strong and being stubborn enough to follow her enthusiasm and aspirations that ignited hope and positivity to continue her zeal. The suggestions provided by her are extremely effective to all budding creators on YouTube. Without bewildering any further, let's plunge in deep and recognize her knowledge and ideologies, profoundly.
Delhi Post: When did you comprehend your inclination towards singing?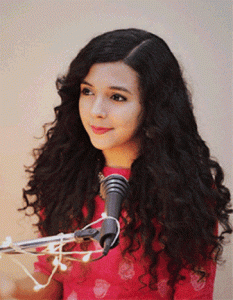 Shreya: Singing has been my passion since I was 5 years old as my parents used to listen to a lot of Lata Mangeshkar songs back then. My fascination with music evolved when mom taught me the basics of Hindustani Classical. Later, I went to eminent groomers in the town for shaping my vocal, proficiently. There have been various driving forces that motivated me to utilize my skill towards the niche, and I always wanted to convert my passion into a profession; however, it wasn't so easy for a middle-class kid to convince everyone in order to pursue a career above the mainstream.
Delhi Post: How has YouTube been treating you so far?
Shreya: Back in 2014, I recorded a song and uploaded it with a picture of mine in the open sphere without even analyzing the consequences it had in store. My knowledge about the medium broadened after I started getting a positive response from people on my first upload. Success isn't a night's task; I kept my perseverance intact and was persistent in coming up with videos quite often. I started adoring the platform not because one can earn money from it but owing to its omnipresent nature. The respect that I have received in the due course is immeasurable. The stage has been a blessing in disguise and has opened enormous opportunities in the yesteryears; it's when the thought of taking it as a career hit me hard.
Delhi Post:  Do you think success comes with a lot of obstacles?
Shreya: Yes definitely, it was not at all a cake walk for me. Securing a place among millions, who are thriving equally hard in order to entertain the spectators, requires a lot of determination and optimism. There was a time when some of my friends used to make fun of me for doing nothing fruitful. My father was also concerned about my career ahead and asked me to chase for something that can provide me with assurance. All fathers have this usual caring about their daughters. The only wheel that aided me was the support of my mother and my undying obsession for music. However, I thank the barriers that came my way as it taught me to make difficult decisions in life.
---
---
Delhi Post: You are almost on your way to make 500k subscribers on YouTube. Whom do you owe your success?
Shreya: I believe success is never accomplished; you learn and achieve something new every day. There are a lot of people who had and will always have my back including my mother and my siblings. A special note of thanks to my music composer Aasim Ali for collaborating with me from Mumbai and embellishing my songs with his wonderful tracks.
Delhi Post: Would you like to provide any tips to the potential artists who want to make a career on YouTube?
Shreya: Though I still seek for suggestions to improve myself, there are a few things that I have learned overtime. First, perfection is an illusion. Don't retain yourself with a thought that you are not perfect, we learn from our experiences. Second, consistency is the key to indescribable success. People would always prefer a channel which is consistent on posting its content. Third, uphold your originality and protrude what's real. Last, obsession towards number is a pessimistic attempt to continue a channel. Your passion will never outgrow in relation to the statistics. If you genuinely love your work, it will be shown in your content as well.
Delhi Post: Do you believe that investment is an important determinant to succeed on YouTube?
Shreya: I don't really think so. I use my room as the set up for singing songs. To my defence, I only have a USB microphone that connects with my laptop and I am good to go. Initially, I even made videos which were not that aesthetically amazing yet people visited my channel because they loved listening to my songs. With time and association, I am privileged to come up with covers that are visually appealing but I still use my home set up to sing. It isn't about me only but a lot of famous YouTuber like BB ki Vines uses their phones to shoot their videos. An investment that lacks good content is worthless but a proper content void investment is still a hit.
Delhi Post: Would you like to share something about ARRived and your experience of shooting with them?
Shreya: A. R. Rahman sir came up with a show called ARRived. I auditioned for it, got selected but unfortunately couldn't book the tickets on time. To my surprise, I got a call from them after a month and was invited to shoot a video with them in order to promote it on my channel. It was a wonderful experience and I enjoyed and learned a lot during the shoot. I cherish those moments and cannot explain my ecstasy. Most importantly, the happiness of taking my father to Mumbai for the first time tops it all.
---
---
Delhi Post: What do you aspire to achieve in the coming future?
Shreya: I am presently concentrating on my channel and seeking to fulfil all the short-term goals to make it better. However, I also have long-term goals of releasing my originals and shifting to Mumbai in order to enhance my upcoming prospects. Nonetheless, I am enjoying where I am right now and working hard to accomplish the aforesaid things.
Delhi Post: How do you feel when you are showered with love from your fans, countrywide; any message you want to convey to them?
Shreya: Oh! The feeling is surreal. I can't explain the satisfaction and contentment level when people recognize me and ask for selfies. This is the biggest thing I have achieved till date and is looking forward to a larger involvement. My fans are my armours and I am nothing without their love. Keep loving and supporting me and I promise not to disappoint you all ever.