Surge in Covid Deaths Overburdens LNJP Mortuary Staffers
Doctors, ground staffers at the Delhi Govt's largest Covid facility are being pressed under the burden of increased Covid bodies.
In the wee hours of a Friday morning, Jwala Prashad unpacks himself from medical scrubs and prepares to go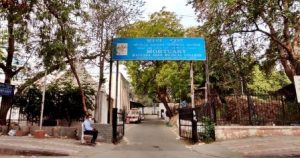 home. A ground staff worker at the Lok Nayak Jay Prakash Narayan Hospital mortuary, a seemingly aged Prashad has had a long night of transferring the bodies of Covid deceased in the cold storage, one of many in the ongoing second wave of the virus. He sits in a small cabin next to the main cold storage area, along with two security guards; altogether, three men overburdened with handling bodies of the deceased greet all visitors with swollen eyes and fatigued bodies. Their night shifts this month have been comparatively hectic, due to a sudden surge in Covid deaths in April.
"All staff members here have been overburdened. We receive almost thrice the number of bodies during night shifts. Before Covid, an odd 2-5 bodies used to come at night, but now we get about 20-30 daily," Prashad says.
The LNJP Hospital, located near ITO, is Delhi Government's biggest Covid hospital, with 1500 regular Covid beds and 400 ICU beds. The hospital has become one of the epicenters of battling the virus, amid a second wave that has been witnessing more than 24 thousand cases. In the last week itself, Delhi has recorded more than 300 deaths daily.
---
---
"We have had a few nights this month where we received about 70-80 bodies, and that became very difficult to manage," a security guard who wishes to remain anonymous, says. Due to a shortage of ground staff workers, security guards assist in transferring bodies to the cold storage, taking on additional responsibilities.
However, only 26 bodies came into the mortuary on Thursday evening. Prashad, who has been working at the mortuary since 1978, says, "Last night was not as hectic. We received 26 COVID bodies, two of which are unidentified. The night before, we had 35." A note of relief was evident in the comment. He further added that even with a high number of deaths, the management this time is much better. "Last year, we had no idea how to store excess bodies. There were times when they had to be kept on the floor or outside. But we have been able to handle it better this year," he adds.
In May 2020, several outlets reported stockpiling of bodies in hospital corridors due to an ongoing space crunch in the mortuary. Incidents of stockpiling bodies over one another in ambulances, and dead bodies lying around the hospital premises, have been documented this year as well.
A resident doctor in a managerial position at the mortuary, however, says that all bodies are being preserved properly in the cold storage, and denies any news of mismanagement of Covid deceased. "The disease took us by surprise last year and that is why we faced capacity issues. This year, however, we have been able to streamline our operations," the doctor says.
---
---
Speaking on the condition of anonymity, he adds that the mortuary has been experiencing a staff crunch due to a majority of them testing positive for the virus. "Since we all work so closely with the bodies, staffers tend to get infected every 2-3 days. We have to send them into isolation and make-do with whatever staff we have," he adds. He agrees that the shortage of ground workers has led to other staffers helping out in disposing of the bodies, and has overburdened them further. "While our HOD has been hiring contractual staff, we are someway managing," he says, stressing that the next two weeks are going to be critical.
During the day at least 20 staffers manage operations that entail sanitizing the bodies, giving them to family members, and helping out with cremations and burials. "As per government guidelines, families cannot touch the bodies. So, our boys go with them and do the needful," he adds, as he notes down the name of those who died last night in his register. While the nights at the mortuary are grim, the days are jam-packed with families coming to take the bodies of their loved ones.
"We used to get 10 bodies a day before the pandemic. No doubt that we are all overworked, exhausted, and fatigued. But we cannot blame anybody. The government, the doctors, everyone is disturbed. We even have IAS officers coming here to ensure smooth operations," he says.
"It is a tough time and we have to do what we can. The ailment is such that we cannot do anything else…work has to be carried on," Prashad adds.