The Four M's Behind Mamata Banerjee's Bengal Sweep
TMC's 213-seat sweep in WB Assembly Elections can be attributed to Mamata, Mahila, Muslim, and Money transfers.
Mamata Banerjee's Trinamool Congress was able to create history in the erstwhile state of West Bengal after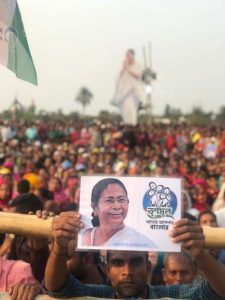 it swept the 2021 Assembly Elections and managed to win 213 seats in the 294-member legislative assembly, the highest any party has received.
Apart from fighting a massive anti-incumbency wave, Mrs. Banerjee and her party were able to restrict the entry of the electoral juggernaut of the Bharatiya Janata Party in the state, who managed to win 77 seats out of the 293 they contested. While once a great contender for the TMC, the Congress and Left parties failed to garner any seats this year, leading to their total electoral whitewash.
In all the opinion polls and exit polls, BJP was projected as a strong electoral contender for the incumbent TMC government. Several of these had predicted that there would be a neck-to-neck fight between the two parties, but would eventually result in a victory for Mrs. Banerjee. While BJP moved from winning 3 seats in the 2016 state elections to a whopping 77 this year, TMC's vote share rose from 45% to 48%. The BJP had won 18 seats in the 2019 LS elections, equivalent to 120 assembly seats, but failed to replicate its famous Narendra Modi-powered LS wins in the state elections.
Phase-wise data shows that the TMC was always in the lead. In the first phase held in South and South-West Bengal, TMC won 18 seats and the BJP won 12. In the second, where Nandigram was also contested, TMC won 20 seats and BJP won 11. It was in the third phase, held in the Hooghly-Howrah-Greater Kolkata region that TMC swept and won 31 seats. In the last two phases, which were held in Muslim-concentrated North Bengal, Banerjee and her party gained massive wins.
---
---
While she lost her battle in Nandigram to former aide and BJP candidate Suvendhu Adhikari, the massive sweep by the TMC was a shocker for most academicians and psephologists, who are now claiming four 'M' as the reason behind her victory.
Mamata
It is fair to say that while once the Congress and the Left were TMC's biggest enemies, the BJP was the main threat for Mrs. Banerjee this year. The hot-headed Centre vs State battle was boiling throughout the eight phases, while incidents of violence, electoral eruptions, and a verbal battle ensued.
As per expert psephologists, the first 'M' behind Mrs. Banerjee's victory was her personality. Multiple polls, including one by the Center for the Study of Developing Societies (CSDS), state that despite local anger, approval for Mrs. Banerjee remained high throughout the elections. One survey just before elections showed that she enjoyed a massive 57% approval rating as chief minister. "While people were critical about employment opportunities and corruption in local schemes, they still voted for Mrs. Banerjee," psephologist Sanjay Kumar says.
Mahila
Senior journalist Sreenivasan Jain says that women voters backed 'Bengal's daughter.'
Ever since Mrs. Banerjee came to power in 2011, women's participation in the electoral process has been higher. A CSDS-Lok Neeti Post Poll in 2016 analyzed that 48% of women favored Mrs. Banerjee to 42% men. In the 2021 elections, her party gave 41% of the tickets to female candidates, the highest among all parties. The TMC has also introduced a number of women-centric schemes. Indeed, Mamata Banerjee's biggest vote bank is not a community, but a gender.
"In any community of any district in Bengal, more women tend to vote for Mrs. Banerjee than the men. For instance, among Brahmins, 35% of men voted for TMC, while 40% of women voted for TMC in the 2016 elections. Among every community, the difference between male and female voters (who vote for TMC) is 4-6%, which a large enough number to swing the decision in favor of the party," Mr. Kumar adds.
---
---
Muslims
Muslims constitute 1/3rd of Bengal's population, and most have shifted to the TMC since the collapse of the Left government. This year, TMC was able to swing votes in Muslim-dominant areas that had previously been strongholds of the Congress: Malta, Murshidabad, and North Dinajpur. The last two phases of the elections were held in Muslim majority areas, which the TMC was able to sweep.
It won 35, 25, and 31 seats respectively in the last three phases held in North Bengal, while BJP won 8,9, and 4. The Sitalkuchi killings also occurred between these phases where CRPF personnel opened fire on four Muslim TMC workers, further strengthening 'the BJP anxiety' among Muslims. "75-77% of the Muslim vote went in favor of the TMC. While that was not all she would have needed for such a massive victory, it was more than enough for a massive sweep," Mr. Kumar adds.
Money Transfer
Another prominent 'M' behind the TMC sweep is the schemes allocating direct money transfers. This includes the Kanyashree Scheme, the Rupashri Scheme, and the Krishak Bandhu scheme, all of which allocate direct cash transfers between Rs 6000-Rs 25000 directly in the bank accounts of those affected- including teenage girls, single women, and farmers.
Experts feel that these schemes were able to further solidify TMC's stand among the underprivileged, while also standing up as a competition to Central government schemes. Mr. Kumar opines that a sizeable number of people have benefitted from these schemes.
Neelanjan Sircar, Assistant Professor at Ashoka University and Visiting Fellow with Center for Policy Research says, "In Bengal's villages, every second person says that they are TMC scheme beneficiaries. Some even say that during the lockdown, Mrs, Banerjee saved them, and not Mr. Modi. She aggressively pushed her own schemes to the disadvantage of central schemes, hence diluting the branding of central schemes.