Time for Delhi's own Literature Festival
Officially supported by Department of Art, Culture and Language, Govt. of NCT of Delhi, Hindi Academy and Sahitya Kala Parishad, Delhi Literature Festival 2019 will take place from February 8-10.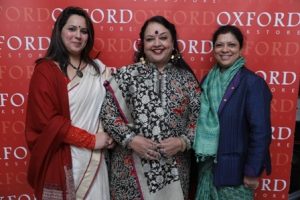 Promoting the good old way of reading books, the seventh edition of the Delhi Literature Festival (DLF) 2019 is all set to be held at Dilli Haat, opposite INA Market, New Delhi from February 8-10 from 1-8 PM. "Primarily, the whole idea is to have something for each section of audience. Not necessarily the youngsters. But yes, we would like the youth to get more interested in reading," Bharati Bhargava, Founder Director of DLF told Delhi Post.
The annual affair which started in 2013 will witness popular authors and writers including Amit Lodha, Novoneel Chakraborty, Ravinder Singh, Madhavi Menon, Ruskin Bond, Jonathan Gil Harris, Dr. ShashiTharoor, Prasoon Joshi, Manoj Muntashir, S Y Quraishi, Rajdeep Sardesai, Vir Sanghvi, Purushottam Agrawal, Dr. Dimple Kaur, Sidhhartha Gigoo, Satyanand Nirupam, Maitreyi Pushpa, Gagan Gill, Anamika, Alpana Mishra, Namita Gokhale, MalashriLal, Dr.MridulaTandon, MoeinShadad, Tarkash Pradeep, Taruna Mishra, Meenakshi Jijivisha, Irshad Khan Sikandar, Valay Singh, Victor Kalyan Ghose.
---
---
"The whole idea was to have varied authors, creative artists in and around Delhi. Everybody can't travel outside Delhi. It is always nice to have something of our own where we could bring in our own writers, authors and give people around a chance to be in the limelight," Bhargava further said while sharing that there was a felt need that Delhi should have its own literature festival.
Officially supported by Department of Art, Culture and Language, Govt. of NCT of Delhi, Hindi Academy and Sahitya Kala Parishad, the languages in focus are Hindi, English and Urdu.
Some of the popular names that have participated in the festival include Ashok Bajpai, Ashok Chakradhar, Ankit Lal, Ashwin Sanghi, Anna Vetticad, Ashish Chaudhary, Blossom Kochhar, Christopher Doyle, Dilip Cherian, Trivedi, RakhshandaJalil, Ravinder Singh, Munawwar Rana, Madhu Trehan, Omair Ahmad, Om Thanvi, Marya Shakil, Rasbihari Gaur, Nilotpal Mrinal, Sanjaya Baru, Dr. Shashi Tharoor, Mani Shankar Aiyar, T K Arun, Vikas Swarup amongst others.
"Earlier, we had Dastangoi (Urdu oral storytelling art form) and folk performances. This year, we have a Mushaira (Urdu poetry readings). We have musical tribute to Punjabi novelist Amrita Pritam since this is her centenary celebration year. We have a session on 'March towards Democracy' which is relevant to the upcoming elections," Bhargava further apprised Delhi Post.
The curtain raiser event at Oxford Bookstore saw the panel members including Bhargava, author, eminent Theatre, TV personality and DLF Senior Advisor Rama Pandey, Performer Dr. Dimple Kaur, and social activist and DLF advisor Parull Mahaajan as well as Kunal Gupta, curator, Delhi Literature Festival and Founder of Delhi Book Lovers Club engaging in discussions about Delhi being the cultural hub.
---
---
Dr. Mridula Tandon, who dons many hats including that of an entrepreneur and president of her not-for-profit organisation Sakshi, will be curating the Mushaira as part of the festival. "One feels that there is so much which is electronically done. So much is expressed in emoticons these days. However, an emoticon is not enough. Output and quality of thoughts matter and I think DLF would broaden the horizons," Dr. Tandon told Delhi Post.
On her association with DLF for the first time, she said, "My association with DLF is from this year. They have been working towards promoting good literature for many years now to bring good books to the notice of the public. At the same time, they are encouraging young authors to bring good stuff to the stage. So, it works both for the audience and the creators. It is very laudable because somewhere the reading habit is disappearing."