Uzbekistan: A Flagbearer of Regional Cooperation in Central Asia
Uzbekistan's Central Asia policy is aimed at safeguarding peace and stability in the region along with taking care of the key problems of regional security, especially reaping support to help Afghanistan stabilise.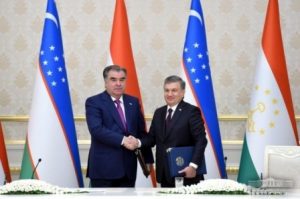 End of autocratic regime of Islam Karimov upon his demise in 2016 has given opportunities to the new government in Uzbekistan to re-fashion its foreign policy approach. New President Showkat Mirziyoev seemed determined to buckle up the challenges in a manner that it would ensure a vibrant and incorporating atmosphere internally and externally as well.
Uzbekistan's border dispute and resource sharing conflict with two of its neighbours, Tajikistan and Kyrgyzstan have been troublesome for a long time. It has been responsible for demoralising the regional cooperation in Central Asia. President Mirziyoev, far sighting the importance of regional cooperation has given priority to their instant central Asian neighbours and have also ensured to reach to consensus on the bilateral disputes through comprehensive conflict resilient approach. His visit to Kyrgyzstan in September 2017 and Tajikistan in March 2018 was directed towards easing up bilateral relations and securing trusts of neighbours for broadening of regional cooperation. Uzbek president has also launched a series of campaigns for making Uzbekistan more favorable for internal trade and investment partners. Civil society and human rights have also been guaranteed by the new government in Uzbekistan.
All these efforts of changing the old autocratic environment in Uzbekistan have somehow resulted into the trust building of not only Uzbek citizens but also of its Central Asian neighbours. Since the collapse of the Soviet Union, Central Asian countries had adopted the Soviet formula of water and energy sharing. Uzbekistan supplied gas and electricity to Kyrgyzstan and Tajikistan in lieu of getting water of Syr Darya and Amu Darya for irrigation of its cotton crops.
---
---
However, this dynamics of resource sharing became conflictual when Kyrgyzstan and Tajikistan attempted production of hydropower by making dams and hydropower plants in order to make themselves energy self-sufficient. Consequently, it considerably bumped the Uzbekistan's share of water of Syr Darya and Amu Darya and in return, Uzbekistan halted supply of gas to these Republics. These contesting arrangements of water and energy sharing also reflected in their political and diplomatic relations.
"Uzbekistan's political and diplomatic relations with Kyrgyzstan and Tajikistan have been challenging since Soviet disintegration."
Soviet border demarcation between Uzbekistan, Kyrgyzstan and Tajikistan created serious troubles in their bilateral relations. And all the issues concerning the sharing of natural resources had directly impacted cross-border movements of people from these countries.
All these bilateral issues received unilateral reaction from the previous Uzbek President, Islam Karimov who has augmented the disputes between these countries. However, this has changed when new regime came into power in 2016. The new Government launched 'Strategy of Actions on five priority directions of development of Uzbekistan in 2017-2021' as its primary goal of achieving foreign policy objectives. Also, Central Asian region considered the main priority for Uzbekistan's foreign policy. New government realised the need of friendly relations with its neighbours for overall socio-political and economic development of the region.
Uzbekistan's Central Asia policy is aimed at safeguarding peace and stability in the region along with taking care of the key problems of regional security, especially reaping support to help Afghanistan stabilise. Uzbekistan and Tajikistan share borders with Afghanistan and arising security threats are common for both countries. Therefore, Uzbekistan seemed to be taking an active participation in peace talks between the Afghan Government and Taliban.
"Strengthening of the regional trade and economic cooperation is at the top list of Uzbek Government's 'Strategy of Actions'."
Other issues such as developing regional transport and transit infrastructure and resolving the trans-boundary water sharing disputes along with demarcation of border with Kyrgyzstan and Tajikistan have been prioritised and are being implemented at steep pace. Sustainable development and addressing issues of climate change is also an agenda for the President Shawkat Mirziyoyev. And all these efforts aimed at developing regional cooperation and integration in economic, political and security arenas of Central Asian republics seemed to be captivating presently.
---
---
Mutual cooperation in the field of science, technology, education, cultural and humanitarian assistance will enhance the level of diplomatic relations and people to people contacts between the Central Asian republics. Presently, Uzbekistan's experiment with democratisation and development of civil society and human rights will also give boost to the opening up of the society, politics and economy of the Central Asian region.
Uzbek President has extensively travelled worldwide in order to address its reformed foreign policy approach and to garner global support for its development endeavors. Tajikistan and Kyrgyzstan have also responded well towards Uzbekistan's efforts of regional cooperation. Multilateral organisations such as United Nations and Shanghai Cooperation Organization of which all the Central Asian republics excluding Turkmenistan are members have also provided suitable platforms for achieving goals of regional cooperation and integration. This cooperation between the Central Asian countries would aggravate the intra-regional cooperation for increased trade and economic opportunities offered by this region.