Fani Cyclone in Odisha: A Lesson Forgot after Two Decades of Hard Learning
FANI hit Odisha the most disastrous manner. The lives in the state are still far from normal and the state is yet to learn the lessons from recurrent natural calamities about preparedness and mitigation.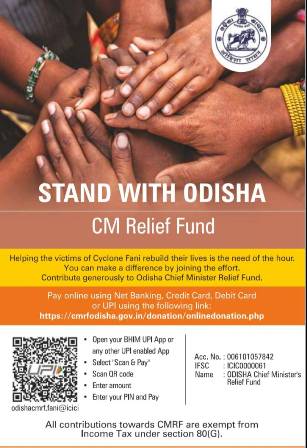 FANI cyclone hit Odisha coastline, severely at Puri and devastated several other coastal districts, at a speed ranging between 175 and 200 kmph on 3 May 2019, before moving out to West Bengal and Bangladesh. Even after six days passed so far, the state government is clueless on the loss and damage happened and not even ensured basic facilities like water supply, electricity, road connectivity, mobile network and distribution of essential relief materials. As per the state Govt., the death toll has reached 41 (as on 8 May 2019), while the unofficial figure is more and thousands areleft injured. Since road connectivity to affected areas are yet to be established, the official casualty figure looks lower than the actual one.
FANI cyclone, as per opinion of people of the state is the second most devastating one after 1999 Super cyclone that hit Odisha coast 20 years back. Just before FANI cyclone hit Odisha, senior bureaucrats and police officials were sent to eleven most vulnerable districts to ease the rescue and relief operation. Government officials who have hands on experience on handling disaster situations were deployed across the state. Nature fury crossed all limits this time and devastated coastal stretch beyond recognition.
---
---
In 2013, the appreciation of a UN agency, United Nations office for Disaster Risk Reduction (UNDRR), in the backdrop of Phailin, gave the statement appreciating the state government efforts addressing the disaster. This was used to neutralise anti-incumbency and increased credibility of BJD-led government to face election 4th time in a row. The specialised UN agency appreciated the manner in which the Odisha government handled cyclone Phailin that ravaged Ganjam, the southern district and home turf of CM Naveen Patnaik. That time, the regional party BJD got 117 assembly seats out of 147.The UN appreciation also impacted election to Parliament. In 2014 General Elections, BJD got 20 out of 21 seats of Lok Sabha while BJP got only one seat.
Super Cyclone in 1999 and Lessons
Ever since the super cyclone hit Odisha in 1999, there was an understanding of disaster preparedness and resilience mechanism. Before that, the state was presumed to have handled disaster situations like flood, cyclone, Tsunami or combination of these in a "relief mode" through Tehsildars. Odisha is the first state to have developed Disaster Management Act,2005 in place that led to develop a comprehensive Disaster Management Plan. That led other states to formulatedisaster management policies and plans, but in reality the activities are limited to construction of infrastructures and mostly limited to evacuation of affected people.
In case of loss, the affected population are compensated monetarily and through other welfare measures and there is hardly any awareness on preparedness or mitigation of the recurrent disasters that hit the state regularly.
               Recent Cyclones in Odisha
| | | | |
| --- | --- | --- | --- |
| Year | Cyclone | Maximum Speed/kmph | Casualty |
| 2019 | Fani | 250 | 41 |
| 2018 | Titli | 56 | 77 |
| 2014 | HudHud | 185 | 03 |
| 2013 | Phailin | 215 | 21 |
| 1999 | Super Cyclone | 260 | 10,000 |
Compiled from IMD and News Reports
Titli, a similar cyclone hit Odisha in2018 where the government of Odisha promised zero casualties and when cyclone was weakened, the system forgot to keep track of loss and casualties in interior Odisha. It so happened that in a couple of days, the death casualty reported in Baraghar GP of Gajapati district and elsewhere had been more than 65. Initially, ministers and officials would deny such loss and deaths. When media reached the spot and started airing the story, it was accepted by the state officially. By that time, it was late by 8 more days and many precious lives could have been saved.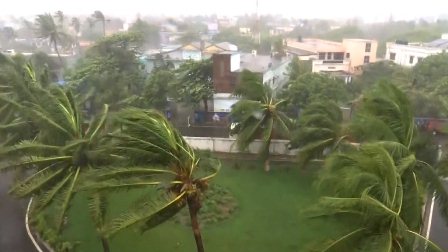 This time, although weather prediction and warnings were there, the severity of cyclone could not be assessed. The duration of cyclone was nearly seven hours and devastation was manifold compared to super Cyclone in 1999. There has been technology adaption in disaster risk reduction and resilient mechanism couldn't be effective due to bureaucratic and system failure this time. The gap in response time has increased doubt on the system. Hyoyo Framework of Action (2005-2015), the roadmap developed by the UN, stresses more to "strengthen of Disaster Preparedness for Effective Response at all levels." The successor, Sendai Framework of Disaster Risk Reduction (2015-2030) focuses on "substantial reduction of disaster risk and loss of lives, livelihood and health and in economic, physical, social, cultural and environmental assets of persons, business, communities and countries". Looking at it, it concludes a mismatch visible in policy and action in Odisha.
Technology Adaption and Failure in Rehabilitation
State government has a disaster management unit, Odisha State Disaster Management Authority (OSDMA), which took shape after 1999 Super Cyclone.Policies and Plan apart, the inaction by service providers in some cases raises fingers on the mobile service providers which have taken huge tariffs from consumers, when the state has little or no control over the companies during emergency situations like this one. Odisha Nivas in national capital Delhi is almost closed to general public who would inquire about near and dear ones; they are still not able to get official information after the cyclone. There is no mechanism to collect and distribute relief materials from Delhi-NCR to Odisha.
---
---
Odisha remained cut-off from the mainland (rest of India)for more than 200 hours that affected people from all sections of society. The ripple effect of powerfailure, internet and mobile network has paralysed banking, insurance, transaction and payment at point of sales to a large extent. ATMs and POS are non-functional ever since.People have started moving out of city due to water scarcity, limited food availability, and other poor basic amenities. This could be an undeclared emergency for the affected people of FANI cyclone till the services are resumed.
The National Human Rights Commission (NHRC) on Wednesday issued a notice to the Odisha government, directing it to ensure adequate food and water supplies to affected people in the cyclone-hit state.
"NHRC has taken suo moto cognisance of a media report that people are facing hardship and are agitated that cyclone relief material is not reaching them in some parts of Puri and Khurdha districts of Odisha," the notice read.
CM relief Fund and Bureaucratic slowness
On 6 May 2019, PM Narendra Modi visited Odisha and did an aerial survey of the affected areas of Puri, Khurda Jagatsinghpur, Kendrapada, Jajpur, Bhadrak, Balasore, etc. before taking a review of the whole situation with the CM Naveen Patnaik, Governor Prof. Ganeshi Lal and other senior officials.As per official reports, more than 38 people have died in different parts of the state. Huge loss and destruction caused to the coastal districts where the wind passed. The overall output of deployment of officials couldn't reduce disaster risk and strengthen resilience mechanism. The Chief Minister's Relief Fund of Odisha state has assured fund of more than 1500 crore that includes supports from PMO, other states, philanthropists, and generous donations from people across the globe. The fund flow is not getting reflected with emergency work that needs to be carried out immediately.
During last two decades, Odisha claimed to have strengthened governance and outreach mechanism to the grassroots. This cyclone has opened up eyes as to how the system is working and there was no evidence that the government, fortunately under the leadership of Naveen Patnaik, as CM of Odisha uninterrupted, has learned anything and made the system resilient to frequent disasters. The huge outreach workforce comprising lakhs of Anganwadi Workers, ASHA workers, PRI members, Mission Shakti members and the recent Biju YuvaVahini are taking up immediate rescue and relief work after FANI struck.