When Passion Becomes a Profession for Jassie Gill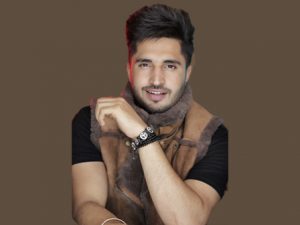 After Nakhre (2017), Chin Chin Chu (2018) Aukaat (2019) and Lamborghini (2020), Punjabi singer-actor Jasdeep Singh Gill aka Jassie Gill is back with a bang as his latest Dil Ne Kaha from the film Panga tops the music charts. The song has gained popularity among the crowd very fast. In a tête-à-tête with Delhi Post, Jassie opens up about his experiences with the film Panga, what it is about music that he is so passionate about, his upcoming projects and so on.
Directed by Ashwiny Iyer Tiwari, Panga starts actors Kangana Ranaut, Jassie Gill, Richa Chadda and Neena Gupta in pivotal roles. The story revolves around the life of a middle-class woman, a Kabaddi world champion, who breaks the stereotypes by making a comeback into the sport much later in life and acing the role of a sportsman along with that of a wife and mother.
Delhi Post: Tell us a little about your journey into the music industry?
Jassie: Singing has always been my go-to-thing. I don't really know why, but ever since I was a kid, I used to admire the singers. I used to collect their posters, spend most of my pocket money on cassettes and CDs; I was crazy about them. And honestly speaking, I was a fairly decent singer myself (at school). It was my fascination with singers that developed this deep desire in me that someday, no matter how long or how much ever hard work it takes, but I will definitely record an album and this desire kept me focused and motivated. I started performing in all musical events in school and college, started representing my college in various youth festivals and that's when I started looking at it as my profession, that this is something that I want to do with my life.
---
---
Delhi Post: When you are not at work or travelling, what are the things we can find you occupied with?
Jassie: Even as a child, I have always had a soft corner for music. I used to, and still do love music so that's one thing. Apart from that, I am a very athletic person, and am a national player in both Cricket and Volleyball. I love listening to music and watching Cricket. These both are my biggest stress busters! When it comes to Cricketers, I really admire M.S. Dhoni, Virat Kholi, Hardik Pandya and Jasprit Bumrah.
Delhi Post: How did Panga happen?
Jassie: I was in Canada when I was approached for the film. I was asked to enact a scene, a dialogue between a husband and his wife, and to send them the video clip immediately. It was in the middle of the night and none of my female friends was around, I didn't have any girl who could do the scene with me. In the end, a guy friend of mine, who was with me at the time, stood behind the camera and was reading out the 'wife's' dialogues and I was enacting the scene in front of the camera. And that's how I sent in my audition clip. Even after I sent it in, I wasn't very confident about it and so I was very surprised when I was called for a meeting with the team. While the script was being narrated to me, I felt that the concept or the crux of the film was very interesting and that this is something I should do.  I consider myself to be lucky to have got this film.
Delhi Post: How was your experience while working for Panga like?
Jassie: I'd say that Panga has been a very educational experience for me. When you are surrounded by such experienced and amazingly talented actors, you tend to pick up a thing or two from them. I got to learn a lot from them, especially Kangana. I used to spend most of my time observing her, the way she analyses a scene, performs and carries herself is just outstanding!
Delhi Post: Can you recall any memorable incidents from the set? Something fun or educational?
Jassie: It's really difficult to name one incident as such because every day was a learning experience for me. But there is one thing I do remember; in comparison to the male population, the female population on set was very high and I used to feel slightly intimidated by them like I'm the only guy in the midst of all these girls. I used to shy away from them, because of which I used to stay silent most of the times. It actually took me quite some time to open up. But all of them were very warm and friendly that I had no choice but to get comfortable. When you are surrounded by people who make an extra effort to include you in things, try and make you feel comfortable, you can't help but lose all your shyness or hesitation. If you see the videos of our behind-the-scenes shoots, you will have trouble believing that I ever had a starting trouble with these people!
Delhi Post: Tell us about the song Dil ne kaha that you lent your voice to.
Jassie: The song was composed by Shankar–Ehsaan–Loy and Javed Akhtar  ji had penned down its lyrics so, for me, this itself was a huge thing! I mean, I feel that this is every singer's 'dream team'. Initially, I was a little nervous, one because I was going to sing a song which is written and composed by such amazing people, and second, was because this song was slightly different form the ones I usually sing so I was worried about whether or not I'd be able to do justice to it. But, I just took a leap of faith and did it, and to my surprise, it actually came out really well. The song has been getting a very good response from the audience and it feels really nice.
---
---
Delhi Post: What is your favourite theme or genre when it comes to your music?
Jassie: Its melody, hands down. Whatever song I sing or compose, be it beat or hip-pop or romantic, I always try to keep the melody intact. I want the listener to feel compelled to listen to the song again and again after the first time. I do enjoy experimenting with my music, take Akuaat for example, that's hip-hop, I generally try to tap into the mood or mindset of my listeners and try and come up with music that they would like best.
Delhi Post: The Indian music industry has witnessed a wave of Punjabi music in recent years. What is your take on it?
Jassie: Ever since Punjabi songs have entered the Bollywood industry, especially since the past few years, there has been a definite increase in the popularity of Punjabi music. And it's not that Punjabi music has become popular because it entered the Bollywood industry, no! Punjabi music, I'd say has become the flavour of the decade. Punjabi albums and singles first gain popularity on their own and then are taken into the films as well, which in itself is a huge thing. So, yes, Punjabi music is growing rapidly and reaching out to people across the language barrier.
Delhi Post: After Panga, what are your upcoming projects?
Jassie: I've already signed for another film in Bollywood but, I can't disclose much about it at the moment as it is yet to be announced officially by the production house. I came into the industry with no fixed plan. My only aim is to take life as it comes. I want to explore my options and whatever comes my way, I will give it my best shot.