Young Gurjars put on the entrepreneurial hat
Gurjar Entrepreneur Meet-2018 (GEM 2018) organised by Gurjar International Chambers of Commerce and Industries (GICCI) provided a platform for entrepreneurs from the Gurjar Community to come together.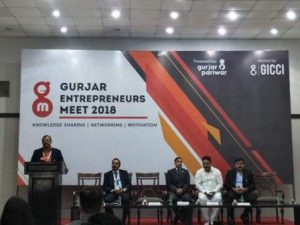 Redefining the traditional image of the Gurjars or Gujjar community – a pastoral community that is known for its agricultural, dairy and animal husbandry rearing practices, and is also infamously known for several "quota stirs" – is an initiative that aims to bring the community's young entrepreneurs together on a common platform.
Gurjar International Chambers of Commerce and Industries (GICCI) started on the lines of FICCI, by a Facebook Group called Gurjar Pariwar as a platform of professional and intellectuals, organised 'Gurjar Entrepreneur Meet-2018' (GEM 2018) to mark its first anniversary recently at the Constitution Club of India.
Commenting on the Gurjars who are spread predominantly in the states of Rajasthan, Uttar Pradesh, Madhya Pradesh, Haryana, Maharashtra, Delhi, Punjab to name a few, Dr. Roop Singh, Director, City Nursing Home, Rewari, Rajasthan, said that "as a powerful community, Gurjars can create and deliver the best quality". He said, "But as the times are changing, the key is to innovate, otherwise, as widely said, one would evaporate."
---
---
The day-long event for knowledge-sharing and networking witnessed businessmen, experts and entrepreneurs share their journeys.
Narayan Lal Gurjar from Rajasthan's Udaipur, who is using innovative biopolymer made from agriculture waste for eco-friendly water retention which subsequently also helps increase crop production, shared about his start-up at the meet. "I have been researching on this since class 11th. But it took four years because there was no response for the project for tests or trials," said the B.Tech third year student who runs the efpolymer.com website.
Twenty eight-year-old Shivdayal Gurjar is a B.Tech graduate in electronics and is engaged in a family dairy business in Tonk, Rajasthan. He came to GEM 2018 to "know more about the technological innovation in the dairy field".
He also plans to establish a BPO for women in his village in Deoli. "The women in my neighbourhood are literate but they don't have enough sources of livelihood. I want that under the Government's India BPO Promotion Scheme (under Digital India Programme), I can start a BPO for the women in my village," Shivdayal told Delhi Post.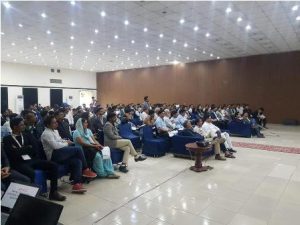 Gurjar Pariwar, which wanted to have an organisation like FICCI to "actively work towards promoting and fostering entrepreneurship" felt there were many entry barriers for taking up entrepreneurship as a viable career option. From lack of awareness of policies, schemes and support provided by government, lack of skills, lack of guidance and mentorship to lack of funding and other resources and lack of acceptability of entrepreneurship as a career option in society.
"After extensive studies and surveys, a task force which took inputs from business persons, entrepreneurs and experts from different domains recommended for an organisation in the form of GICCI in 2017," mentioned GICCI President Devender Khari.
Within the last year, GICCI has had successes with three start-ups namely Shuddh Swadeshi by Satendra Nagar; Brand Bak Bak by Narendra Kasana and YOGA (Your Own Green Area) by Sachin Panwar.
Deputy Secretary of NITI Aayog Ajeet Kumar emphasised on various government schemes for irrigation and sustainable growth given that 50 per cent of the Indian population is still engaged in agriculture, out of which 22 per cent are living below the poverty line.
---
---
Key policy maker in agriculture-related businesses, and head of Food Security Initiatives and Agribusinesses at United Phosphorus Ltd., Vijay Sardana who gave the keynote address, spoke eloquently about how the community has been providing "nutritional security" to the country since ages and since "nothing is impossible for a community that is able to manage milk production", a platform like GICCI should act as a "catalyst for the country to progress".
"The community is known for providing the nature's best food which is milk. Just like the community's milk heritage, the entrepreneurs and young minds as part of GICCI must not compromise on quality and make a code of conduct like it exists for all big chambers of commerce and industries," said Sardana.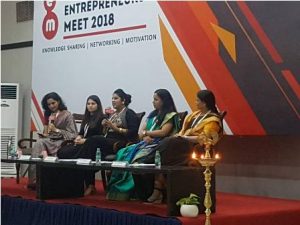 He further said that such an initiative needs "capacity building" in order to face competition and kill inefficiencies. Sardana, while moderating the agricultural business session as part of a three-part panel discussion shared insights into water shortage in India and emphasised on the importance of correct methods for sustainable agricultural businesses.
The other sessions addressed the importance of women self help groups and entrepreneurial challenges as well as underlined new age opportunities including environment and alternative energy.
GICCI India awards were awarded for categories like the Best Entrepreneur of the year, Emerging Entrepreneur of the year Best businessman in traditional business etc.
With emphasis on the power of networking and knowledge sharing in the business world, Khari told Delhi Post it is "just a start" and a platform like GICCI is intended to bring the community's various entrepreneurial minds together to represent them to a global audience. "GICCI acts as a facilitator for existing and budding entrepreneurs by providing them a platform for networking, funding, knowledge sharing, mentoring and skill building to enhance their prospects for success in their ventures. It also engages with government and other industry bodies at policy level," said Khari.