Cow Owners Suffer Hefty Fines in Lucknow
Cow … 'Holy Cow' has predominantly become a centre of debate in PM Modi's regime, but this time in Lucknow, Capital City of Uttar Pradesh. The debate is all about stray cows and its owners' hardships.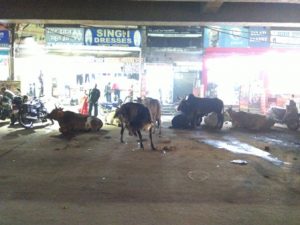 Cow owners in the Lucknow Municipal Corporation (LMC) area are facing excessive hardships due to stringent rules and hefty fines imposed by the corporation officials in the region.
Talking to Delhi Post, LMC Joint Director (Animal Welfare) Dr Arvind Kumar Rao said, 'There are strict measures in place for cows found straying on roads. INR 10,000 is being charged as a fine for returning cows and an additional 100 rupees each day for the number of days cows are held up in the shelters'. There are eight vehicles and 50–60 officers assigned for the job, he further said.
Stringent Rules and Hefty Fines
However, the people whose cow has been picked up by the corporation officials have a different story to tell. Umesh, 43, whose cow was picked up five days ago on 21stOctober says, 'They (corporation officials) asked for INR 12,000plus INR 200 rupees for each day our cow was kept in Kanha Upvan (one of the three cow shelters in Lucknow)'. Umesh owns a cow so that he does not need to spend money on milk to feed his only son. He also sells the extra milk produced to make some extra money.
Umesh, who lives in Aurangabad, is a daily wage worker and earns about INR 7,000–8,000per month, depending on the kind of work he gets. Now, for the past four days, he has done multiple rounds of the corporation office as well as cow shelter. This, he says, takes a lot of time and adds to the burden of paying hefty fines.
---
---
People have to go to the LMC office multiple times to get permission to visit shelters to identify their cows. If found, they have to visit the corporation office again to pay fine.
Further, they spend a few more days to negotiate the fine as INR 12,000 is too much for many of them. Many a time, people choose not to take away their cattle as they do not have money to pay the fine.
In another stringent policy, villagers have been forced to keep their cattle away from their home. Payal, whose father owns five cattle, have been forced to keep their cattle away from their home. And the only place her family could find was 15 km away from their house.
'First, they forced us to keep our cattle away from home. Then, they said no cattle should be found straying in the streets or on the roads, or they would fine us. But, how one is supposed to control them at a completely new place', she asks. 'It is becoming very difficult for us to find food and shelter for our cows in a new place'.
She further says, 'Our lives have ruined because of such policies. This has been happening for two and a half months. I have two younger brothers and they cannot go to school because there is no one at home to prepare breakfast or ready them for school. Both my parents have to leave the house at 5 am in the morning, for milking as well as taking care of the cattle'. Selling milk is the major source of income for Payal's family.
Payal, who lives in Bhudeshia, had to visit municipal corporation office several times to get permission so that she can go to the shelter and identify her cattle and thereafter pay the fines to rescue her cows. She completed her graduation last year and now preparing for a banking job, further says, 'Due to this, my studies are getting disrupted and I am unable to prepare for exams, which is due next month'.
Another problem that is appearing is of cows dying due to lack of care in the shelters. Javed Khan, 55, from Mahvatpur complains, 'They are charging INR 200 per day but no care is being taken. Cows are dying due to starvation and lack of care. They are providing only dry straw to cows'.
Cow Nuisance In UP
Thousands of cows can be seen stranded on national highways at any given point of time, across the State of Uttar Pradesh. These cows, abandoned by the owners for more than one reasons, have caused huge distress to farmers as they trample in the crop fields when they are hungry or to find comfort from the scorching sun and the chilly winter. During the monsoon season, when the crop fields were flooded, they had to retreat on the roads.
---
---
According to a survey done by the animal husbandry department, the state had 7,33,606 stray cattle as on 31 January 2019.
Another report released by the department in August stated that almost 2 lakh sixty-eight thousand cows have been protected, which means that over 4 lakh sixty-five thousand cows are still in the streets.
In the past, the government has announced various schemesto provide food and shelter to stray cows, including the most recent scheme to provide INR 900 per month to people willing to adopt a stray cow. In the 2019—20 budget, the state government allocated INR 600crore for cattle welfare of which INR 250 crore was allocated for the construction and upkeep of cattle shelters in rural areas and INR 200 crore for the same work in urban regions.
Earlier, in the December 2017, the UP government gave INR 10 crore to each of the state's municipal corporations to construct sheds for stray cattle. This was in addition to the INR 1.2 crore given to each of the state's 75 districts.
However, what is often lacking from the government side is to bring and implement effective policies and programmes to build a sustainable cow economy from cow management in rural and urban areas.