Coffee, Honey and Gender Equality
Barefoot College, a hybrid social enterprise, is using human-centric design built economic models that embed and localise the United Nations Sustainable Development Goals.
It is now a known fact that the education of women and their involvement in developing community infrastructures and their wisdom and leadership are some of the most effective ways to address climate change. Nowhere, is this opportunity more prevalent than in the developing countries across the Global South, where greater economic participation by women can dramatically accelerate our global efforts toward meeting the UN Sustainable Development Goals (SDGs).
Building local markets, decentralised production and localising understanding of environmental stewardship are some of the most effective ways to reduce carbon footprint and create economic opportunities that are sustainable.
"All around us mother earth is speaking loudly about the need for a more "just" approach to balance between planet and people. Our collective imperative is, without a doubt, to develop economic systems that favour strengthening the planet; providing for ourselves and our children's well being."
In short, when our poorest and most marginalised women living in rural areas are able to participate economically and combine that with building or growing sustainable products, the planet and people are better off. Hindering the acceleration of this movement is a lack of investment in women without formal education, a paucity of significant will towards developing both their vocational skills, critical thinking and micro enterprise skill sets.
Rajasthan-based Barefoot College is working to change that. The B.Barefoot product line is dedicated to bringing products By and Through Women, to market. Working to develop local supply chains, ensuring that best practices and highest quality is produced and most importantly, teaching women the skills needed to be completely engaged and active within the enterprises; lay at the heart of B.Barefoot initiative.
---
---
Extensions of Barefoot College International's popular Women's Solar Engineering and Electrification Program, B.Barefoot Honey and Coffee product lines aim to enable women to create and control their own livelihoods in the most environmentally sustainable ways. They also ensure that the voices of women about the way in which they need to structure those livelihoods so they work best for their lives, is assured.
Sustainable Beekeeping
Insect pollinators which include honey bees are considered to produce one-third of all the food we eat. B.Barefoot has introduced at least 62,20,000 pollinators in important ecosystem regions of India and  East Africa. Established in 2015, the barefoot College Zanzibar launched beekeeping with the aim of giving women the opportunity to generate viable incomes and manage their own financial resources. Women learnt comprehensive and holistic financial literacy skills that prepared them for the successful harvesting of honey on a commercial level.
Due to the success of the program in Zanzibar, the beekeeping enterprise was expanded into India in 2016, specifically Rajasthan, Uttarakhand and Kerala with plans to multiply further through Barefoot's unique network of grassroots partner organisations.
"311 beekeepers from 45 villages (25 of these in India), have collectively harvested more than 1040 kg of raw honey for B.Barefoot's fair-trade economy."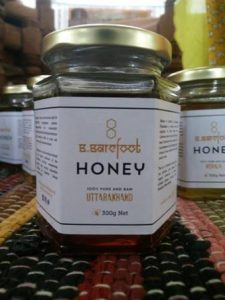 Women trained in the B.Barefoot Beekeeping Workshops also receive vital environmental stewardship learning. This encourages trainees to appreciate all the benefits to both people and the planet of the organically produced, local honey that they cultivate.
Trainees are provided with all of the equipment they require including beehives, protective clothing, smokers and additional tools. Moreover they learn how to fabricate those same tools and materials which results in their ability to also supply them to others, earning a secondary income from a single activity.
What is revolutionary is that the women beekeepers chosen are largely illiterate and semi literate. Barefoot College has designed a comprehensive curriculum which crosses the literacy barrier and trains women on best growing and harvesting practices – ensuring they both harvest the best quality produce and earn the highest price per kilo.
Though it requires constant care, women in rural areas see beekeeping as a valuable livelihood that doesn't require them to contribute huge amount of time.
Sustainable Coffee Growing
Coffee is a crop increasingly under threat but prevalent in many of the communities (as part of Barefoot College) as a core livelihood activity. Many women have been involved in this activity but few have realised the full potential economic benefit of their hard work. Firstly, the land is often not owned by them and thus their earnings fall to the landowners, mainly men.
"As climate changes, the available fertile land for Arabica (most valuable species of coffee plant) decreases. Arabica is more sensitive to temperature increases, which reduce its growth, ability to flower, and consequent ability to produce fruit. It needs to grow at cooler temperatures than the other species."
In fact, the Intergovernmental Panel on Climate Change (IPCC) has predicted a 10-20 per cent decrease in overall crop yields by 2050. What's more, pests that once found the high altitudes of Arabica farms too cold to survive are now able to thrive up there. And Arabica is more sensitive to these than Robusta is. Currently, climate change is leading to rising temperatures and new rainfall patterns – something that's placing the Arabica coffee species under threat.
Coffee producers are notoriously poorly paid in a relatively rich industry. So, building the skills of women to participate at every level are essential to bringing a high quality product to markets.
"Barefoot College focuses on women farmers and provides them with the know-how to produce a coffee of excellence."
The supply chain process of coffee beans typically contains seven levels: growing, harvesting, hulling, drying and packing, bulking, blending and roasting.
B.Barefoot Coffee began its story in Guatemala, where the enterprise expanded rapidly. Following its success, activities were set in motion to pilot programs in Andhra Pradesh's pristine Eastern Ghats region where the natural forest cover and centuries-old organic farming led B.Barefoot to bring its first variation of coffee to the market alongside tribal communities there.
The high-quality coffee grown organically in Andhra Pradesh is available in both medium and dark roast. So far, five villages in India are involved in coffee growing with more coming on board in Kerala and Nagaland by end of this year. Statistics show that their local coffee economy has been outperforming the industrial average (according to the New York Stock Exchange Coffee Index) by at least 26 per cent.
Once the coffee is harvested by the farmers, it is purchased by B.Barefoot at above market rates to be roasted by a Solar Powered Roaster. Roasting coffee in India is often a costly and dirty process that requires using petroleum-based machinery. But Barefoot College India Coffee Coordinator developed a Solar Coffee Roaster. It is the first-of-its-kind. Now, nearly 500 kilos of coffee can be roasted for free, by the sun daily at Barefoot College. The motor is powered entirely using solar energy technology and is installed on the roof of B.Barefoot's production hub. It is an entirely holistic and sustainable product from seed to cup.
---
---
If you're wondering how the coffee actually tastes, a blind test was conducted between B.Barefoot's Eastern Ghats Coffee and various name brand companies. B.Barefoot's coffee was overall preferred, indicating that the flavour is upheld in the solar drying process. Both 75 gm and 300 gm bags of the coffee are currently available but continue to sell out.
"The Coffee producing program and Beekeeping program were designed in the hopes of creating ways for women and the environment to prosper."
"We believe strongly in inclusive growth and collaborative success together with communities. Investing in training women deeply and allowing them to play leadership roles in their communities which further deepen understanding of environmental stewardship behaviours is critical when linked to economic activity."
The growing success of both enterprises means B.Barefoot is actively looking for partners interested to invest in scaling these successful enterprises that have a triple bottom line benefit for the community, people and the environment and will continue to look for more ways to empower women economically across many communities in India and abroad they work with.
This article is part of Delhi Post's content collaboration with Barefoot College.