Meet the Senior Olympian Parag Patil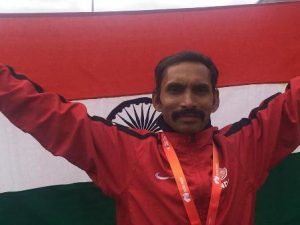 What do people usually think about at the age of 40? Buying a house, children's education, securing future, insurance and many more? The list is never-ending. But meet this man, Senior Olympian Parag Patil, who braved age to make India proud at international sporting events.
At the age of 41, he won silver in 100m run, 60m run, 200m run, Triple Jump and also won a bronze in the long jump at Adelaide, Australia in 2019. With AUD 108 in the pocket, his journey was not easy; he had to struggle in every single stride he took.
After 22 years of hard work, Parag got the opportunity to represent India in 2010 at the age of 30. He was a part of the International Veterans' Athletics Championship and grabbed three silvers medals in the very first appearance at the stage.
Parag  Patil is now a well-established athlete in the world of Senior Olympics. On his return from Australia after having a successful campaign, he opens up about his life, career, motivation, struggle and the appreciations he received back in his hometown: Pune.
Here are the excerpts from his exclusive interview with Delhi Post.
Question: Please tell us about your experience at Senior Olympics Masters Games 2019?
Parag: Australian Masters Games 2019 was held in Adelaide from 5 October to 12 October 2019. I had registered for the same in athletics in 40+ age category for the events 60m run, 100m run, 200m run, long jump and triple jump.
As per the schedule, I was about to fly on 28 September 2019, but at the last moment, the sponsor started rejecting my call. They were not even replying to my messages. I was going through a horrendous time because the tension was mounting up. So, I started raising funds as I couldn't afford to arrange my travelling on my own. Though I am from a very humble background, I dared to confront this challenge and succeeded.
I started consulting my friends and they asked me to opt for crowdfunding. Finally, I flew to Australia on 1 October 2019 with just 100AUD in my pocket. Meanwhile, I spoke to a few people in Adelaide for my boarding and lodging. Fortunately, one family accepted my request.
---
---
Question: How did Adelaide and Indian community react to your on-field exploits at Australia Masters?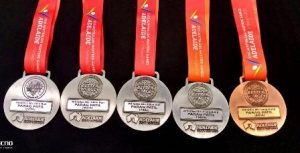 Parag: Very nicely, they picked me up from the Adelaide airport and also took care of my travelling and food. During the events, they were always there to cheer me up. On the first day of the event when I won 2 silver and 1 bronze, I was felicitated by the BHIMA (Bhartiya Hindu International Malayalee Association) and the Gujarati Community.
Question: You are now 41 and you have 17 international medals in your trophy cabinet. How did your journey to this success start?
Parag: It all started when I was just nine. In 1988, I was studying in a school and my school was a kilometre and half away from the main road. There was just one bus that used to shuttle between my home and bus stop. My school used to get over around 5:30 pm and the bus used to depart at 5:35pm. So, as soon as I hear the last bell, I used to pack up my stuff and start running. I used to run so hard to catch that bus—It was a km run and I had just 5 minutes to cover the distance. At times, I used to even run behind the bus to get on board from the next stop. This is how my love with running began.
Question: You have been hired by an Adelaide cricket club as strength and conditioning coach? What is the name of the club? When are you joining them?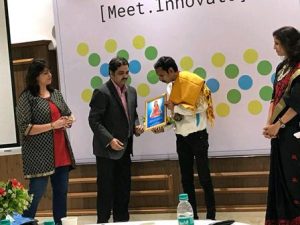 Parag: Adelaide Warrior Cricket Club has appointed me as a Fitness Coach. My job is to assist cricketers back from Pune online and whenever there is a need, I have to be in Adelaide and take the fitness classes.
Question: Who is sponsoring you? How do you manage accommodations abroad?
Parag: Nobody is sponsoring me; I do it on my own and I used my family resources. Apart from crowdfunding, I also got help from my friends and well-wishers on a couple of occasions. But every time I can't take the help from them. So, I have to use my family resources to arrange my travel expenses and all.
Question: Do India have any federation for your sports?
Parag: For Masters, there are lots of associations in India. But, they ask athletes to pay money to ensure participation in international events. These associations never really come to any meaningful help to us.
Question: Has the Indian government ever offered you any help or accolades for making India proud?
Parag: No
---
---
Question: Which is the parent body of Senior Olympics?
Parag: International Masters Games and Association (IMGA). It is recognized by the International Olympic Committee.
Question: Any advice you would like to give to the people of your age who want to take up Senior Olympics?
Parag: Age is just a number. If anyone wishes, I can give them training and help them to participate in the Senior Olympics.
Question: Biggest challenge you have ever faced in your life?
Parag: After proving my worth in my very first international competition, I got several opportunities. But the biggest problem I faced was funds! Not many people came forward in support of me and sponsored me. For the Senior Olympics in Italy, I had to take a loan at the interest rate of 17 per cent per month.
Question: Tell me about your future goal and your venture LetzRun India?
Parag: I have a dream of winning 100 medals for India. So far, I have to win 83 more to fulfil my goal. LetzRun India empowers the youths and seniors in athletics and marathon.