Didi Ke Bolo vs Cha Chakra: Digital Fight before Bengal Assembly Polls
BJP's massive outreach and its impacts in electoral politics, TMC supremo, Mamata Banerjee is moving desperately to bring a makeover for her party's fortunes in the upcoming assembly election in West Bengal in 2021.
After facing a shocking political situation in general election 2019, West Bengal Chief Minister Mamata Banerjee pulled her socks up for the upcoming state assembly elections. Two weeks after Lok Sabha results, on 6 June, Trinamool Congress (TMC) supremo met Indian Political Action Committee (I-PAC) Chief Prashant Kishore in a closed-door meeting and appointed him as a political strategist for 2021 Assembly polls.
In three months, I-PAC turned out as a roadmap and made some remarkable impact for TMC in West Bengal. From forming a grievance cell, blaming her own party members for 'cut-money' to launching a website, a bunch of Mamata's policies are really giving some ideas how Kishore is gradually shaping her party's image.
The website—Didi Ke Bolo   (Tell Didi)—has become a huge blockbuster out of her recent policies. In a short span of one month, more than 10 lakh people reached out to party leaders through the website and registered their complaints. She took to her Twitter handle to thank the people of West Bengal for their 'Overwhelming response' on the website.
In her tweet, she said, 'I am humbled with the overwhelming response of the people on the @DidiKeBolo platform. In the last 30 days, over 10 lakh people have reached out to us with their words of appreciation for the initiative, valuable suggestions & grievances'.
'I thank each one for their support and acknowledgement. We take note of their valuable suggestions and are committed to working overtime to an extent possible in an expeditious manner', she added in a thread tweet.
In the last 30 days, a total of 214 people in distress reached out to Banerjee's office and,out of which, 161 cases have been solved on priority by I-PAC. Almost 500 TMC leaders conducted 'Jan Sanjog Sabha' in 1022 villages as part of the on-ground outreach programme of 'Didi Ke Bolo'. During the Sabha, party leaders visited the villages with key influencers and local leaders and interacted with villagers. They talked about local issues, heard their problems and suggestions, and spend a night in the village.
It is clear that Mamata Banerjee is not in the mood to give up to losing ground and is ready to fight back. She has started her campaign 2 years before the election and chose social media as their major campaigning tool. Prashant Kishore and his team have studied each and every aspect of the current political scenario of Bengal, and then took up the decision of using social media as a weapon because according to records, social media, especially WhatsApp, played a major role for Bharatiya Janata Party's (BJP) victory in the recently held general elections.
A team comprised of 10,000 people worked for BJP IT cell. They created at least 50,000 WhatsApp groups in a bid to reach 3 crores smartphones in Bengal.Result of which BJP got 18 seats out of 42 seats, only four less than the TMC's 22.
In a very short time, I-PAC has given Banerjee a good makeover and will continue till Assembly polls. It is quite obvious that TMC is going to put up a tough competition for the opponent.
---
---
On the other hand, BJP is not interested in starting a campaign this early. Although they are still busy in switching TMC leaders to BJP to form a good team for 2021 Assembly poll candidates. Recently, another two-time TMC MLA Debashree Roy has shown interest to join BJP.
About TMC's new campaigning process, Senior BJP leader Mukul Roy said that people of West Bengal have lost confidence in Mamata Banerjee and no poll strategy can turn the tide.
BJP President Dilip Ghosh stated that they are going to launch an initiative named 'Cha Chakra'—get together over a cup of tea—to reach out to the people and spread party's message with an eye on the election. Although he denied that the programme is being launched to counter Mamata's 'Didi Ke Bolo', hesaid it is meant to reach out to the masses in a more effective manner.
About Prashant Kishore helping TMC, he said, 'cadre-based party like BJP doesn't need the help of hired professionals to reach out to the masses'.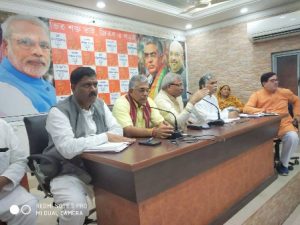 However, it is also true that in the 2014 general election, Prashant Kishore worked for BJP as strategy implementing manager guided by the highest leadership of the BJP. He also worked for the Congress in 2017 UP Assembly election, and the outcome for the party was disastrous.
Since I-PAC-led 'Didi Ke Bolo' has already made some great impact in West Bengal, it will be challenging for BJP to make 'Cha Chakra' a successful policy. Although people have seen how BJP IT cell influenced them in general elections in Bengal, it is quite obvious that BJP is also going to give a hard time to Mamata.
Surprisingly, no such activity came to light from the Communist Party of India (CPIM), which ruled Bengal for 34 years, and now they have nothing left in Bengal. In the 2019 general election they did not even manage to get one seat.Delhi Post tried to reach out to MD Salim, former MP and politburo member but failed to get any response. The left party and their leaders seem to have disconnected from the local realities and people. According to a local worker of the CPI (M), who wished not to disclose his name, anonymously told that their leaders are not accessible and moreover they are interested in international affairs, not in local issues any more.
---
---
Asking about 'Didi Ke Bolo', West Bengal Democratic Youth Federation of India (DYFI) member Shatarup Ghosh said, "Whatever TMC has done with people of Bengal in 9 years, there is no chance of her coming back. This time she is definitely loosing. 'DidiKe Bolo' is a scam, first Didi Ke Bolo (tell Didi) then Jail Chalo (Go to Jail).A lot of local people like Tanya Bharatdwaj and Shiladitya Chowdhury tried to tell Didi but since they asked the right question, so she labelled them as Maoists."
Shatarup Ghosh is currently actively campaigning for CPI (M) on social media. He launched a YouTube channel and a news website as well. He is quite hopeful about the left party's performance in the upcoming elections.